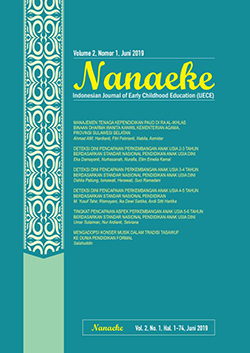 Nanaeke: Indonesian Journal of Early Childhood Education (NIJCE) is a peer-reviewed journal that mediates the dissemination of researchers in education, especially from Islamic studies, development of teaching and learning theories, and contemporary issues in early childhood education. The journal is published by Islamic Early Childhood Education Program Faculty of Tarbiyah and Teacher Training Universitas Islam Negeri Alauddin Makassar in collaboration with Association of Indonesian Islamic Kindergarten Teachers Education Program. 
The editorial goal is to provide a forum exchange and an interface between researchers and practitioners in an education-related field.
We accept submission from all over the world. All submitted articles shall never be published elsewhere, original and not under consideration for other publication.
Announcements
Call for Paper

We invite you to submit your paper to NANAEKE: Indonesian Journal of Early Childhood Education. The editorial board welcomes complete unpublished and original works on education, especially in early childhood education.

Vol. 2 No. 2 June 2019, submission deadline: 30 Oktober 2019.

Paper published in six-monthly journal (June and December).

We recomended authors to check your articles by plagiarism prevention tool turnitin.com) before submitted.
Posted: 2019-10-11
More...
Vol 2, No 1 (2019)
Table of Contents
Ahmad Afiif, Hardianti Hardianti, Fitri Febrianti, Nabila Nabila, Asmidar Asmidar

Abstract - 167

1-9
Eka Damayanti, Nurhasanah Nurhasanah, Nurafia Nurafia, Elim Emelia Kamal

Abstract - 134

10-24
Dahlia Patiung, Ismawati Ismawati, Herawati Herawati, Suci Ramadani

Abstract - 335

25-38
M. Yusuf Tahir, Rismayani Rismayani, Ika Dewi Sartika, Andi Sitti Hartika

Abstract - 252

39-50
Umar Sulaiman, Nur Ardianti, Selviana Selviana

Abstract - 1026

52-65
Salahuddin Salahuddin

Abstract - 28

66-74