YOUTUBE SEBAGAI SARANA KOMUNIKASI DAKWAH DI KOTA MAKASSAR (Analisis Sosial Media)
Abstract
Tujuan dari penelitian ini untuk mengetahui bentuk bagaimana dai memanfaatkan Youtube sebagai sarana Komunikasi Dakwah, serta bagaimana kelebihan dan kelemahan Youtube sebagai sarana Komunikasi Dakwah.
Jenis penelitian adalah penelitian kualitatif dengan menggunakan teori New Media sebagai pendekatan penelitian. Metode pengumpulan data yang digunakan adalah observasi, wawancara dan dokumentasi. Teknik pengolahan dan analisis data dilakukan dengan tiga tahapan yaitu reduksi data, penyajian data dan penarikan kesimpulan.
Hasil penelitian menunjukkan bahwa pemanfaatan Youtube sebagai salah satu sarana komunikasi dakwah oleh para dai cukup membantu dalam melaksanakan aktivitas dakwah. Hasil penelitian ini juga menunjukkan bahwa penggunaan Youtube yang dirasakan oleh masing-masing dai dalam melaksanakan aktivitas dakwah lebih memperlihatkan kelebihan dari pada kekurangannya, sehingga menjadikan Youtube sebagai sarana komunikasi dakwah yang cukup efektif.
References
Anderson. R. H. (1979). Selecting & Developing Media for Instruction. Wescosin: America Society for Training and Development.
Daryanto. (2010). Media Pembelajaran. Yogyakarta: Gava Media.
David, H. (2012). Teori Komunikasi : Media, Teknologi, Dan Masyarakat. Yogyakarta.
DeCesare, J. A. (2014). User Uploads and YouTube One Channels for Teaching, Learning, and Research. Library Technology Reports. Retrieved from http://libproxy.sdsu.edu/login?url=http://search.ebscohost.com/login.aspx?direct=true&db=aph&AN=95655439&site=ehost-live
Fralinger, B., & Owens, R. (2009). You Tube As A Learning Tool. Journal of College Teaching & Learning, 6(8), 15–28. Retrieved from http://scholar.google.com/scholar?hl=en&btnG=Search&q=intitle:You+Tube+As+A+Learning+Tool#0nhttps://acces.bibl.ulaval.ca/login?url=http://search.proquest.com/docview/218921399?accountid=12008nhttp://sfx.bibl.ulaval.ca:9003/sfx_local??url_ver=Z39.88-2004
Hamalik, O. (2004). Proses Belajar Mengajar. Jakarta: Bumi Aksara.
Harianti. (2013). Data Jumlah Pengguna Sosial Media di Indonesia _ HarianTI.
Heinich, Molenda, R. (1996). Instructional Media and New Technology of Instruction. Englewood Cliffs, N.J: Pentice Hall.
Kemp, J.E. dan Dayton, D. K. (1985). Planning and Producing Instructional Media. Cambridge: Harper & Row Publisher, Newyork.
Lawrence dan Schramm. (1997). Asas-asas Komunikasi Antar Manusia. Jakarta: LP3ES.
Maryam, D. (2015). Indovidgram.
McQuail, D. (2011). Teori Komunikasi Massa. Jakarta: Salemba Humanika.
Mudjono, D. dan. (1999). Belajar dan Pembelajaran. Jakarta: PT Rineka Cipta.
Roiu, G. L. Ă. Z. Ă. (2008). New media versus news media, 3(3), 76–84.
Roodt, S. (2013). Using YouTube to Support Student Engagement for the Net Generation in Higher Education. Proceedings of the European Conference on Information Management & Evaluation, 1977(December 1977), 223–231. Retrieved from http://search.ebscohost.com/login.aspx?direct=true&db=bth&AN=87385180&site=ehost-live
Sangadji, Etta Mamang, D. (2013). Perilaku Konsumen. Yogyakarta: Penerbit Andi.
Severin, W. J. (2008). Teori Komunikasi : Sejarah, Metode dan Terapan di dalam Media Massa.
Theoldman. (2011). BAYARAN DARI YOUTUBE KE ORANG YANG UPLOAD VIDEO KESANA _ KASKUS. Retrieved from http://www.kaskus.co.id/thread/53a35ccd96bde6517a8b4663/bayaran-dari--youtube-ke-orang-yang-upload-video-kesana/
Tjanatjantia. Widika. (2013). Sejarah Berdirinya Youtube _ Sejarah Dunia. Retrieved from https://canacantya.wordpress.com/sejarah/sejarah-berdirinya-Youtube
wikipedia. (2007). Wikipedia, the Free Encyclopedia. Retrieved from http://en.wikipedia.org/
youtube. (2016). Statistik. Retrieved from https://www.youtube.com/yt/press/id/statistics.html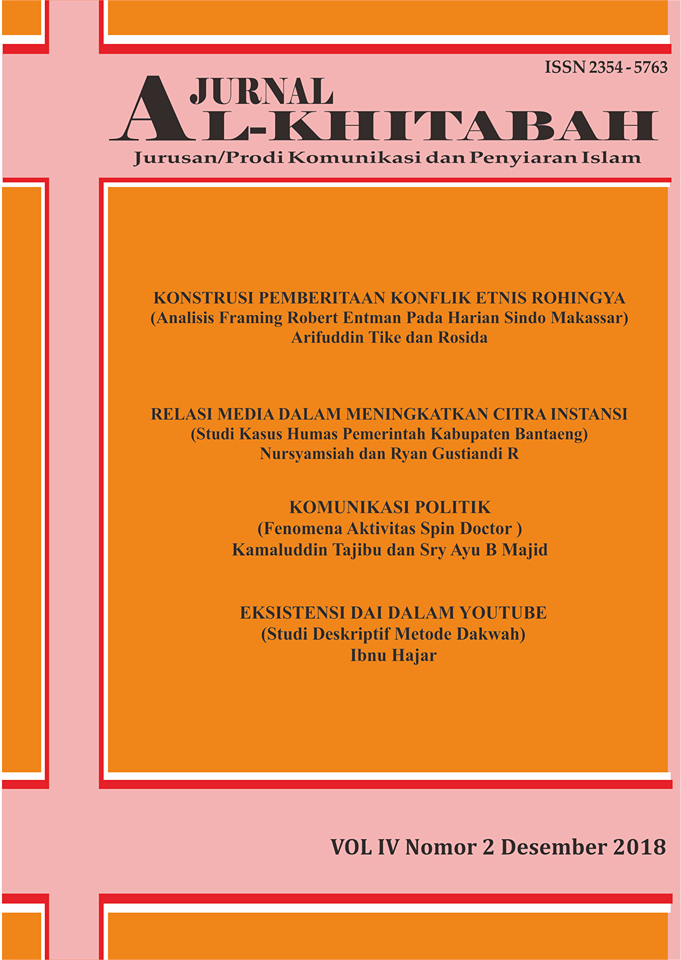 Section

Volume IV, Nomor 2, Desember 2018

Abstract viewed = 1617 times