Pengaruh Konsentrasi Aktivator Asam Klorida (HCL) Terhadap Kapasitas Adsorpsi Arang Aktif Kulit Durian (Durio Zibethinus) pada Zat Warna Methanil Yellow
Supiati Supiati

urusan Kimia, Fakultas Sains dan Teknologi, UIN Alauddin Makassar




(ID)

Muh. Yudi




St Chadijah



Abstract
Durian's peel a waste which usually burned, stacked or discarded, which are unfavorable to environment. This condition motivates author to produce value-added products from the durian peel, such as activated carbon, as well as solving some environmental problems. This research aims to know the influence to use variation of concentration of activator HCl whice produces the optimum adsorption capacity from charcoal active of durian's peel to the substance color of methanil yellow. Active carbon which is used in this research  comes from durian's peel which granular types with standard -100+40 mesh. Carbon is activated by physics in furnace with 400°C heat during 2 hours and is activated by chemistry with submerged of HCI 1M, 2M, 3M, 4M and 5M during 24 hours. The result of this research shows that optimum concentration in HCI 1M with adsorption capacity from charcoal active of durian's peel is as large as 0,5350 mg/g. Whereas knowing the influence of activator is used tabulation method by statistically, where we can get F Hitung 0,004 is smaller from  F Tabel 10,127. It explains that H0 is accepted to reject H1. Therefore, it can conclude that there is  not significant influence to use variation of concentration of activator HCl to adsorption capacity of charcoal active from durian's peel in substance methanil yellow.
Downloads
Download data is not yet available.
References
Arif Tiro dan Muhammad, 2008, Dasar-dasar Statistika. Makassar: Andira Publisher.
Firdawati, 2009, Arang Aktif Meningkatkan Kualitas Lingkungan," Jurnal Litbang (Online), http://www.litbang.deptan.go.id/download/one/99/file/Arang-Aktif- Meningkatkan-K.pdf, diakses pada 29 April 2012.
Hendayana, 1990, Kimia Analitik Instrumentas, Bandung: Fakultas MIPA IKIP.
Herawati, 2010, Kapasitas Adsorpsi Karbon Aktif Kulit Buah Kakao (Theobrama cacao L.) Terhadap Logam Ca dan Mg Pada Air Sumur Di Desa Borong Unti'e Kabupaten Pangkep," Skripsi Sarjana, Makassar: Fakultas Sains dan Teknologi UIN Alauddin.
Marjono, 2009, Pembudidayaan Untuk Potensi Kulit Durian Menjadi Briket Yang Bernilai Jual, Official Website Deputi Menegristek, (Online), http://www.deputi.go.id/pembudidayaanpertanian.html, diakses 31 April 2013.
Mulyatna, Pradko dan Nasution, 2006, Pemilihan Persamaan Adsorpsi Isoterm Pada Penentuan Kapasitas Adsorpsi Kulit Kacang Tanah Terhadap Zat Warna Remazol Golden Yellow, Universitas Haluoleo Kendari, vol. 3 no. 3, http:www.unpas.ac.id/pmb/home/images/articles/infomatek/jurnal.html (diakses 27 Agustus 2013).
Nazaruddin dan Fauziah Muchlisah, 1996, Buah Komersial. Jakarta: Penebar Swadaya.
Prabowo Rossi, 2009, Pemanfaatan Limbah Kulit Buah Durian Sebagai Produk Briket di Wilayah Kecamatan Gunung Pati Kabupaten Semarang," Jurnal Mediagro Ilmu-Ilmu Pertanian Universitas Wahid Hasyim Semarang, http://www.ce.edu/programareaspemanfaatanlimbah, diakses pada 27 juni 2013.
Rashid, Isminingsih dan Jufri, 1973, Pengantar Kimia Zat Warna. Bandung: ITB, 1973.
Rini Retnosari, 2010, Pemamfaatan Arang Aktif dari Kulit Buah Randu sebagai Adsorben Insektisida pada Perairan di Daerah Pandaan Pasuruan, Peduli Lingkungan, 2010. http://usupress.usu.ac.id/files Sains%20Kimia%20Vol_%2010%20No_%202%20Juli%202006.pdf. diakses 6 Januari 2013.
Apriani, Ririn. Irfana dan Dwiria, 2013, Pengaruh Konsentrasi Aktivator Kalium Hidroksida (KOH) Terhadap Kualitas Karbon Aktif Kulit Durian Sebagai Adsorben Logam Fe Pada Air Gambut, Jurnal Prisma Fisika, Jurusan
Fisika FMIPA Universitas Tanjungpura, vol. 1 no. 2, 2013. http://jurnal.untan.ac.id/index.php/jpfu/article/view/2931/2861. diakses pada 20 Agustus 2013.
Ronquillo. 2010, Meningkatkan Nilai Arang Tempurung Jadi Karbon Aktif, Word.pres.com, http://www.word pres.com. diakses pada 4 Mei 2013.
Roy GM, 1985, Activated Carbon Application in The Food and Pharmaceutical Industries. Lancaster: Tanchnomic.
Soekardjo,1990, Kimia Anorganik. Cet 2; Jakarta: Rineka Cipta.
ST. Hafiyah, 2012, Kapasitas Adsorpsi Karbon Aktif Dari Limbah Sekam Padi (Oryza Sativa L.) Terhadap Zat Warna Rhodamin B, Skripsi Sarjana, Fakultas Sains dan Teknologi UIN Alauddin, Makassar.
Wirasto, 2008, Analisis Rhodamin B dan Methanil Yellow dalam Minuman Jajanan Anak SD di Kecamatan Laweyan Kotamadya Surakarta dengan Metode Kromatografi Lapis Tipis," Jurnal Penelitian Fakultas Farmasi Universitas Muhammadiyah Surakarta, http://repository.usu.ac.id/bitstream.jurnal/123456789/7528/1/10E00091. pdf. diakses pada 12 Juni 2013.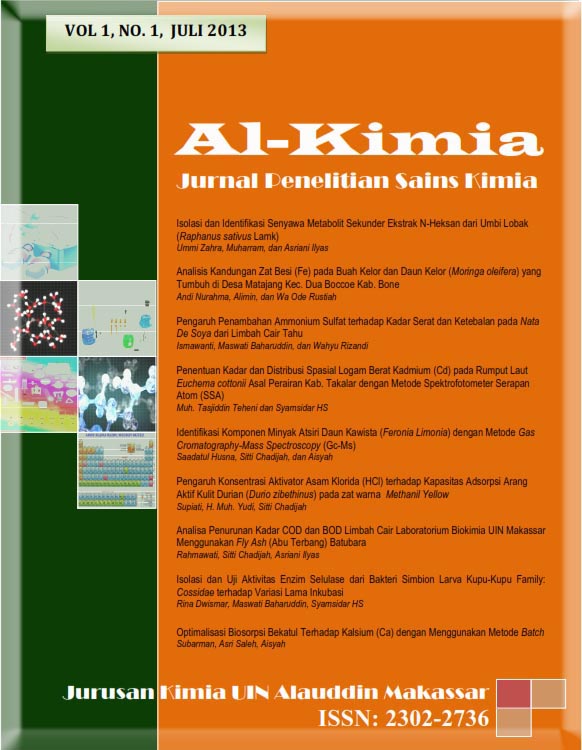 How to Cite

Supiati, S., Yudi, M., & Chadijah, S. (2013). Pengaruh Konsentrasi Aktivator Asam Klorida (HCL) Terhadap Kapasitas Adsorpsi Arang Aktif Kulit Durian (Durio Zibethinus) pada Zat Warna Methanil Yellow. Al-Kimia, 1(1), 53-63. https://doi.org/10.24252/al-kimia.v1i1.1590

Authors who publish with this journal agree to the following terms:

1) Authors retain copyright and grant the journal right of first publication with the work simultaneously licensed under a Creative Commons Attribution License that allows others to share the work with an acknowledgement of the work's authorship and initial publication in this journal.

2) Authors are able to enter into separate, additional contractual arrangements for the non-exclusive distribution of the journal's published version of the work (e.g., post it to an institutional repository or publish it in a book), with an acknowledgement of its initial publication in this journal.

3)Authors are permitted and encouraged to post their work online (e.g., in institutional repositories or on their website) prior to and during the submission process, as it can lead to productive exchanges, as well as earlier and greater citation of published work (See The Effect of Open Access).

Abstract viewed = 3603 times