Isolasi dan Uji Aktivitas Enzim Selulase dari Bakteri Simbion Larva Kupu-Kupu Family: Cossidae Terhadap Variasi Lama Inkubasi
Rina Dwismar

Jurusan Kimia, Fakultas Sains dan Teknologi, UIN Alauddin Makassar




(ID)

Maswati Baharuddin




Syamsidar HS



Abstract
The study is titled Isolation and Testing Cellulase Enzymes from Bacterial Symbiont butterfly larvae Family: Cossidae of Variations on Old Incubation aimed to isolate cellulase enzymes in larvae of butterflies and determine tIsolasi dan Uji Aktivitas Enzim Selulase dari Bakteri Simbion Larva Kupu-Kupu Family: Cossihe optimum incubation time of enzyme production and activity of enzymes to degrade CMC substrate. In this study, an enzyme produced from the microbial gut symbionts Cossidae butterfly larvae that had been cultured in media cellulolytic, then produced the long incubation variation of 0, 12, 24, 36, 48, 60, and 72 hours, crude enzyme obtained by centrifugation at a speed of 5000 rpm at 40C and then tested enzyme activity using UV-VIS spectrophotometer. From the research result that cellulolytic bacteria can be isolated from the gut of larvae of butterlies Family: Cossidae with old optimum activity of cellulase enzyme production is 60 hours with a value of activity amounted to 2,38 x 10-3 U/mL.
Downloads
Download data is not yet available.
References
Biorata, Agung Marssada., 2012, Optimasi Produksi Selulase Dari Bacillus sp. BPPT CC RK 2 Menggunakan Metode Respon Permukaan dengan Variasi Rasio C/N dan Waktu Fermentasi. Skripsi Fakultas Teknik Program Studi Teknologi Bioproses Universitas Indonesia.
Fitriani, Emy., 2003, Aktivitas Enzim Karboksimetil Selulase Bacillus pumilus Galur 55 Pada Berbagai Suhu Inkubasi . Skripsi Program Studi Kimia, Institut Pertanian Bogor.
Komalasari, Desy. 2012, Isolasi, Identifikasi dan Pengujian Kemampuan Kapang Selulolitik dari Naskah Kuno Kertas Eropa Asal Keraton Kesepuhan Cirebon. Skripsi fak. MIPA, Departemen Biologi, Depok.
Mushoffa., 2012, Isolasi dan Identifikasi Bakteri Selulolitik dari Feses Kambing. Skripsi Jurusan Biologi Fakultas Sains dan Teknologi Universitas Islam Negeri Maulana Malik Ibrahim Malang.
Meryandini, Anja et.,all., 2012, Isolasi Bakteri Selulolitik dan Karakterisasi Enzimnya. Makara, Sains Vol. 13, No. 1 April.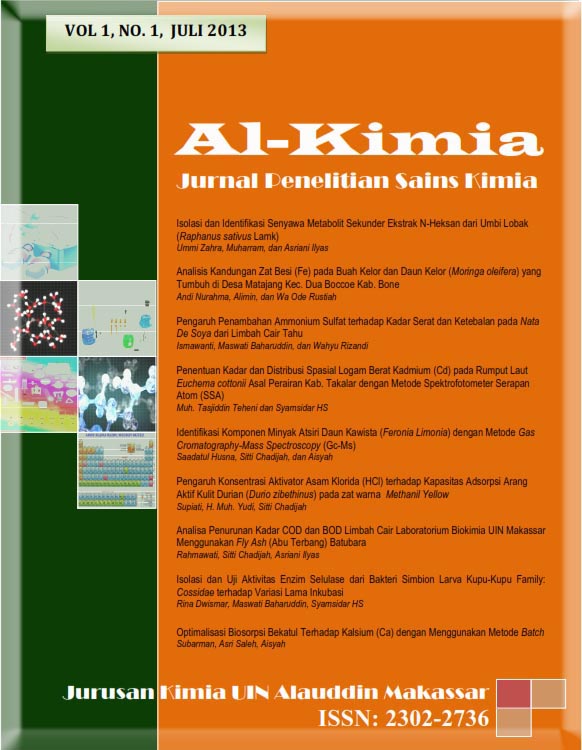 How to Cite

Dwismar, R., Baharuddin, M., & HS, S. (2013). Isolasi dan Uji Aktivitas Enzim Selulase dari Bakteri Simbion Larva Kupu-Kupu Family: Cossidae Terhadap Variasi Lama Inkubasi. Al-Kimia, 1(1), 76-85. https://doi.org/10.24252/al-kimia.v1i1.1623

Authors who publish with this journal agree to the following terms:

1) Authors retain copyright and grant the journal right of first publication with the work simultaneously licensed under a Creative Commons Attribution License that allows others to share the work with an acknowledgement of the work's authorship and initial publication in this journal.

2) Authors are able to enter into separate, additional contractual arrangements for the non-exclusive distribution of the journal's published version of the work (e.g., post it to an institutional repository or publish it in a book), with an acknowledgement of its initial publication in this journal.

3)Authors are permitted and encouraged to post their work online (e.g., in institutional repositories or on their website) prior to and during the submission process, as it can lead to productive exchanges, as well as earlier and greater citation of published work (See The Effect of Open Access).

Abstract viewed = 702 times