Analisis Proksimat pada Beras Ketan Varietas Putih (Oryza sativa glutinosa)
Abstract
It has done research on Proximate Analysis On White Glutinous Rice Varieties (Oryza sativa glutinosa) Origin Sinjai Regency with the aim to determine the content prosimat include moisture content, ash content, crude proteincontent, fat content, crude fiber content and total carbohydrate content contained on white glutinous rice varieties (Oryza sativa glutinosa) origin Sinjai regency. This type of research is experimental research is a research laboratory that uses a simple experiment. At the proximate analysis includes determination of moisture content (%), protein content (%), fat content, ash content (%), crude fiber levels, total carbohydrate(%). The results showed that the water content ranges for % 16.24%, for protein content ranged from 6.81%, forfat content ranged from 0.19 % to 0.24% ash content ranges, for fiber content ranged  from 0.28% and for carbohydrate content ranged from 76.24 %.
Downloads
Download data is not yet available.
References
Aan Mau'izhatul H., 2007, Pengaruh Total Mikroba Pada Merk Ragi Dan Lama Fermentasi Terhadap Kadar Alkohol Tape Ketan Putih (Oryza sativa L. Var. Forma glutinosa), Malang: Fakultas Sains Dan Teknologi, Universitas Negeri Malang.
Ensminger, Audrey, 1994, Foods and Nutrition Encyclopedia Volume 1 2 Edition, CRC Press LLC, Boca Raton.
Hui, Yiu H., 2006, Handbook of Food Science, Technology, and Engineering Volume 1, Taylor & Francis Group, Boca Raton.
Maimunah, S, 2004, Pengaruh Variasi Dosis Ragi Dan Lama Fermentasi Terhadap Kadar Glukosa Dan Kadar Alkohol Pada Tape Ketan Hitam, Skripsi Tidak Diterbitkan, Malang: F. MIPA Jurusan BiologiUniversitas
Islam Negeri Malang.
Novalina H, 2009, Analisis Proksimat, http://novalinahasugian.blogspot.com/2009/06/pendahuluan-analisis- proksimat-adalah.html, 11 Mei 2013.
Priyanto T., 2012, Beras Ketan & Sifat Fisika-Kimianya, http://www.alatcetakrengginang.com/2012/02/beras-ketan-sifat-fisika- kimianya.html, 12 Mei 2013.
Sediaoetama Djaeni Achmad, 1989, Ilmu Gizi Untuk Mahasiswa dan Profesi, Jilid 1, Jakarta: Daian Rakyat.
Steenis, Van. C. G, 1992, Flora untuk Sekolah di Indonesia, Jakarta: Paradya Paramitha.
Sudarmadji. S., Haryono., Suhardi, 2003, Analisa Bahan Pangan dan Pertanian, Yogyakarta: PT. Liberty.
Wiryawan A., 2012, Analisis Proksimat, Fakultas MIPA, Universitas Brawijaya.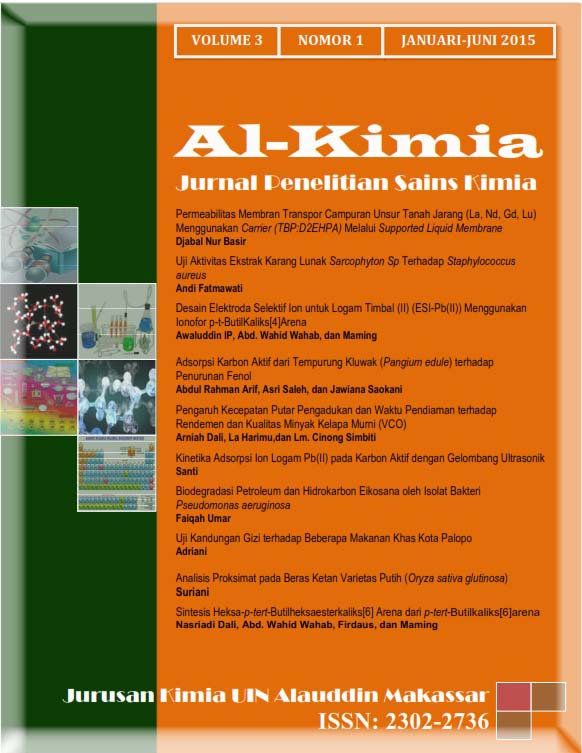 How to Cite

Suriani, S. (2015). Analisis Proksimat pada Beras Ketan Varietas Putih (Oryza sativa glutinosa). Al-Kimia, 3(1), 81-91. https://doi.org/10.24252/al-kimia.v3i1.1663

Authors who publish with this journal agree to the following terms:

1) Authors retain copyright and grant the journal right of first publication with the work simultaneously licensed under a Creative Commons Attribution License that allows others to share the work with an acknowledgement of the work's authorship and initial publication in this journal.

2) Authors are able to enter into separate, additional contractual arrangements for the non-exclusive distribution of the journal's published version of the work (e.g., post it to an institutional repository or publish it in a book), with an acknowledgement of its initial publication in this journal.

3)Authors are permitted and encouraged to post their work online (e.g., in institutional repositories or on their website) prior to and during the submission process, as it can lead to productive exchanges, as well as earlier and greater citation of published work (See The Effect of Open Access).

Abstract viewed = 4270 times