Sintesis Heksa-p-tert-Butilheksaesterkaliks[6]Arena dari p-tert-Butilkaliks[6]Arena
Nasriadi Dali

Jurusan Kimia, FMIPA, Universitas Halu Oleo




(ID)

Abd. Wahid Wahab




Firdaus Firdaus




Maming Maming



Abstract
A research has been done to synthesize hexa-p-tert-butylhexaestercalix[6]arene using p-tert-butylcalix[6]arene as a starting material. The synthesis was carried out by esterifying p-tert-butylcalix[6]arene. Synthesis products were identified and characterized by melting point, TLC, FTIR, 1H-NMR, and 13C-NMR spectrometers. Synthesis products was obtained a white solid powder (68.45% recovery), melting point 349-351 °C, TLC (SiO2, ethanol: ethyl acetate = 1: 1 v/v, Rf = 0.90). The results of the analysis  of synthesis products with FTIR, 1H-NMR, and  13C-NMR spectrometer showed that the synthesis products compound is 5, 11, 17, 23, 29, 35-hexakis (p-tert-butyl)-37, 38, 39, 40, 41, 42-hexakis (ethoxy-carbonylmethoxy) calix[6]arene.
Downloads
Download data is not yet available.
References
Dali, N., Wahab, A. W., Firdaus, dan Maming, 2012, Sintesis 5,11,17,23,29,35-heksa(p-tert-butil)-37,39,41 tri(etoksikarbonilmetoksi)-38,40,42- tri(hidroksi)kaliks[6]arena dari p-tert-butilkaliksarena. Sains Jurnal Kimia & Pendidikan Kimia. Vol. I(2): 110-115.
Gutsche, C. D., Dhawan, B., Hyun, N. K., and Muthocrishman, C, 1981, Calixarene. 4. The Synthesis, Caracterization, and Properties of Calixarenes from p-t-Butylphenol, J. Am. Chem. Soc. 103: 3782:3792.
Gutsche, C. D., Levine, J. A., and Sujeeth, P. K., 1985, Calixarene. 17. Functionalized Calixarene: The Claisen Rearrangement Route, J. Org. Chem., 50: 5802-5808.
Gutsche, C. D, 1989, Calixarenes: Monograph in Supramolecular Chemistry. Royal Society of Chemistry, Cambridge.
Kadir, A. N, 2014, Selektivitas Transpor Kaliksarena dan Kaliksarena Karboksilat Terhadap Fe3+ dari Campuran Fe, Ni, dan Cr Melalui Membran Cair Ruah 1,2-Dikloroetana, dr. Aloei Saboe, Vol. 1(2): 1- 6.
Kusumaningsih, T., Jumina, Siswanta, D., and Mustofa, 2010, Synthesis of Tetra-p-Propenyltetraestercalixarene and Tetra-p- Propenyltetracarboxylicacidcalixarene from p-t-Butylphenol, Indo. J. Chem. 10(1): 122 – 126. [4]
Lambert, J.B., Gronert, S., Shurvell, H.F., and Lightner, D.A, 2011, Organic Structural Spectroscopy. 2nd Edition. Pearson Prentice Hall, New Jersey.
McKervey, M. A., Arrigan, D. W. M., Svehla, G., and Harris, S. J., 2013, Electroanalysis, 1994(6): 97-106, http://www.arkat- usa.org/ark/journal/2013/McKervey/AM-720R/720R.htm, 17 April 2013.
Sastrohamidjojo, H, 1992, Spektroskopi Inframerah, Edisi Pertama, Yogyakarta: Liberty.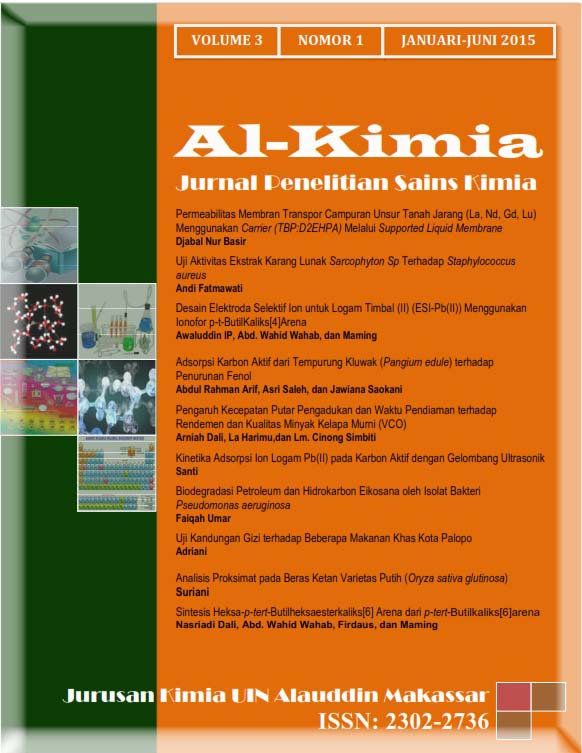 How to Cite

Dali, N., Wahab, A. W., Firdaus, F., & Maming, M. (2015). Sintesis Heksa-p-tert-Butilheksaesterkaliks[6]Arena dari p-tert-Butilkaliks[6]Arena. Al-Kimia, 3(1), 103-109. https://doi.org/10.24252/al-kimia.v3i1.1665

Authors who publish with this journal agree to the following terms:

1) Authors retain copyright and grant the journal right of first publication with the work simultaneously licensed under a Creative Commons Attribution License that allows others to share the work with an acknowledgement of the work's authorship and initial publication in this journal.

2) Authors are able to enter into separate, additional contractual arrangements for the non-exclusive distribution of the journal's published version of the work (e.g., post it to an institutional repository or publish it in a book), with an acknowledgement of its initial publication in this journal.

3)Authors are permitted and encouraged to post their work online (e.g., in institutional repositories or on their website) prior to and during the submission process, as it can lead to productive exchanges, as well as earlier and greater citation of published work (See The Effect of Open Access).

Abstract viewed = 443 times