Dekolagenasi Limbah Tulang Paha Ayam Broiler (Gallus domesticus) oleh Natrium Hidroksida (NaOH) untuk Penentuan Kadar Kalsium (Ca) dan Fosfat (PO4)
Sitti Musdalifah

Jurusan Kimia, Fakultas Sains dan Teknologi, UIN Alauddin Makassar




(ID)

Syamsidar HS




Suriani Suriani



Abstract
This research aims to determine the level of Calcium (Ca) and Phosphate (PO4), and the influence of broilers femur submersion in NaOH toward Calcium (Ca) and Phosphate (PO4) levels. The method used in this research is decollagenation of broilers (Gallus domesticus) femur. Then, the parameters observed are chemical tests of Calcium (Ca) and Phosphate (PO4) levels. Decollagenation treatment was carried out in three soaking-time variation such as 42 hours, 72 hours, and 96 hours to respectively determine the Calcium and Phosphate levels. The result shows that soaking-time of femur does not give significant effect to increased levels of Calcium (Ca) and Phosphate (PO4).
Downloads
Download data is not yet available.
References
Almatsier, Sunita, 2004, Prinsip Dasar Ilmu Gizi, Jakarta: Gramedia Pustaka Utama.
Astrina, Aninda Rahma,et. al.,Pemanfaatan Limbah Tulang Ikan Bandeng (Chanos chanos) sebagai Bakso Berkalsium Tinggi, Karya Tulis Ilmiah, Malang: Universitas Negeri Malang.
Darmayanto, 2009, Penggunaan Serbuk Tulang Ayam Sebagai Penurun Intensitas Warna Air Gambut, Tesis, Medan: Universitas Sumatera Utara.
Deman, John, M., 1997, Kimia Makanan. Terj. Kokasih Padmawinata, Bandung: Penerbit ITB.
Dewi, Devina, Fitrika, dan Ali Masduqi, 2003,Penyisihan Fosfat dengan Proses Kristalisasi dalam Reaktor Terfluidisasi Menggunakan Media Pasir Silika, Jurnal Purifikasi, 4(4): 151-156.
Ermawati, Yunita, et. al., 2009,Pemanfaatan Kitosan dari Limbah Rajungan (Portunus pelagicus) sebagai Antimikroba pada Obat Kumur, Karya Ilmiah, Yogyakarta: Fakultas Farmasi UGM.
Fadilah, Roni, 2013, Beternak Ayam Broiler, Jakarta: PT AgroMedia
Pustaka.
Fessenden, Ralp, J., Joan, S., 1986, Kimia Organik Jilid 2, Jakarta: Erlangga.
Hidayat, Muhammad Nur, 2012, Ilmu Dasar Nutrisi Ternak, Makassar: Alauddin University Press.
Katili, Abubakar Sidik, 2009, Struktur dan Fungsi Protein Kolagen, Jurnal Pelangi Ilmu, 2(5): 19-29.
Kristianingrum, Susila, 2012, Kajian Berbagai Proses Destruksi Sampel dan Efeknya, Prosiding Seminar Nasional Penelitian, Pendidikan dan Penerapan MIPA, Fakultas MIPA, Universitas Negeri Yogyakarta
Retno, Dyah Tri, 2012, Pembuatan Gelatin dari Tulang Ayam dengan Proses hidrolisa, Prosiding Seminar Nasional Aplikasi Sains dan Teknologi (SNAST) Periode III, Yogyakarta: Universitas Pembangunan Nasional.
Syarfaini, 2012, Dasar-Dasar Ilmu Gizi, Makassar: Alauddin University Press.
Tangalayuk, Reggy Raisa,et. al., 2015,Kadar Kalsium dan Fosfor pada Tulang Tikus Betina yang diberi Tepung Tempe Rendah Lemak, Buletin Veteriner Udayana, 7(1):59-65.
Thalib, A., 2009, Pemanfaatan Tepung Tulang Ikan Madidihang (Thunnus albacares) sebagai Sumber Kalsium dan Fosfor untuk Meningkatkan Nilai Gizi Makron Kenari,Tesis,Bogor: Sekolah Pascasarjana IPB.
Trilaksani, Wini,et. al., 2006,Pemanfaatan Limbah Tulang Ikan Tuna (Thunnus sp.) sebagai Sumber Kalsium dengan Metode Hidrolisis Protein, Buletin Teknologi Hasil Perikanan, 9(2): 34-43.
Winarno, F.G., 2002,Kimia Pangan dan Gizi, Jakarta: PT Gramedia Pustaka Utama.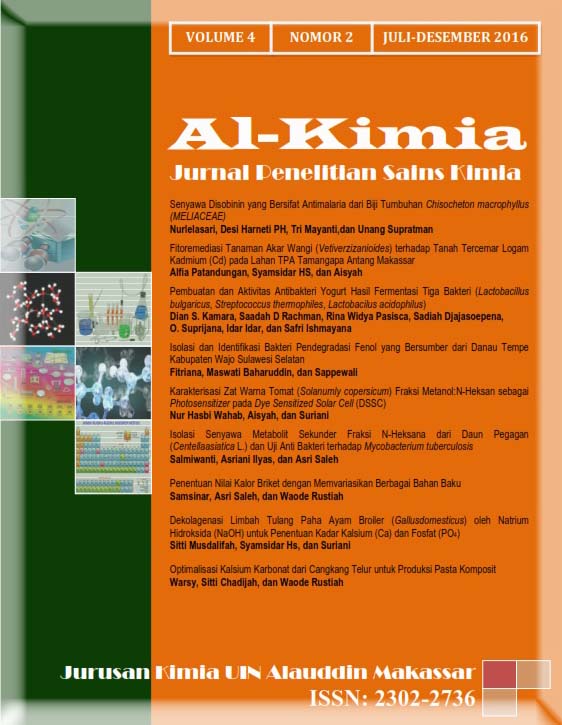 How to Cite
Musdalifah, S., HS, S., & Suriani, S. (2016). Dekolagenasi Limbah Tulang Paha Ayam Broiler (Gallus domesticus) oleh Natrium Hidroksida (NaOH) untuk Penentuan Kadar Kalsium (Ca) dan Fosfat (PO4). Al-Kimia, 4(2), 172-184. https://doi.org/10.24252/al-kimia.v4i2.1682
Copyright (c) 2016 Al-Kimia
This work is licensed under a Creative Commons Attribution-NonCommercial-ShareAlike 4.0 International License.

Authors who publish with this journal agree to the following terms:

1) Authors retain copyright and grant the journal right of first publication with the work simultaneously licensed under a Creative Commons Attribution License that allows others to share the work with an acknowledgement of the work's authorship and initial publication in this journal.

2) Authors are able to enter into separate, additional contractual arrangements for the non-exclusive distribution of the journal's published version of the work (e.g., post it to an institutional repository or publish it in a book), with an acknowledgement of its initial publication in this journal.

3)Authors are permitted and encouraged to post their work online (e.g., in institutional repositories or on their website) prior to and during the submission process, as it can lead to productive exchanges, as well as earlier and greater citation of published work (See The Effect of Open Access).

Abstract viewed = 1489 times