Decrease Levels of Mercury (Hg2+) using Vetiver Plants (Vetiveria zizanioides) in Mining Waste at Mandailing Natal Regency
Rizal Irfandi

Universitas Puangrimaggalatung




(ID)

Riny Febriani Danur

Universitas Negeri Medan




(ID)
Abstract
Fitoremediasi merupakan salah satu metode penanganan lahan tercemar akibat pertambangan. Penelitian ini bertujuan untuk mengkaji pengaruh penanaman tanaman vetiver (Vetiveria  zizanioides) terhadap fitoremediasi limbah pertambangan yang tercemar merkuri (Hg) di Kabupaten Mandailing Natal untuk mengurangi dampak pencemaran  lingkungan akibat aktivitas pertambangan. Penelitian ini dilaksanakan selama tiga bulan di Rumah Kaca FMIPA Universitas Negeri Medan dan Laboratorium Balai Riset dan Standardisasi Kota Medan. Jenis penelitian ini adalah penelitian eksperimental dengan Rancangan Acak Lengkap. Jumlah kombinasi perlakuan terdiri atas 4 variasi paparan limbah dengan 2 kali pengulangan pengujian kandungan merkuri pada tanaman. Dari hasil penelitian diperoleh tanaman vetiver mampu menyerap logam merkuri pada media tanam yang dikontaminasi dengan limbah asli pertambangan paling tinggi sebesar 7,1045 mg/Kg dan sebesar 15,68 mg/Kg pada kontaminasi limbah sintetik selama 12 hari pemaparan. Dengan bertambahnya waktu fitoremediasi, tanaman akar wangi (Vetiveria zizanioides) mampu mengakumulasi lebih banyak logam berat merkuri (Hg) yang terdapat di dalam tanah.
Downloads
Download data is not yet available.
References
Anjum.N.A., Hasanuzzaman, M., Hossain, M.A., Thangavel, P., Roychoudhury, A., Gill, S.S., Rodrigo, M.A. M., Adam, V., Fujita, M., Kizek, R., Duarte, Armando, C., Pereira, E., and Ahmad, Iqbal. (2015). Jacks of metal/metalloid chelation trade in plants—an overview. Front Plant Sci,6: 192.
Balali-Mood, M., Naseri, K., Tahergorabi, Z., Reza, K.M., and Sadeghi, M. (2021). Toxic Mechanisms of Five Heavy Metals: Mercury, Lead, Chromium, Cadmium, and Arsenic. Front. Pharmacol. 12: 643972.
Briffa, J., Sinagra, E and Blundellc., R. (2020). Heavy Metal Pollution in The Environment and Their Toxicological Effects on Humans. Heliyon, 6(9): e04691.
Cristina, L., Yaodong, Wang.,Yaodong, W. I., Doronila, A. I. D. (2014). Study of the Spatial Distribution of Mercury in Roots of Vetiver Grass (Chrysopogon zizanioides) by Micro-Pixe Spectrometry.International Journal of Phytoremediation, 16(7-12). 1170-82. doi: 10.1080/15226514.2013.821453
Fashola, M.O., Jeme, V.M.N and Babalola, O.O. (2016). Heavy Metal Pollution from Gold Mines: Environmental Effects and Bacterial Strategies for Resistance. Int. J. Environ. Res. Public Health, 13, 1047.doi:10.3390/ijerph13111047.
Kafle, A., Timilsina, A., Gautam, A., Adhikari, K., Bhattarai, A., Aryalf, N. (2022). Phytoremediation: Mechanisms, plant selection and enhancement by natural and synthetic agents. Environmental Advances, 8: 100203.
Meagher, R. B. (2000). Phytoremediation of Toxic Elemental and Organic Pollutants. Curr. Opin. Plant Biol.3(2), 153–162. doi: 10.1016/S1369-5266(99)00054-0.
Perryman, C.R., Wirsing, J., Bennett, K. A., Brennick, O., Perry, A.L., Williamson, N., Ernakovich, J.G. (2020). Heavy Metals In The Arctic: Distribution and Enrichment of Five Metals in Alaskan Soils. PLoS One, 15(6), e0233297. doi: 10.1371/journal.pone.0233297.
Purakayastha, T.J. Chonkar, P.K. (2010). Phytoremediation of Heavy Metal Contaminated Soils. Springer. Berlin.
Razzaq, R. (2017). Phytoremediation: An Environmental Friendly Technique - A Review. International Journal of Environmental Analytical Chemistry, 4(2).doi: 10.4172/2380-2391.1000195.
Ristianingsih, R. (2018). Pengolahan Air Limbah Pencucian PT. KAI Yogyakarta Menggunakan Floating Wetland Kombinasi dengan Tanaman Vetiver zizanioides dan Bakteri. Jurnal Teknik Lingkungan UII. Yogyakarta.
Rodriguez, M., Gutierrez, A.J., Rodriguez, N., Rubio, C., Soraya, P., Martin, V., Revert, C., Hardisson, A. (2018). Assessment Of Mercury Content In Panga (Pangasiushypophthalmus). Chemosphere, 196, 53-57. doi: 10.1016/j.chemosphere.2017.12.137.
Saturi, S. (2014). Sungai Tercemar Limbah Tambang Emas di Mandailing Natal Berkadar Merkuri Tinggi. Mongabay https://www.google.com/ amp/s/www.mongabay.co.id/ 2014/09/09/sungai-tercemar-limbah-tambang-emas-di-mandailing-natal-berkadar-merkuri-tinggi/amp/.
Sipayung, P. (2012). Remediasi Lahan Tercemar Logam Berat Limbah Pertambangan. Majalah Ilmiah Methoda, 2(2): 67-82.
Triastuti, Yuli. (2011). Fitoremediasi Tanah Tercemar Merkuri (Hg2+) Menggunakan Tanaman Akar Wangi (Vetiver zizanioides) Pada Lahan Eks-TPA Keputih, Surabaya. Skripsi. ITS.
Warhdana, W.A. (2004). Dampak Pencemaran Lingkungan. Andi Publisher. Yogyakarta
Wakano, D. Samson, Efraim. 2015. Potensi Akar Wangi (Vetiveria zizanioides) dalam Merehabilitasi Tanah Tercemar Logam Berat Timbal (Pb) di Perkebunan Sayur Desa Waiheru Ambon. Jurnal Biologi Sel, 4 (2) : 25-36.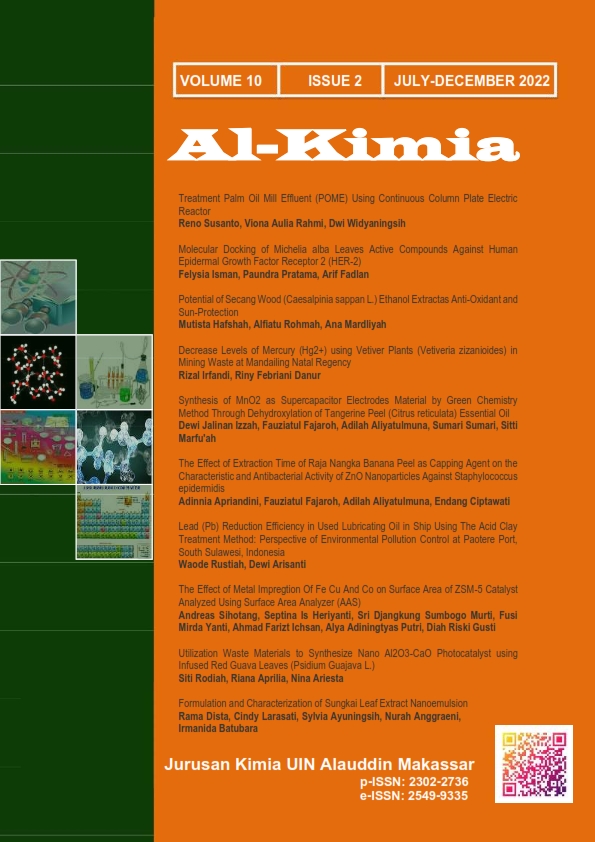 How to Cite

Irfandi, R., & Febriani Danur, R. (2022). Decrease Levels of Mercury (Hg2+) using Vetiver Plants (Vetiveria zizanioides) in Mining Waste at Mandailing Natal Regency. Al-Kimia, 10(2). https://doi.org/10.24252/al-kimia.v10i2.29257

Authors who publish with this journal agree to the following terms:

1) Authors retain copyright and grant the journal right of first publication with the work simultaneously licensed under a Creative Commons Attribution License that allows others to share the work with an acknowledgement of the work's authorship and initial publication in this journal.

2) Authors are able to enter into separate, additional contractual arrangements for the non-exclusive distribution of the journal's published version of the work (e.g., post it to an institutional repository or publish it in a book), with an acknowledgement of its initial publication in this journal.

3)Authors are permitted and encouraged to post their work online (e.g., in institutional repositories or on their website) prior to and during the submission process, as it can lead to productive exchanges, as well as earlier and greater citation of published work (See The Effect of Open Access).

Abstract viewed = 102 times