Stigmasterol (Steroid) From Leaves of Solanum ferox L (Sour Eggplant) Plant
Hazimah

Institut Teknologi Batam




(ID)

Haiyul Fadhli

Sekolah Tinggi Ilmu Farmasi Riau




(ID)

Dina Fitriyah

Universitas Maritim Raja Ali Haji




(ID)
Keywords:
solanum ferox, solanaceae, stigmasterol
Abstract
Solanum ferox L is a vegetable that is often used as a flavor in cooking that belongs to the Solanaceae family. Solanum ferox L contains terpenoids, steroids, flavonoids, alkaloids, and phenolic compounds. Solanum ferox has various bioactive compounds used as antirheumatic, antiasthma, antiviral, anticancer, and antibacterial. The aim of this study was to isolate and characterize the stigmasterol compound from the Solanum ferox plant. The compound was elucidated by UV, IR, and NMR spectroscopy and was named HSF. The HSF compound has the chemical formula C29H48O and the name is Stigmasterol.
Downloads
Download data is not yet available.
References
Abdullah, M., Nesa, M., Islam, R., Banu, J., Sarkar, J., & Islam, N. 2012. Bioactivity Studies Of Solanum Ferox L Against Tribolium Castaneum (Herbst) Adults. Journal Life Earth Sci., 7, 29–32.
Atun, S., Sinardekawati, A., Purpratama, A. C., Aznam, N., & Sangal, A. 2022. Curcuminoid Nanoemulsion from Curcuma xanthorrhiza Extract and Its Activity as Antioxidant, Antibacterial and Antifungal. 15(2), 907–913.
Cardenas, P. D., Sonawane, P. D., Heinig, U., Bocobza, S. E., Burdman, S., & Aharoni, A. 2015. The bitter side of the nightshades: Genomics drives discovery in Solanaceae steroidal alkaloid metabolism. In Phytochemistry (Vol. 113, pp. 24–32). https://doi.org/10.1016/j.phytochem.2014.12.010
Cayme, J.-M. C., & Ragasa, C. Y. 2004. Structure elucidation of -beta stigmasterol and beta-sitosterol from Scsbania urandittorallinn.J Pers. and beta-carotene from Hcliotronium indicumlinn. hv NMR spectroscopy. Number, 20(112), 5–12.
Hazimah, Teruna HY, J. C. 2013. Aktivitas Antioksidan dan Antimikrobial dari Ekstrak Plectranthus amboinicus. Jurnal Penelitian Farmasi Indonesia, 1(2), 39–42.
Hazimah, Azharman, Z., Rahyuti, V., Afriliani, D., & Organik Universitas Riau, K. 2018. Aktivitass Antibakteria Ekstrak Metanol Daun Tanaman Solanum ferox L. 4(1), 2621–1262.
Hazimah, H., Azharman, Z., Yuharmen, Y., Rahyuti, V., & Afriliani, A. 2019. Antibacterial Activity of The Hexane Extract from Leaf of Plant Solanum Ferox L. https://doi.org/10.4108/eai.18-10-2018.2287176
Katja, D. G. 2021. Senyawa Stigmasterol (Steroid) dari Kulit Batang Chisocheton celebicus koord (Meliaceae). Chemistry Progress, 14(1), 56–61. https://doi.org/10.35799/cp.14.1.2021.34154
Newman, D. J., & Cragg, G. M. 2007. Natural products as sources of new drugs over the last 25 years. In Journal of Natural Products (Vol. 70, Issue 3, pp. 461–477). https://doi.org/10.1021/np068054v
Nurmalasari, F., Ersam, T., & Fatmawati, S. 2016. Isolasi Senyawa Antioksidan dari Kulit Batang Sonneratia ovata Backer. Jurnal Sains Dan Seni Its, 5(2), 3–7. https://media.neliti.com/media/publications/130421-ID-isolasi-senyawa-antioksidan-dari-kulit-b.pdf
Ohtsuki, T., Miyagawa, T., Koyano, T., Kowithayakorn, T., & Ishibashi, M. 2010. Isolation and structure elucidation of flavonoid glycosides from Solanum verbascifolium. Phytochemistry Letters, 3(2), 88–92. https://doi.org/10.1016/j.phytol.2010.02.002
Olmstead, R. G., Bohs, L., Migid, H. A., Santiago-valentin, E., Garcia, V. F., & Collier, S. M. 2008. A molecular phylogeny of the Solanaceae. 57(November), 1159–1181.
Sumarlin, D., Dirhamsyah, M., & Ardian, H. 2015. Identifikasi Tumbuhan Sumber Pangan di Hutan Tembawang Desa Aur Sampuk Kecamatan Sengah Temila Kabupaten Landak. Jurnal Hutan Lestari, 4(1), 32–39.
Syarpin, S., Nugroho, W., & Rahayu, S. 2018. Uji Fitokimia dan Antioksidan Ekstrak Etanol Buah Terung Asam (Solanum Ferox L). Acta Pharmaciae Indonesia, 6(September), 46–50. https://doi.org/10.5281/zenodo.3707211
Yadav, A. G., Patil, V. N., Asrondkar, A. L., Naik, A. A., Ansulkar, P. V, Bobade, A. S., & Chowdhary, A. S. 2012. Anti-Oxidant and Anti-Microbial Activities of Pyrazolyl-Benzothiazole Derivatives Using Vilsmeier-Haack Reaction. Rasayan Journal of Chemistry, 5(1), 117–120.
Yayli, N., & Baltaci, C. 1996. The Sterols of Cyclamen Coum The Sterols of Cyclamen Coum Nurettin YAYLI Cemalettin BALTACI. 20(4).https://journals.tubitak.gov.tr/chem:https://journals.tubitak.gov.tr/chem/vol20/iss4/10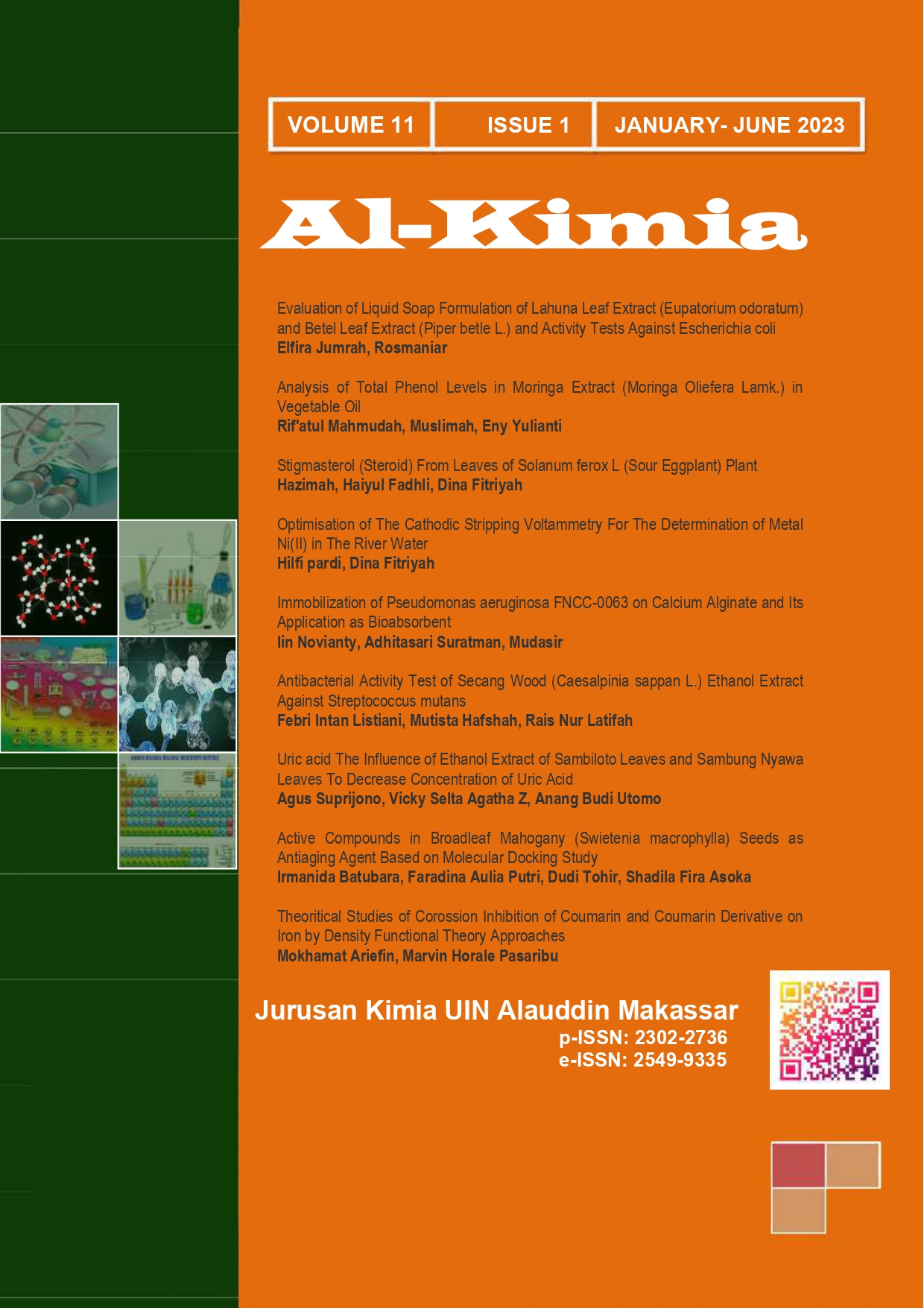 How to Cite

Hazimah, Fadhli, H., & Fitriyah, D. (2023). Stigmasterol (Steroid) From Leaves of Solanum ferox L (Sour Eggplant) Plant. Al-Kimia, 11(1). https://doi.org/10.24252/al-kimia.v11i1.35337

Authors who publish with this journal agree to the following terms:

1) Authors retain copyright and grant the journal right of first publication with the work simultaneously licensed under a Creative Commons Attribution License that allows others to share the work with an acknowledgement of the work's authorship and initial publication in this journal.

2) Authors are able to enter into separate, additional contractual arrangements for the non-exclusive distribution of the journal's published version of the work (e.g., post it to an institutional repository or publish it in a book), with an acknowledgement of its initial publication in this journal.

3)Authors are permitted and encouraged to post their work online (e.g., in institutional repositories or on their website) prior to and during the submission process, as it can lead to productive exchanges, as well as earlier and greater citation of published work (See The Effect of Open Access).

Abstract viewed = 149 times