Sintesis N-p-Metilbenzil-p-Kumaramida dari Asam p-Kumarat
Nasriadi Dali

Jurusan Kimia, FMIPA, Universitas Halu Oleo




(ID)

Arniah Dali



Abstract
N-p-Methylbenzyl-p-coumaramide has been synthesized from p-coumaric acid. The purpose of this study was to synthesize N-p-methylbenzyl-p-coumaramide compounds from p-coumaric acid. The N-p-methylbenzyl-p-coumaramide target compound was obtained by direct conversion method using a orthoboric acid catalyst. Target compounds were identified and characterized by melting point, TLC test, FTIR, 1H-NMR, and 13C-NMR spectrometer. The results showed that N-p-methylbenzyl-p-coumaramide compound obtained was white solid (yield 75.83%) with melting point 156-158 oC and TLC (SiO2, n-hexane : chloroform = 5: 3 v/v, Rf = 0.37).
Downloads
Download data is not yet available.
References
Firdaus, Soekamto, N. H., & Karim, A. (2009). Sintesis senyawa p-hidroksiamida dari asam p-hidroksisinamat melalui reaksi esterifikasi dan amonolisis. J. Chemica Acta. Vol. 2, 2-8.
Firdaus, Soekamto, N. H., Umar, U., Dali, S., Makmun, & Agustiningsih, A. (2011). Sintesis derivate senyawa p-kumaramida dan uji bioaktivitasnya terhadap sel kanker leukimia P-388. Laporan Penelitian. FMIPA UNHAS, Makassar.
Ilyas, A. (2008). Isolasi dan identifikasi metabolit sekunder dari ekstrak etilasetat kulit akar tumbuhan Kleinhovia hospita Linn (paliasa) dan uji toksitasnya terhadap Artemia salina Leach. Tesis. Program Pascasarjana Unhas, Makassar.
Kemp, W. (1991). Organic Spectroscopy. 3rd Edition. MacMillan Education Ltd., London.
Lambert, J.B., Gronert, S., Shurvell, H.F., & Lightner, D.A. (2011). Organic Structural Spectroscopy. 2nd ed.. New Jersey, Pearson Prentice Hall.
Matta, M. S., Wilbraham, A. C., & Staley, D. D. (1996). Introduction to Organic and Biological Chemistry. Lexington , D. C. Heath and Company.
Rasyid, H. (2014). Sintesis metil -(p-hidroksifenil)akrilat dan metil -(p-metoksifenil)akrilat serta uji bioaktivitas terhadap sel tumor P-388. Skripsi. FMIPA Unhas, Makassar.
Shargel, L., Yu, A., & Wu-Pong, S. (2004). Applied Biopharmaceutics and Pharmacokinetics. 5th ed. New York, McGraw Hill Professional.
Tang, P. (2005). Boroc acid catalyzed amide formation from carboxylic acid and amines n-benzyl-4-phenylbutyramide. J. Organic Syntheses. Vol. 81, 262-267.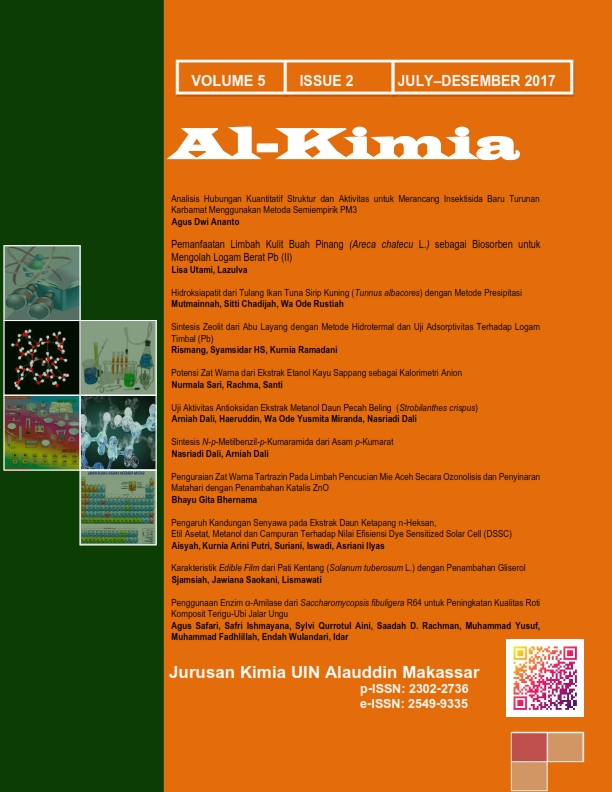 How to Cite
Dali, N., & Dali, A. (2017). Sintesis N-p-Metilbenzil-p-Kumaramida dari Asam p-Kumarat. Al-Kimia, 5(2), 154-160. https://doi.org/10.24252/al-kimia.v5i2.3643
Copyright (c) 2017 Nasriadi Dali, Arniah Dali
This work is licensed under a Creative Commons Attribution-NonCommercial-ShareAlike 4.0 International License.

Authors who publish with this journal agree to the following terms:

1) Authors retain copyright and grant the journal right of first publication with the work simultaneously licensed under a Creative Commons Attribution License that allows others to share the work with an acknowledgement of the work's authorship and initial publication in this journal.

2) Authors are able to enter into separate, additional contractual arrangements for the non-exclusive distribution of the journal's published version of the work (e.g., post it to an institutional repository or publish it in a book), with an acknowledgement of its initial publication in this journal.

3)Authors are permitted and encouraged to post their work online (e.g., in institutional repositories or on their website) prior to and during the submission process, as it can lead to productive exchanges, as well as earlier and greater citation of published work (See The Effect of Open Access).

Abstract viewed = 971 times