Antibacterial Activity Test of Secang Wood (Caesalpinia sappan L.) Ethanol Extract Against Streptococcus mutans
Febri Intan Listiani

Program Studi Kimia Fakultas Sains dan Teknologi UIN Walisongo Semarang




(ID)

Mutista Hafshah

Program Studi Kimia Fakultas Sains dan Teknologi UIN Walisongo Semarang




(ID)

Rais Nur Latifah

Program Studi Kimia Fakultas Sains dan Teknologi UIN Walisongo Semarang




(ID)
Keywords:
antibacteri; MBC; MIC; secang wood; and Streptococcus mutans
Abstract
Dental caries is caused by the Streptococcus mutans bacteria, which causes a food deposit to harden and adhere to the tooth surface. Cavities will develop if food residue is not removed. Herbal plants, specifically sappan wood, can be used as an antibiotic. The purpose of this study was to look at the secondary metabolite content of sappan wood extract, antibacterial activity, and the minimum inhibitory concentration (MIC) and minimum bactericidal concentration (MBC) of sappan wood extract against Streptococcus mutans bacteria. This research method includes the maceration of sappan wood extract with 96% ethanol solvent, phytochemical screening of sappan wood extract, inhibition zone test with paper disc method, and MIC and MBC tests. Qualitative testing revealed that the sappan wood extract contained alkaloids, flavonoids, tannins, and saponins. Flavonoids, tannins, and saponins are all constituents of plants. Secang wood extract has antibacterial activity against Streptococcus mutans, as evidenced by the formation of inhibition zones at concentrations of 20%, 40%, 60%, 80%, and 100%, namely 8.75±0.354; 11±1.41;, 12.75±0.354; 16.25±0.354; and 17.5±0.000 mm. Sappan wood ethanol extract had a MIC of 12.5% against Streptococcus mutans and an MBC of 25%.
Downloads
Download data is not yet available.
References
Agustina, S., Ruslan, & Wiraningtyas, A. 2016. Skrining Fitokimia Tanaman Obat Di Kabupaten Bima. Cakra Kimia (Indonesian E-Journal Of Applied Chemistry), 4(1), 71–76.
Armedita, D., Asfrizal, V., & Amir, M. 2018. Aktivitas Antibakteri Ekstrak Etanol Daun, Kulit Batang, dan Getah Angsana (Pterocarpus Indicus Willd) terhadapPertumbuhan Streptococcus mutans. ODONTO Dental Journa, 5(1).
Aviany, H. B., & Pujiyanto, S. 2020. Analisis Efektivitas Probiotik di Dalam Produk Kecantikan sebagai Antibakteri terhadap Bakteri Staphylococcus epidermidis. Jurnal Berkala Bioteknologi, 3(2), 24–31.
Brookes, Z. L. S., Bescos, R., Belfield, L. A., Ali, K., & Roberts, A. 2020. Current uses of chlorohexidine for management of oral disease: a narrative review. Jpurnal of Dentistry, 103(January), 1–9.
Cacique, A. P., Barbosa, É. S., de Pinho, G. P., & Silvério, F. O. 2020. Maceration extraction conditions for determining the phenolic compounds and the antioxidant activity of catharanthus roseus (L.) g. don. Ciencia e Agrotecnologia, 44, 1–12. https://doi.org/10.1590/1413-7054202044017420
Cahyaningtyas, D. ., Puspawati, N., & Binugraheni, R. 2019. Uji Aktivitas Antibakteri Ekstrak Etanolik Kayu Secang (Caesalpinia sappan L.) terhadap Staphylococcus aureus. Biomedia, 12, 205–216.
Gupta, M., Gugnani, N., & Pandit, I. 2011. International Caries Detection and Assessment System (ICDAS): A New Concept. International Journal of Clinical Pediatric Dentistry, 4(2), 93–100. https://doi.org/10.5005/jp-journals-10005-1089
Hartono, Muthiadin, C., & Bakri, Z. 2012. Daya Hambat Sinbiotik Ekstrak Inulin dari Bawang Merah (Allium cepa L.) dengan Bakteri Lactobacillus acidophillus Terhadap Pertumbuhan Bakteri Escherichia coli. Jurnal Bionature, 13(1).
Jawa, T. 2016. Uji Dya Hambat Antibakteri Ekstrak Umbi Bawah Merah (Allium ascalonicum L.) terhadap Pertimbuhan Bakteri Pembentukan Karies Gigi Streptococcus mutans. Universitas Sanata Dharma Yogyakarta.
Karlina, Y., Adirestuti, P., Agustin, D. M., Fadhilah, N. L., Fauziyyah, N., & Malita, D. (2016). Pengujian Potensi Antijamur Ekstrak Air Kayu Secang Terhadap Aspergillus niger dan Candida albicans. Chimica et Natura Acta, 4(2).
Katno, & Pramono, S. 2001. Tingkat Manfaat dan Keamanan Tanaman Obat dan Obat Tradisional. Fakultas Farmasi, UGM.
Löe, H. 2000. Ural hygiene in the prevention of caries and periodontal disease. International Dental Journal, 50(3), 129–139. https://doi.org/10.1111/j.1875-595X.2000.tb00553.x
Masriani, & Budi, F. S. 2016. Penapisan Fitokimia Ekstrak Metanol Beberapa Tumbuhan Obat Asal Kalimantan Barat. Seminar Nasional Penerapan Ilmu Pengetahuan Dan Teknologi, 191–198.
Maulanti, T., & Laksono, A. D. 2021. Oral Health Problem in Indonesia: An Ecological Analysis. Indian Journal of Forensic Medicine & Toxicology, July. https://doi.org/10.37506/ijfmt.v15i3.16307
Mayasari, U., & Sapitri, A. 2019. Uji Aktivitas Antibakteri Daun Sereh Wangi (Cymbopogon nardus) Terhadap Pertumbuhan Bakteri Streptococcus mutans. KLOROFIL, 3(2), 15–19.
Mutammima, N. 2017. Uji aktivitas antijamur, penentuan konsentrasi hambat minimum (KHM) dan konsentrasi bunuh minimum (KBM) serta KLT-bioautografi ekstrak etanol daun plethekan (Ruellia tuberosa L.) terhadap Candida albicans. Universitas Islam Negeri Maulana Malik Ibrahim.
Nurhayati, N. 2011. Uji aktivitas antibakteri ekstrak etanol daun ubi jalar putih (Ipomoea batatas L.) cultivar umbi putih terhadap bakteri Staphylococcus aureus dan Pseudomonas aeruginosa. Universitas Islam Negeri Alauddin Makassar.
Oktanauli, P., Taher, P., & Prakasa, A. D. 2017. EFEK OBAT KUMUR BERALKOHOL TERHADAP JARINGAN RONGGA MULUT (Kajian Pustaka). Jurnal Ilmiah Dan Teknologi Kedokteran Gigi, 13(1), 4. https://doi.org/10.32509/jitekgi.v13i1.850
Oktirisma, M. 2018. Potensi Antibakteri Ekstrak Wedelia biflora (L) DC. Terhadap Pertumbuhan Streptococcus mutans. (STKIP) PGRI Seumatera Barat.
Olivia, D. 2018. Aktivitas Antimikroba dari Ekstrak Daun Surian (Toona sureni Merr.) terhadap Strepcoccus mutans dan Candida albicans. Universitas Sumatera Utara.
Parbuntari, H., Etika, S. B., Mulia, M., & Delvia, E. 2019. A Preliminary Screening of the Different of Secondary Metabolites Ruku-Ruku Leaves (Ocimum tenuiflorum Linnen) in West Sumatera. Eksakta : Berkala Ilmiah Bidang MIPA, 20(2), 17–24. https://doi.org/10.24036/eksakta/vol20-iss2/193
Rahardjo, A., & Maharani, D. A. 2014. A Review of Indonesia's Dental Health - Past, Present and Future. International Journal of Clinical Preventive Dentistry, 10(3), 121–126. https://doi.org/10.15236/ijcpd.2014.10.3.121
Rahman, F. A., Haniastuti, T., & Utami, T. wahyu. 2017. Skrining fitokimia dan aktivitas antibakteri ekstrak etanol daun sirsak (Annona muricata L.) pada Streptococcus mutans ATCC 35668. Majalah Kedokteran Gigi Indonesia, 3(1), 1–7.
Rajkumar, G., Panambara, P. A. H. R., & Sanmugarajah, V. 2022. Comparative Analysis of Qualitative and Quantitative Phytochemical Evaluation of Selected Leaves of Medicinal Plants in Jaffna, Sri Lanka. Borneo Journal of Pharmacy, 5(2), 93–103. https://doi.org/10.33084/bjop.v5i2.3091
Riskesdas, T. 2019. Laporan Nasional Riskesdas 2018. In Lembaga Penerbit Badan Penelitian dan Pengembangan Kesehatan, Kementerian Kesehatan RI (p. 126). https://doi.org/10.12688/f1000research.46544.1
Rollando, R., Prasetyo, Y. S. A., & Sitepu, R. 2019. Uji antimikroba minyak atsiri masoyi (Massoia aromatica) terhadap bakteri Streptococcus mutans. Majalah Farmasi Dan Farmakologi, 23(2), 52–57.
Sakul, G., Simbala, H., & Rundengan, G. 2020. ji Daya Hambat Ekstrak Etanol Daun Pangi (Pangium edule Reinw. ex Blume) Terhadap Bakteri Staphylococcus aureus, Escherichia coli dan Pseudomonas aeruginosa. Pharmacon, 9(2), 275–283.
Sudarsono, Gunawan, D., Wahyuono, S., Donatus, I. A., & Purnomo. 2002. Tumbuhan Obat ll: Hasil Penelitian, Sifat-Sifat, dan Penggunaan. PPOT-UGM.
Syahrani, H. D., Manalu, K., & Tambunan, E. P. S. 2021. Uji Efektivitas Antimikroba Ekstrak Bunga Kecombrang (Etlingera Elatior) Terhadap Pertumbuhan Streptococcus mutans dan Candida albicans. BEST Journal (Biology Education, Sains and Technology), 4(2), 367–373.
Utami, E. R. 2021. AKTIVITAS ANTIBAKTERI EKSTRAK ETANOL DAUN PANDAN WANGI (Pandanus amaryfolius) TERHADAP Staphylococcus aureus. Jurnal Kesehatan: Jurnal Ilmiah Multi Sciences, 11(01), 61–71.
Wiharningtias, I. 2016. Uji Konsentrasi Hambat Minimum (Khm) Ekstrak Kulit Nanas (Ananas Comosus L) Terhadap Staphylococcus Aureus. PHARMACON, 5(4).
Yadav, K., & Prakash, S. 2016. Dental Caries: A Review. Khusbu, Yadav Satyam, Prakash, 6(August), 1–7. https://doi.org/10.15272/ajbps.v6i53.773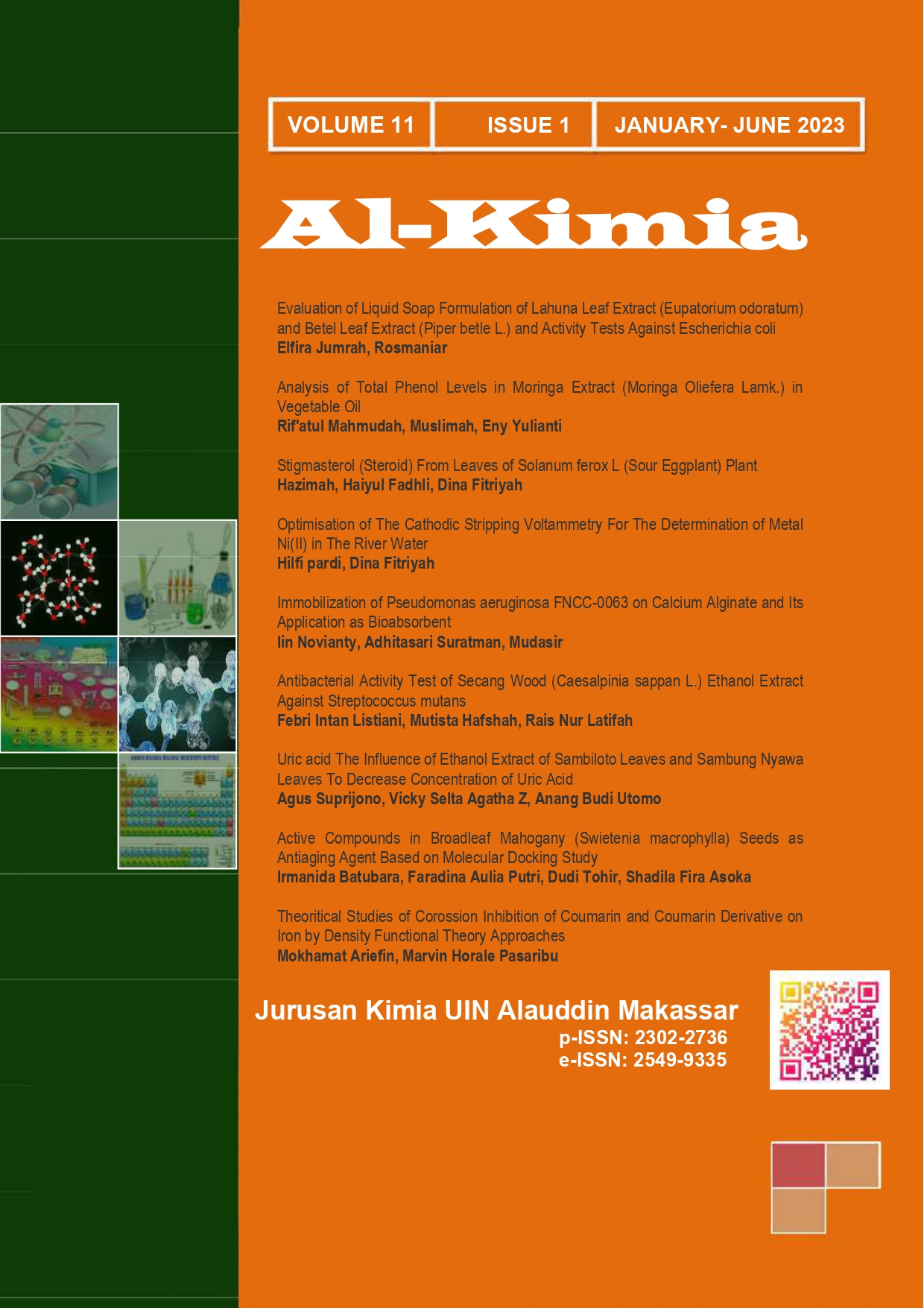 How to Cite

Listiani, F. I., Hafshah, M., & Latifah, R. N. (2023). Antibacterial Activity Test of Secang Wood (Caesalpinia sappan L.) Ethanol Extract Against Streptococcus mutans. Al-Kimia, 11(1). https://doi.org/10.24252/al-kimia.v11i1.37136

Authors who publish with this journal agree to the following terms:

1) Authors retain copyright and grant the journal right of first publication with the work simultaneously licensed under a Creative Commons Attribution License that allows others to share the work with an acknowledgement of the work's authorship and initial publication in this journal.

2) Authors are able to enter into separate, additional contractual arrangements for the non-exclusive distribution of the journal's published version of the work (e.g., post it to an institutional repository or publish it in a book), with an acknowledgement of its initial publication in this journal.

3)Authors are permitted and encouraged to post their work online (e.g., in institutional repositories or on their website) prior to and during the submission process, as it can lead to productive exchanges, as well as earlier and greater citation of published work (See The Effect of Open Access).

Abstract viewed = 238 times