Formalin Analysis of Food Ingredients in Palu
Rismawaty Sikanna

Alauddin state Islamic University of Makassar




(ID)

Ivone Venita Sarapun

Research Lab.of Chemistry Dept.of Matematics and Natural Science Faculty, Tadulako University, Palu




Dwi Juli Puspitasari

Chemistry Dept.of Mathematics and Natural Science Faculty, Tadulako University, Palu.



Abstract
Research on formalin analysis of food ingredients in Palu has been conducted. The purpose of the research is to find out formalin content in some food. The analyzed samples were foods that marketed in Palu, such as salt fish, noodles, mujair fish, and tofu obtained from several places in Palu. The qualitative analysis of formalin done before measured of formalin quantitatively. The data on formalin found by UV-Vis spectrophotometer with the wavelength of 385 nm. Formalin content of salted fish, noodles, Mujair fish, and tofu were 2,005 ± 0,187ppm, 2,183 ±0,231ppm, 1,931 ±0,174 ppm, and 1,957 ±0,254 ppm, respectively.
Downloads
Download data is not yet available.
References
Antoni, S. (2010) Analisa Kandungan Formalin pada Ikan Asin dengan Metoda Spektrofotometri di Kecamatan Tampan Pekanbaru, Fakultas Tarbiyah dan Keguruan, Universitas Islam Negeri Sultan Syarif Kasim Riau.
Badan Pengawas Obat dan Makanan (BPOM). (2003) Formalin (Larutan Formaldehid), Deputi Bidang Pengawasan Keamanan Pangan dan Bahan Berbahaya, Jakarta.
Cahyadi,W. (2009) Bahan Tambahan Pangan. Jakarta: Bumi Aksara.
Muntaha, A.,Haitami, dan Hayati N. (2015). Perbandingan Penurunan Kadar Formalin pada Tahu yang Direbus dan Direndam Air Panas, Medical Laboratory Technology Journal 1 (2): 84-90.
Nurrahman dan J.T. Isworo (2007). Pengaruh Penambahan Tawas Terhadap Sifat Mikrobiologi, Fisik dan Lama Simpan Mie, Jurnal Litbang Unimus, 3(2):1-8.
Peraturan Menteri Kesehatan RI No. 722/MENKES/PER/IX/1998, Bahan Tambahan Makanan, Departemen Kesehatan RI. Jakarta.
Purawisastra, S., dan Sahara, E. (2011). Penyerapan Formalin Oleh Beberapa Jenis Bahan Makanan Serta Penghilangannya Melalui Perendaman Dalam Air Panas, Jurnal Peneliti Pusat Teknologi Terapan Kesehatan dan Epidemiologi Klinik, 34(1): 63-74.
Sikanna, R., 2016, Analisis Kualitatif Kandungan Formalin dalam Tahu yang dijual di beberapa Pasar di kota Palu, Jurnal Kovalen, 2(2):85-90.
Wijaya, D. (2011). Waspada Zat Aditif dalam Makananmu, Yogyakarta: Buku Biru.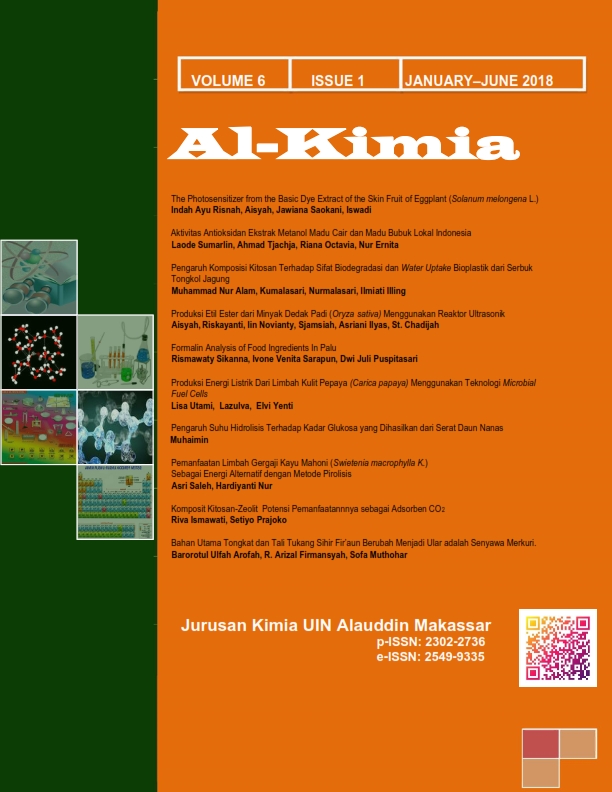 How to Cite
Sikanna, R., Sarapun, I. V., & Puspitasari, D. J. (2018). Formalin Analysis of Food Ingredients in Palu. Al-Kimia, 6(1), 46-51. https://doi.org/10.24252/al-kimia.v6i1.4916
This work is licensed under a Creative Commons Attribution-NonCommercial-ShareAlike 4.0 International License.

Authors who publish with this journal agree to the following terms:

1) Authors retain copyright and grant the journal right of first publication with the work simultaneously licensed under a Creative Commons Attribution License that allows others to share the work with an acknowledgement of the work's authorship and initial publication in this journal.

2) Authors are able to enter into separate, additional contractual arrangements for the non-exclusive distribution of the journal's published version of the work (e.g., post it to an institutional repository or publish it in a book), with an acknowledgement of its initial publication in this journal.

3)Authors are permitted and encouraged to post their work online (e.g., in institutional repositories or on their website) prior to and during the submission process, as it can lead to productive exchanges, as well as earlier and greater citation of published work (See The Effect of Open Access).

Abstract viewed = 998 times