Pengaruh Budaya Organisasi, Kepuasan dan Lingkungan Kerja Terhadap Kinerja Dosen UIN Alauddin Makassar
Murtiadi Awaluddin

Fakultas Ekonomi dan Bisnis Islam Universitas Islam Negeri Alauddin




(ID)
Abstract
Tujuan dari penelitian ini adalah untuk mengetahui dan menganalisis pengaruh budaya organisasi, kepuasan dan lingkungan kerja terhadap kinerja dosen. Penelitian ini adalah penelitian eksplanatori (explanatory research). Penelitian ini menggunakan data primer. Sampel Penelitian ini adalah berjumlah 66 responden. Pada penelitian ini, jenis data yang digunakan bersifat kualitatif dan kuantitatif, Sumber data yang digunakan dalam penelitian ini bersifat data primer dan data sekunder. Pada penelitian ini teknik pengumpulan data yang digunakan meliputi: observasi, wawancara, kuisioner dan dokumentasi. Metode analisis yang digunakan dalam penelitian ini adalah Regresi linear berganda. Kesimpulan penelitian ini adalah terdapat pengaruh budaya organisasi, kepuasan dan lingkungan kerja terhadap kinerja dosen.
References
Adair, John, 1990; Leadership and Motivation (The Fifty-Fifty Rule and the Eight Key Principles of Motivating Others) disadur Fairano Ilyas (2008), PT.Gramedia Pustaka Utama, Jakarta.
Angrist, Joshua D. & Acemoglu, Daron. 2001. Consequences of Employment Protection? The Case of the Americans with Disabilities Act. MIT. USA.
As'ad, Moch. 1995. Psikologi Industri. Yogyakarta: Liberty
Begley, Thomas M dan Joseph M Czajka, 1993. "Panel Analysis of The Moderating Effects of Commitment on Job Satisfaction, Intent to Quit, and Health following Organizational Change", Journal of Applied Psychology, Vol.75, No.4, 552-556.
Betts, Julian R, 2001. The Impact of School Resources on Women's Earnings and Education Attaiment: Findings from the National Longitudinal Survey of Young Women; Journal Labor Economics, Vol. 19 (635-657), The 16 University Chicago. of Chicago Press.
Burki, SJ, G.E. Perry dan W.R. Dillinger, 1999. Beyond the Center: Dezentralizing the State. The World Bank, Washington DC.
Chatman and Bersade, 1997. Employee Satisfaction, Factor Associated With Company Performance, Journal Of Applied Psychology, February, 29-42.
Djojonegoro, Wardiman. 2004, Budaya Perusahaan, PT. Media Kompetindo, Jakarta.
Gibson, James dkk. 2004. Organizations; Behavior, Structures, Processes. Boston: McGrawhill.
Harriss dan Mossholder 1996, Corporate Cultures, Reading, Mass.: Addison-Wesley.
Haryani, 1998, Hubungan Kepuasan Kerja Dengan Produktivitas Kerja di Perusahaan Tenun Setagen Ibu Wasil, Jurnal Ekonomi Manajemen dan Akuntansi, 5 (8).
Hunger, David, J, and Thomas Wheeler, 1987. Strategic Management and Business Policy. USA: Addison Wesley Publishing Company.
Kotter, JP dan J.L. Heskett, 1997. Corporate Culture and Performance, Jakarta : PT. Prenhallindo.
Madris, 2007, Karakteristik Dinamik Tenaga Kerja Edukatif: Analisis Kinerja, Fungsi Upah dan Fungsi Penawaran Tenaga Kerja Dosen Perguruan Tinggi Negeri di Makassar, Disertasi, Pascasarjana Universitas Hasanuddin, Makassar
Mangkunegara, A.A. Anwar Prabu. 2007, Manajemen sumber daya manusia perusahaan, Bandung : Remaja Rosdakarya.
Miner, John B, 1988, Organizational Behavior Performance and Productivity, First Edition, New York: Random House, Inc.
Peraturan Pemerintah nomor 19 tahun 2005, tentang Standar Nasional Pendidikan Peraturan Pemerintah nomor 60 Tahun 1999, Tentang Pendidikan Tinggi.
Perry, 1991, Taking an Offensive Stance, Exchange, Summer: 3-7.
Rasch, R. H., dan A. Harrell. 1989, "The Impact of Personal Characteristics on the Turnover Behavior of Accounting Professionals", Auditing: A Journal of Practice & Theory, 9 (2), halaman 90-102.
Robbins, Stephen P, 1996, Organazation Theory: Structure, Design, and Applications, Prentice Hall, Inc, A Division of Simon and Schuster, Englewood Cliffs, 1990, Alih Bahasa Yusuf Udaya, Cetakan Kedua, Penerbit Arcan, Jakarta.
Sedarmayanti, 2003, Sumber Daya Manusia dan Produktivitas Kerja, Bandung, Penerbit Mandar Maju.
Siagian, Sondang P.,1995, Teori, Motivasi dan Aplikasinya, Cetakan Kedua, Rineka Cipta, Jakarta.
Sule, Ernie Tisnawati, 2002. Keterkaitan antara Kepuasan Kerja Karyawan dan Kepuasan Pelanggan dengan Kinerja Perusahaan; Jurnal Bisnis dan Manajemen Vol.1 No.1 (27-52).
Ting, Yuan. 1997. "Determinans of Job Satisfaction of Federal Government Abstract. 26, no 3: 313. http//www.-hr.org/pubs/ppm/ting.html Employes.' Public Personnel Management.
White, B. J. 1988. "The Internalization of Business: One Company's Response", Academy of Management Executive 2, no.1:29-32.
Zulkifli, 1996. Pengaruh Faktor Kepuasan Kerja terhadap Prestasi Kerja Buruh Pemetik Daun Teh di PTP.VII Kayu Aro; Jurnal Manajemen dan Pembangunan, Edisi V, (82-89), FE-UNJA.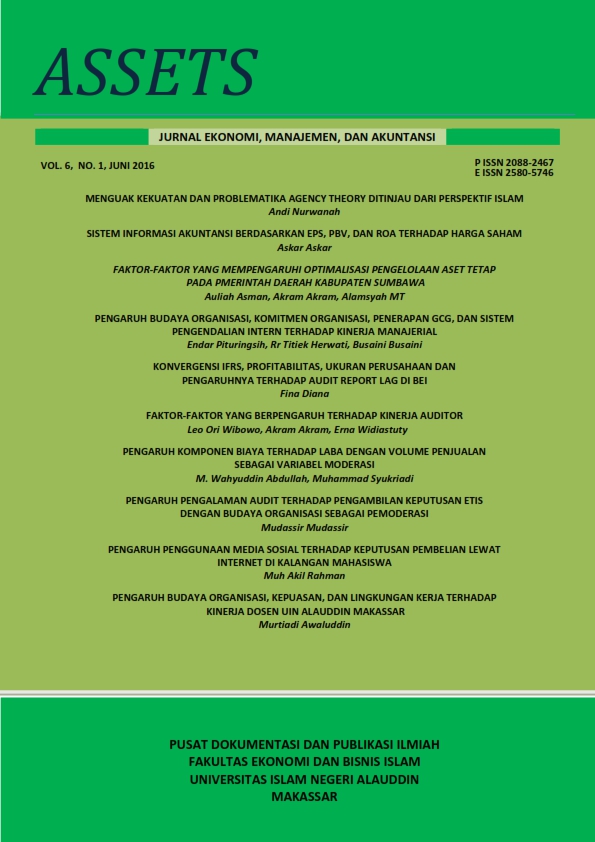 How to Cite

Awaluddin, M. (2016). Pengaruh Budaya Organisasi, Kepuasan dan Lingkungan Kerja Terhadap Kinerja Dosen UIN Alauddin Makassar. Assets : Jurnal Ekonomi, Manajemen Dan Akuntansi, 6(1), 116-125. https://doi.org/10.24252/.v6i1.1605

Abstract viewed = 2015 times