SUSTAINABILITY PERFORMANCE MEASUREMENT OF HASANUDDIN UNIVERSITY THROUGH A GRAPHICAL ASSESSMENT OF SUSTAINABILITY IN UNIVERSITIES (GASU)
Keywords:
Sustainability Performance, Hasanuddin University, GASU
Abstract
This study aims to analyze the sustainability performance of Hasanuddin University. This study used six assessment dimensions: profile, economic, environmental, social, educational, and interrelated issues and dimensions. For each category, an assessment is given for the university's factual performance. The method used in this study is descriptive qualitative using GASU (Graphical Assessment of Sustainability in University) tools. The results showed that Hasanuddin University has good sustainability performance in all aspects of sustainability. The highest sustainability value is obtained by the educational aspect (100%) and the social aspect (75%). This aspect brings a high value because Hasanudin University is engaged in developing knowledge and education. The value of sustainability in other aspects, such as profile, economic, and environmental, is still at a good level because the value obtained is not less than 50%. Although Hasanuddin University has a good sustainability performance, there is still a need to improve the aspects of interrelated issues and dimensions (33%) because this aspect has the lowest value.
References
A. Yani, DD, Pratiwi, HS, & Muhardi, H. (2019). Implementation of Web Scraping for Data Retrieval on Marketplace Sites. Journal of Information Systems and Technology (JUSTIN), 7 (4), 257. https://doi.org/10.26418/justin.v7i4.30930
Ariastini, NN, & Semara, IMT (2019). Implementation of the Triple Bottom Line Concept in the Corporate Social Responsibility Program at the Alila Seminyak Hotel. Scientific Journal of Hospitality Management, 9 (2), 160–168. https://doi.org/10.22334/jihm.v9i2.155
Aziza, WQ, & Sukoharsono, EG (2021). The evolution of sustainability accounting. Industry and Higher Education, 3 (1), 1689–1699. http://journal.unilak.ac.id/index.php/JIEB/article/view/3845%0Ahttp://dspace.uc.ac.id/handle/123456789/1288
Bebbington, J., & Gray, R. (nd). An Account of Sustainability : Failure, Success and a Reconceptualization. 1–16.
Caeiro, S., Ang, L., Ham, S., Martins, R., Elizabeth, C., & Aldaz, B. (2020). Sustainability Assessment and Benchmarking in Higher Education Institutions — A Critical Reflection. 1–30.
Darmalaksana, W. (2020). Qualitative Research Methods Library Studies and Field Studies. Pre-Print Digital Library UIN Sunan Gunung Djati Bandung , 1–6.
Findler, F., Schönherr, N., & Lozano, R. (2019). Assessing the Impacts of Higher Education Institutions on Sustainable Development — An Analysis of Tools and Indicators. https://doi.org/10.3390/su11010059
Gray, R., & Laughlin, R. (2012). It was 20 years ago today: Sgt Pepper, Accounting, Auditing & Accountability Journal, green accounting, and the Blue Means. Accounting, Auditing and Accountability Journal, 25 (2), 228–255. https://doi.org/10.1108/09513571211198755
Hifni, S., Sayudi, A., & Hayat, A. (2020). Socio and Economic Sustainability Accounting Role : Accountability in Ecology, Socio, and Economy. Proceedings of the National Seminar on Wetland Environment, 4 (April 2019), 404–414.
Idrawahuni, Alimuddin, Habbe, H., & Mediaty. (2020). The essence of environmental accounting in corporate sustainability. Scientific Journal of Management Accounting Volume 3 Number 2 – November 2020, 3 (November), 147–159. https://doi.org/10.35326/jiam.v3i2
Jurana, Yamin, NY, & Indriasari, R. (2019). Interpretivism: A Perspective Used in the Development of Accounting Science. AKTSAR: Journal of Sharia Accounting, 2 (1), 1. https://doi.org/10.21043/aktsar.v2i1.4728
Kamayanti, A. (2022). A pocketbook of questions and answers on qualitative accounting research. https://play.google.com/books/reader?id=kfF2EAAAQBAJ&pg=GBS.PA30&hl=id
Kanigoro, BY (1981). Sustainability Reporting by Universities in Indonesia. Journal of Chemical Information and Modeling, 53 (9), 1689–1699.
Kaur, A., & Lodhia, S. (2018). Stakeholder engagement in sustainability accounting and reporting: A study of Australian local councils. Accounting, Auditing and Accountability Journal, 31 (1), 338–368. https://doi.org/10.1108/AAAJ-12-2014-1901
Kurniawan, PS, & Wahyuni, MA (2019). Sustainability Accounting And Measuring Sustainability Performance In University Sustainability Accounting and Measurement of University Sustainability Performance. Gorontalo Accounting Journal, 2 (2), 50. https://doi.org/10.32662/gaj.v2i2.607
Kurniawan, PS (2019). Sustainability Accounting And University Sustainability Performance Measurement: Is It Possible to Apply Sustainability Accounting in Higher Education Institutions? 1–17. https://doi.org/10.31227/osf.io/b7juy
Kurniawan, PS (2020). Measuring Sustainability Performance in University: Is It Possible To Implement Sustainability Accounting in Public Sector Organizations? Journal of State Financial Governance and Accountability, 6 (1), 57–72. https://doi.org/10.28986/jtaken.v6i1.376
Lozano, R. (2018). Assessing sustainability in higher education institutions holistically Higher Education Institutions' system elements.
Lozano, R. (2011). The state of sustainability reporting in universities. International Journal of Sustainability in Higher Education, 12 (1), 67–78. https://doi.org/10.1108/14676371111098311
Lozano, R. (2006). A tool for a Graphical Assessment of Sustainability in Universities (GASU). Journal of Cleaner Production, 14 (9–11), 963–972. https://doi.org/10.1016/j.jclepro.2005.11.041
Lozano, R., & Huisingh, D. (2011). Inter-linking Issues And Dimensions In Sustainability Reporting. Journal of Cleaner Production, 19 (2–3), 99–107. https://doi.org/10.1016/j.jclepro.2010.01.004
Lozano, R., Llobet, J., & Tideswell, G. (2013). The process of assessing and reporting sustainability at universities: Preparing the report from the University of Leeds. Sostenibilidad, Tecnologia y Humanismo , 6 , 85–112.
Mukaromah, H. (2020). Strategy Towards a Sustainable Campus (Case Study: Faculty of Engineering, Sebelas Maret University). Journal of Spatial Planning, 15 (1), 30. https://doi.org/10.12962/j2716179x.v15i1.6871
Petcharat, NN, & Mula, JM (2012). Towards a conceptual design for environmental and social cost identification and measurement system. Journal of Financial Reporting and Accounting, 10 (1), 34–54. http://dx.doi.org/10.1108/19852511211237435
Phramesti, R., & Yuliastuti, N. (2013). Semarang State University (UNNES) Sustainability Study as a Conservation Campus (Case Study: UNNES Sekaran, Semarang). PWK Engineering Journal Volume 2 Number 1 2013, 2 (1), 183–190.
Putu Mahyuni, L. (2017). The Challenges of Developing Scientific Publications and Teaching Sustainability Accounting in Indonesia. Scientific Journal of Accounting & Business, 2 (2), 297–305. https://doi.org/10.38043/jiab.v2i2.2074
Richardson, AJ, & Kachler, MD (2016). University Sustainability Reporting : A review of the literature and development of a model.
SIGMA Project. (2003). The Sigma Guidelines- Toolkit (sustainability accounting guide). London: SIGMA Project.
Susanto, N., Pirogo, B., Z, ZL, Sigiro, N., & Zevvlin, W. (2016). Analysis of campus sustainability using a graphical assessment of sustainability in university (gasu) method (a case study in the industrial engineering department, Diponegoro University). ICoMS 2016, ICoMS, 176–183.
Utama, WT (2020). Relationship of Driving forces, Pressure, State, Exposures, Health Effects, Action ( DPSEEA ) in the Scope of Health Impact Assessment ( HIA ) . 4, 211–218.
Waheed, B., Khan, F., & Veitch, B. (2009). Linkage-Based Frameworks for Sustainability Assessment: Making a Case for Driving Force-Pressure-State-Exposure-Effect-Action (DPSEEA) Frameworks. 441–463. https://doi.org/10.3390/su1030441
Yanti, F., & Rasmini, NK (2015). Disclosure Analysis of Triple Bottom Line and Influencing Factors : Study in Indonesian and Singapore Companies . 13 (2), 499–512.
https://www.unhas.ac.id/history-short/
https://www.unhas.ac.id/visi-dan-misi/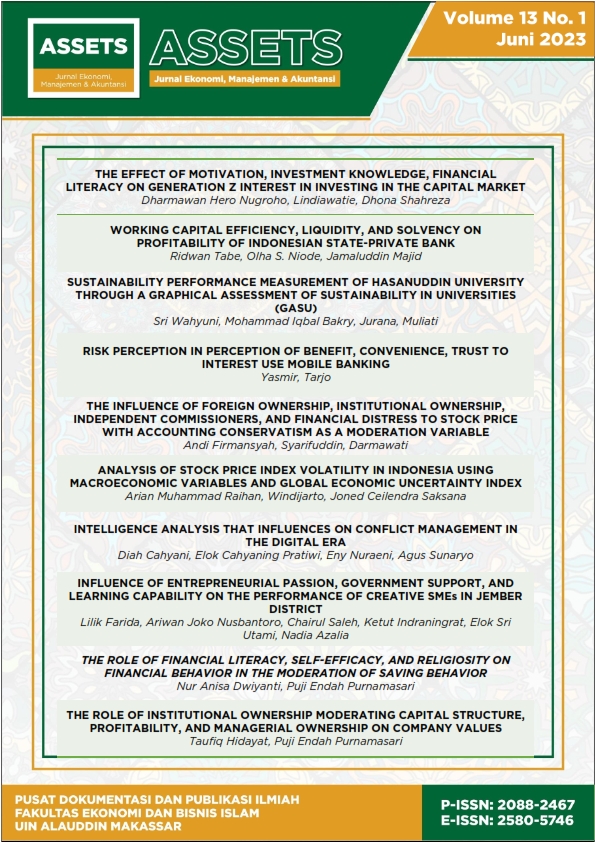 How to Cite

Sri Wahyuni, Mohammad Iqbal Bakry, Jurana, & Muliati. (2023). SUSTAINABILITY PERFORMANCE MEASUREMENT OF HASANUDDIN UNIVERSITY THROUGH A GRAPHICAL ASSESSMENT OF SUSTAINABILITY IN UNIVERSITIES (GASU). Assets : Jurnal Ekonomi, Manajemen Dan Akuntansi, 13(1), 28-44. https://doi.org/10.24252/assets.v13i1.37106

Section

Volume 13 Nomor 1, Juni 2023

Abstract viewed = 96 times