HISTORISITAS PENANGGALAN JAWA ISLAM
Izza Nur Fitrotun Nisa'

Program Magister Ilmu Falak UIN Walisongo Semarang




(ID)
Abstract
The form of diversity in Indonesia is not only about ethnicity, race, religion, etc. It is also related to the calendar used by society in ancient times. The calendar or calendar in Indonesia to be precise on the island of Java is very diverse. Where each period uses a different calendar (from Pre-Islamic to Islam entered the island of Java). The diversity includes the use of the pre-national calendar, candrasengkala, Saka, Islam, Java Islam and AD. The writing of this paper was carried out by means of literature review (using a variety of literature, including books, journals, scientific articles, and so on). The result of his research is the Javanese Islamic calendar which is a form of acculturation of the Javanese calendar and the Islamic calendar. The beginnings of the Javanese Islamic calendar are 1555 J to 1626 J. The 1st Suro year of alip is on Friday Legi (A'ahgi = the year alip Jum'at legi). There are separate provisions in the Javanese Islamic calendar, namely the year following the Saka year and the calendar system using the hijriyah calendar system. In this day and age, the Javanese Islamic calendar system is inherent in the Javanese tradition of commemorating religious holidays, determining good and bad days of marriage, commemorating the yesterday's slametan procession, there are even communities that still hold tightly to the Javanese Islamic calendar or what is called the Aboge Islamic community.
Keywords: calendar, Java, Islam.
References
Ahmad, Nur. "Perayaan Grebeg Besar Demak Sebagai Sarana Religi Dalam Komunikasi Dakwah." At-Tabsyir (Jurnal Komunikasi Penyiaran Islam) 1, no. 2 (2013).
Bashori, Muhammad Hadi. Penanggalan Islam: Peradaban Tanpa Penanggalan, Inikah Pilihan Kita? Jakarta: PT Elex Media Komputindo, 2013.
Faishol, Abdullah, and Samsul Bakri. Islam Dan Budaya Jawa. Cet ke-1. Sukoharjo: Pusat Pengembangan Bahasa IAIN Surakarta, 2014.
Hariyanto. "Gerakan Dakwah Sultan Agung (Arti Penting Perubahan Gelar Sultan Agung Terhadap Gerakan Dakwah Di Jawa Pada Tahun 1613 M-1645 M)." Al-Bayan 24, no. 1 (2018).
Indonesia, Kementerian Pendidikan dan Kebudayaan Republik. "Kamus Besar Bahasa Indonesia." Aplikasi Luring Resmi Badan Pengembangan Bahasa Dan Perbukuan. Balai Putaka, n.d.
Indreswari, Ika. "Implementasi Kalender Jawa Islam Terhadap Kehidupan Masyarakat Kontemporer Desa Siluk, Selopamioro, Imogiri, Bantul." UIN Sunan Kalijaga Yogyakarta, 2018.
Izzuddin, Ahmad. Sistem Penanggalan. Semarang: Jaya, CV Karya Abadi, 2015.
Kebudayaan, Kementerian Pendidikan dan. Sejarah Indonesia. Jakarta: Kementerian Pendidikan dan Kebudayaan Direktorat Jenderal Kebudayaan (Balai Pelestarian Nilai Budaya Aceh), 2013.
Khazin, Muhyidin. Ilmu Falak: Teori Dan Praktik. Yogyakarta: Buana Pustaka, 2011.
Kiftiyah, Anifatul. "Posisi Penggunaan Penanggalan Jawa Islam Dalam Pelaksanaan Ibadah Di Keraton Ngayogyakarta Hadiningrat." IAIN Walisongo, 2011.
Masruhan. "Islamic Effect on Calender of Javanese Community." Al-Mizan 13, no. 1 (2017).
Musonif, Ahmad. "Perbandingan Tarikh Studi Komparatif Kalender Masehi, Hijriyah Dan Jawa Islam." Jurnal Dinamika Penelitian (n.d.).
Musonnif, Ahmad. "POLITIK HUKUM DALAM PERUMUSAN KALENDER ISLAM (Studi Tentang Kebijakan Kalender Nabi Muhammad SAW Di Jazirah Arab Dan Kalender Sultan Agung Di Tanah Jawa )." Ahkam 4, no. 1 (2016).
Rosalina, Irma. "Aplikasi Kalender Islam Jawa Dalam Penentuan Awal Bulan Qomariyah (Penyesuaian Kalender Saka Dengan Kalender Hijriyah)." UIN Maulana Malik Ibraahim Malang, 2013.
Rufaidah. "Sistem Perhitungan Kalender Jawa Islam Dalam Kehidupan Masyarakat Desa Tunglur, Kecamatan Badas, Kabupaten Kediri." UIN Sunan Ampel Surabaya, 2015.
Sakirman. "Islam Aboge Dalam Tradisi Jawa Alastua." Ibda' (Jurnal Kebudayaan islam) 14, no. 2 (2016).
Susilo, Agus, and Yeni Asmara. "Sultan Agung Hanyakrakusuma Dan Eksistensi Kesultanan Mataram." Diakronika 20, no. 2 (2020).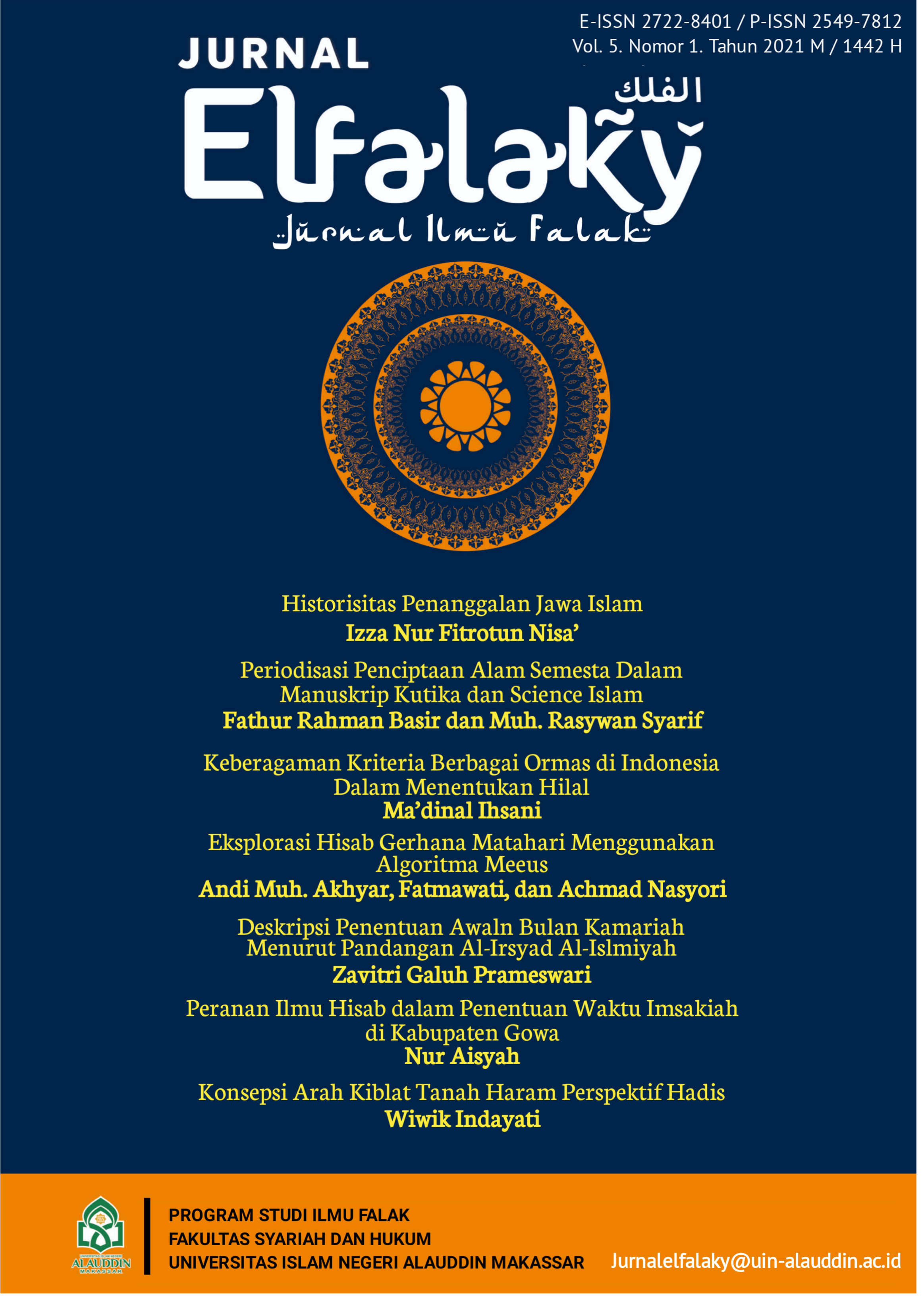 Abstract viewed = 976 times