THE COMPARISON BETWEEN AUDITORY LEARNERS AND VISUAL LEARNERS' ACHIEVEMENT IN WRITING SKILLS OF THE STUDENTS IN THE ENGLISH EDUCATION DEPARTMENT UIN ALAUDDIN MAKASSAR
Muthi'ah Rahim

Universitas Islam Negeri Alauddin Makassar




(ID)
Abstract
This quantitative research is aimed to find out (1) the writing quality of both visual and auditory learners; (2) whether or not the writing quality of auditory learners is significantly different from that of visual learners; and (3) which type of learners has better writing quality. This research applied causal-comparative design in analyzing and comparing the writing skills between the visual and auditory learners. The research participants were the sixth semester students of English Education Department UIN Alauddin Makassar in the academic year of 2017-2018. The data were collected using two kinds of instruments, namely Perceptual Learning Style Inventory and writing test. The results showed that both the visual and auditory learners are in normal criteria of writing quality, and also, there is not any significant difference of writing quality between auditory learners and visual learners. Nevertheless, auditory learners had a tendency to outweigh the visual learners in terms of the total score regardless the insignificancy of the difference. On the other hand, the significant difference of the mean score found from the t-test result underscores the ideas that the learning styles and other contributing factors to writing production to satisfy students' learning are consistent with the theories used in this study. It proves that every individual's learning preferences differ significantly, and the stronger the preference, the more important it is to provide compatible learning and teaching strategies which involve students' strategies, knowledge and purposes.
References
Ahmad. (2008). "The correlation between learning styles and paragraph organization styles of the sixth semester students of English Education Department of UIN Alauddin Makassar", Unpublished S1 Thesis. FTK UIN Alauddin Makassar.
Anonymous. (2006). Modification of Rubistar 6+1 Trait Model Writing: A Research Report and Persuasive Essay Rubrics. (Online). Retrieved on February 26, 2009 from http://rubistar.4teachers.org/index.php
Braio, A., Dunn, R., Beasley, M. T., Quinn, P., and Buchanan, K. (1997). Incremental implementation of learning-styles strategies on urban low-achievers' structural analysis and attitude test scores. Journal of Educational Research, 91(1), 15-25.
Brown, (2007). Principles of Language Learning and Teaching. 5th Ed. Fransisco: Longman
Brown, B. L. (1998). Learning Styles and Vocational Education Practice (ERIC Practice Application Brief). District of Columbia: ERIC Clearinghouse on Adult, Career, and Vocational Education.
Dunn, R., and Dunn, K. (1993). Teaching secondary students through their individual learning styles: Practical approaches for grades 7-12. Boston, MA: Allyn and Bacon.
Dunn, R. (2003). The Dunn and Dunn learning-style model and its theoretical cornerstone. In Rita Dunn and Shirley A. Griggs (Eds.). Synthesis of the Dunn and Dunn Learning-Style Model Research Who, what, when, where, and so what? Chapter 1, pp. 1-6. NY: St. John's University's Center for the Study of Learning and Teaching Styles.
Felder, R.M., and Spurlin, J. (2005)."Application, reliability and validity of the index of learning styles". International Journal of English Education. 21:1, pp.103 – 112. London: Tempus Publication.
Guild, P. B. (2001). Diversity, Learning Styles and Culture. Retrieved on February 16, 2009 from www.newhorizons.org/strategies/styles/front_styles.htm
Husain, D. (2000). "Learning and personality styles in language acquisition". Analisis 1:2 hal. 118 – 122.
James, W. B., and Gardner, D. L. (1995). "Learning styles: Implications for distance learning. New Directions for Adult and Continuing Education (67), 19-31.
Jensen, G.H. and DiTiberio, J.K. (1989). Personality ad the Teaching of Composition. Norwood, NJ: Ablex
Jonassen, D., and B. Grabowski. (1993). Handbook of individual differences, learning and instruction. Mahwah, NJ: Erlbaum.
Kagan, S. 1986. Cooperative Learning and Social Factors in Schooling. In Beyond Language: Social and Cultural Factors in Schooling Language Minority Students (pp. 231 – 298). Los Angeles: California State Department of Education, California State University
Penger, S., M. Tekavcic and V. Dimovski. (2008). "Meta-analysis and empirical research of learning style theories in higher education: The case of Slovenia". Journal of College Teaching & Learning, Vol. 5: 11, Pp. 1 – 21.
Reid, J. (ed.). 1995. Learning Styles in the ESL/EFL Classroom. Boston, MA: Heinle & Heinle Publishers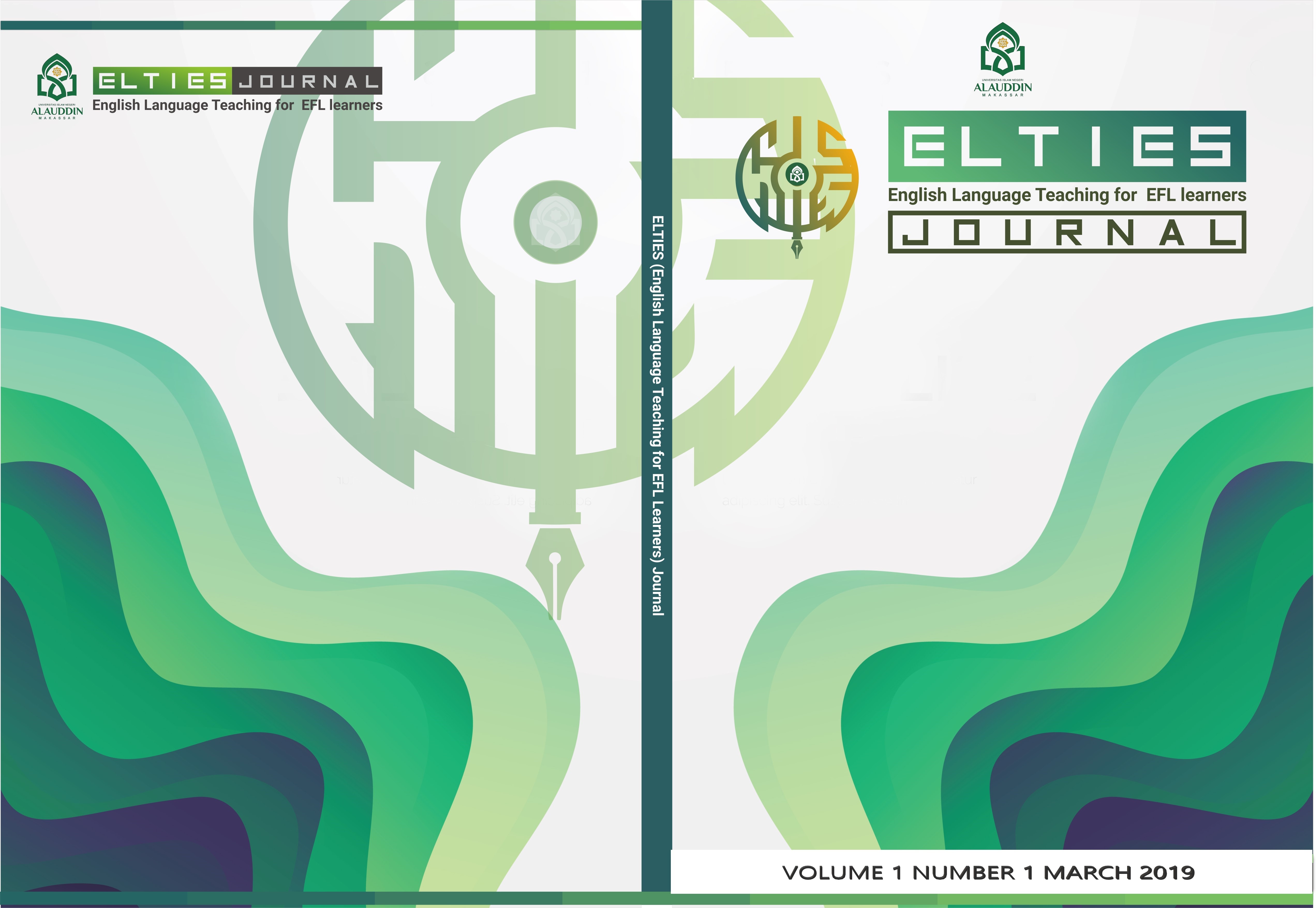 How to Cite

Rahim, M. (2019). THE COMPARISON BETWEEN AUDITORY LEARNERS AND VISUAL LEARNERS' ACHIEVEMENT IN WRITING SKILLS OF THE STUDENTS IN THE ENGLISH EDUCATION DEPARTMENT UIN ALAUDDIN MAKASSAR. English Language Teaching for EFL Learners, 1(1), 49-62. https://doi.org/10.24252/elties.v1i1.7418

Section

Volume 1, Number 01, March 2019

Abstract viewed = 799 times