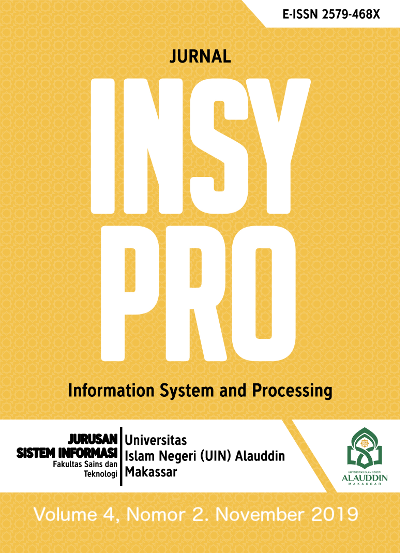 Issue
Copyright (c) 2019 ancas nuzul
This work is licensed under a Creative Commons Attribution-NonCommercial-NoDerivatives 4.0 International License.
Each article is copyrighted © by its author(s) and is published under license from the author(s).
When a paper is accepted for publication, authors will be requested to agree with the Creative Commons Attribution-Noncommercial-No Derivative Works 4.0 Netherlands License.

Sistem Pemesanan Menu Makanan Dan Minuman Rumah Makan Berbasis Website
Corresponding Author(s) : Ancas Nuzul Nur Hidayah
ancasnuzul@gmail.com
Jurnal INSYPRO (Information System and Processing), Vol. 4 No. 2 (2019)

Abstract
Abstrak - Rumah makan adalah salah satu tempat yang sering dikunjungi. Tidak sedikit rumah makan yang kewalahan untuk melayani para pelanggan ketika ramai. Pelanggan pun juga merasa tidak nyaman jika pelayanan dalam rumah makan tersebut tidak maksimal. Salah satu permasalahannya adalah sistem pemesanan menu yang masih menggunakan cara manual. Hal itu dinilai tidak efektif dan efisien mengingat terbatasnya pegawai yang tidak sebanding dengan ramainya pengunjung yang datang. Sehingga diperlukan sistem yang dapat mempermudah pemesanan menu pada rumah makan. Oleh karena itu, dibuatlah sistem pemesanan menu makanan dan minuman berbasis website yang memudahkan para pelanggan maupun pegawai. Dengan sistem ini pegawai juga merasa dimudahkan dalam pengecekan pemesanan pelanggan maupun perekapan pesanan. Pemesanan menu oleh pelanggan juga memanfaatkan sistem QR Code.  Penggunaan QR Code ini bertujuan untuk menggantikan inputan manual nomor meja dan nama pelanggan. QR Code ini dilakukan dengan cara men-scan kode menggunakan smartphone masing-masing pelanggan. Sistem ini diuji oleh pegawai dan pelanggan di Warung Gaul dan didapatkan kesimpulan yakni 88,8% responden admin dan 89,4% responden user setuju bahwa sistem ini membuat proses pemesanan menjadi lebih efektif dan efisien serta mudah digunakan dan dipahami.
References
Adithya, R., Singh, A., Pathan, S., & Kanade, V. (2017). Online Food Ordering System. International Journal of Computer Applications, 180(6), 22–24.
Auli, R., Zakir, A., Dafitri, H., Siregar, D., & Hasdiana. (2017). Mechanism of Food Ordering in A Restaurant Using Android Technology. International Conference on Information and Communication Technology (IconICT), 930, 1–2.
Baranwal, A., Srivastava, A., & Rani, B. (2018). An Innovative Approach for Online Food Order Management System. International Journals of Advanced Research in Computer Science and Software Engineering, 8(3), 19–23.
Krishna, P., Patel Palak, Nirali, R., & Lalit, P. (2015). Automated Food Ordering System. In International Journal of Engineering Research and Development (IJERD) (pp. 41–45).
Raut, S. K., & Dhonde, B. S. (2016). Android Based Intelligent E-Restaurant Ordering System. International Education & Research Journal, 2(5), 19–20.
Rojak, A. (2014). Perancangan Sistem Informasi Pemesanan Makanan dan Minuman ( e- Menu ) Berbasis Platform Android Pada Restoran Moca Cafe " Tugas Ujian Akhir Semester ," (1311600058), 1–15.