Krisis Doklam dan Kepentingan Nasional India
Vida Mardiana

UIN Syarif Hidayatullah Jakarta



Abstract
ABSTRAK
Krisis Doklam yang terjadi di tahun 2017 meningkatkan tensi pada hubungan Tiongkok dan India. Hal ini bermula pada saat Tiongkok membangun infrastruktur berupa jalan raya di wilayah perbatasannya dengan Bhutan dihadang oleh tentara India yang datang atas nama Bhutan dan memaksa Tiongkok untuk menghentikan aktifitasnya. Ketegangan yang terjadi selama 73 hari antara India dan Tiongkok ini menarik untuk dikaji. India yang sebenarnya tidak berbatasan langsung dengan Tiongkok di wilayah Doklam bersedia untuk menurunkan tentaranya pada konflik antara Tiongkok dan Bhutan ini. Tujuan tulisan ini selain untuk menjelaskan krisis yang terjadi, juga untuk mengetahui alasan India ikut terlibat langsung dalam konflik ini. Dengan menggunakan metode kualitatif deskriptif, tulisan ini akan menganalisis sumber sekunder yang berasal dari buku, artikel jurnal, atau literature lainnya di media masa. Konsep yang digunakan adalah konsep national interest. Dari tulisan ini, diketahui bahwa alasan dibalik tindakan India terlibat secara langsung dalam konflik di Doklam bahkan hingga menurunkan militernya adalah karena adanya kepentingan pertahanan dan keamanan dan kepentingan ekonomi India yang harus dilindungi.
Kata Kunci: Krisis Doklam, kepentingan nasional, pertahanan dan keamnan, ekonomi, India
ABSTRACT
The Doklam crisis that occurred in 2017 increased the tension in the relationship between China and India. This started when China built infrastructure in the form of a highway on its border with Bhutan which was blocked by Indian soldiers who came on behalf of Bhutan and forced China to stop its activities. The tensions that lasted for 73 days between India and China are interesting to study. India, which is actually not directly adjacent to China in the Doklam region, is willing to deploy its troops in this conflict between China and Bhutan. The purpose of this paper is not only to explain the crisis that occurred, but also to find out why India was directly involved in this conflict. By using a descriptive qualitative method, this paper will analyze secondary sources from books, journal articles, or other literature in the mass media. The concept used in this paper is the concept of national interest. From this paper, it is known that the reason behind India's actions to be directly involved in the conflict in Doklam and even to deploy its troops was because of India's defense and security interests and economic interests that must be protected.
Keywords: Doklam crisis, national interest, defence and security interests, economic interests, India
Downloads
Download data is not yet available.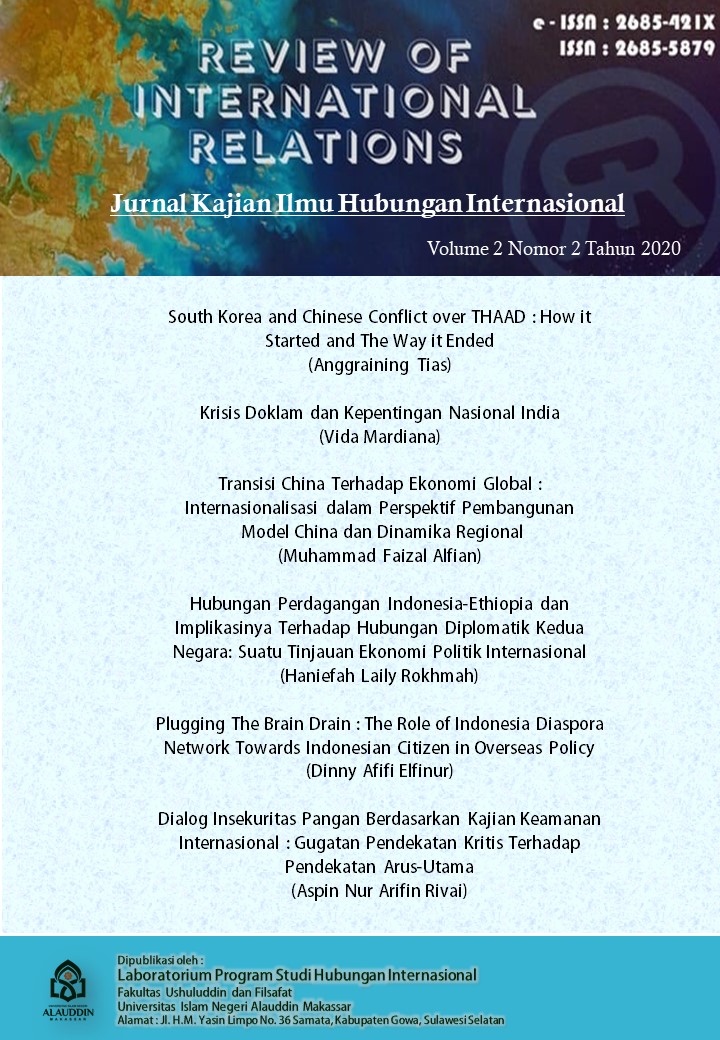 How to Cite
Mardiana, V. (2021). Krisis Doklam dan Kepentingan Nasional India. Review of International Relations , 2(2), 91-102. https://doi.org/10.24252/rir.v2i2.17966
Copyright (c) 2021 Review of International Relations
This work is licensed under a Creative Commons Attribution-ShareAlike 4.0 International License.

Abstract viewed = 941 times