COMPETITIVE ADVANTAGE UDANG WINDU PINRANG DALAM PERDAGANGAN INTERNASIONAL
Riska Luneto

Universitas Islam Negeri Alauddin Makassar




(ID)

Kaslam

Universitas Islam Negeri Alauddin Makassar




(ID)
Keywords:
Productivity, Competitiveness, Competitive Advantage, Diamond Model
Abstract
Indonesia is one of the countries that has potential for fisheries and marine resources, this of course has a positive value for state revenue. One of the commodities that play an important role is tiger prawns which are spread in almost all parts of Indonesia, Pinrang Regency is one of them. Responding to global demand that continues to increase, efforts are made by stakeholders to meet demand, cooperation, renewal and renewable technology are structured as a form of increasing production levels and productivity. This study uses the diamond model concept, Michael Porter in looking at the competitive advantage of Indonesian tiger prawn commodities, the author tries to map the value of competitiveness and superiority of Indonesian tiger shrimp products, especially tiger shrimp in Pinrang Regency.
Downloads
Download data is not yet available.
References
Ankli, Robert E. 1992. "Michael Porter's Competitive Advantage and Business History." BUSINESS AND ECONOMIC HISTORY 228-236.
Ashari, Ulfira, Sahara, and Sri Hartoyo. 2016. "Daya Saing Udang Segar Dan Udang Beku Indonesia." Jurnal Manajemen dan Agribisnis 1-13.
Atina, PT., interview by Kaslam. 2021. Udang Windu (Februari 23).
BRPBAP. 2018. KKP. January 1. Accessed May 13, 2021. http://www.brpbap3maros.com/index.php/home/view/20/dark_kuntul .
Cahyono, Sofyan. 2019. Bahas Kejasama, Gubernur Sulsel Temui Kabinet Jepang. March 7. Accessed January 27, 2020. https://www.jawapos.com/jpg-today/07/03/2019/bahas-kerja-sama-gubernur-sulsel-temui-kabinet-jepang/.
Creswell, John W. 2010. RESEARCH DESIGN Pendekatan Kualitatif, Kuantitatif, dan Mixed. Yogyakarta: Pustaka Pelajar.
Dash, Aswini Kumar. 2013. "COMPETITIVE ADVANTAGE: ITS IMPORTANCE AND IMPACT ON DESIGN OF STRATEGY." International Journal of Application or Innovation in Engineering & Management 7-10.
David, Fred, and Forest David. 2006. Strategic Management A Competitive Advantage Approach, Concepts and Cases. Pearson.
Feilleux, Jean Robert Leaguey. 2009. The Dynamic of Diplomacy. United States of America: Lynne Reinner Pub.
Grant, Robert M. 1991. Porter's Competitive Advantge of Nation's: An Assessment. Wiley.
Hakkak, Mohammad, and Masoud Ghodsi. 2015. "DEVELOPMENT OF A SUSTAINABLE COMPETITIVE ADVANTAGE MODEL BASED ON BALANCED SCORECARD." International Journal of Asian Social Science 298-308.
Hosseini, Akram Sadat, Sanaz Soltani, and Mohammad Mehdizadeh. 2018. "Competitive Advantage and Its Impact on New Product Development Strategy (Case Study: Toos Nirro Technical Firm)." Journal of Open Innovation; Technology, Market and Complexity 1-12.
IŠORAITĖ, M. 2018. "THE COMPETITIVE ADVANTAGES THEORETICAL ASPECTS ." ECOFORUM 1-6.
Kementerian Perindustrian. n.d. Perkembangan Ekspor Indonesia Berdasarkan Sektor. Accessed January 29, 2020. https://kemenperin.go.id/statistik/peran.php?ekspor=1.
Kementerian Pertanian. n.d. Accessed February 2, 2020. http://ditjenbun.pertanian.go.id/peluang-peningkatan-ekspor-mesir-minati-cocoa-powder-kopi-indonesia/.
Kementerian Pertanian Dirjen Perkebunan. 2015. Pedoman Bangunan Pengolahan Kopi Berbasis Manufacturing Practice. Laporan Kementerian Pertanian, Jakarta: Direktorat Jendral Perkebunan.
Kharub, Manjeet, and Rajiv Kumar Sharma. 2019. "INVESTIGATING THE ROLE OF PORTER DIAMOND DETERMINANTS FOR COMPETITIVENESS IN MSMEs." International Journal for Quality Research 471-486.
KKP. 2017. Kementerian Kelautan dan Perikanan. January 4. Accessed March 23, 2021. http://www.djpb.kkp.go.id/arsip/c/246/Udang-Vannamei-dan-Udang-Windu-Masih-AndalanEkspor-Indonesia/?category_id=13 .
—. 2020. Kemeterian Kelautan dan Perikanan. Oktober 21. Accessed March 3, 2021. https://kkp.go.id/djpdspkp/artikel/24100-perkuat-klaster-daya-saing-kkp-buka-peluang-wirausaha-olahan-udang-di-kabupaten-sambas .
Mashari, Samsul, Rita Nurmalina, and dan Suharno. 2019. "DINAMIKA DAYA SAING EKSPOR UDANG BEKU DAN OLAHAN." Jurnal Agribisnis Indonesia 37-52.
Mas'oed, Mohtar. 1990. Ilmu Hubungan Internasional : Disiplin dan Metodologi. Jakarta: LP3ES.
Mongabay. 2018. Situs Lingkungan Hidup. August 17. Accessed February 2, 2020. https://www.mongabay.co.id/2018/08/17/mengapa-benih-udang-windu-semakin-sulit-diperoleh-di-indonesia/.
ekonomi politik global.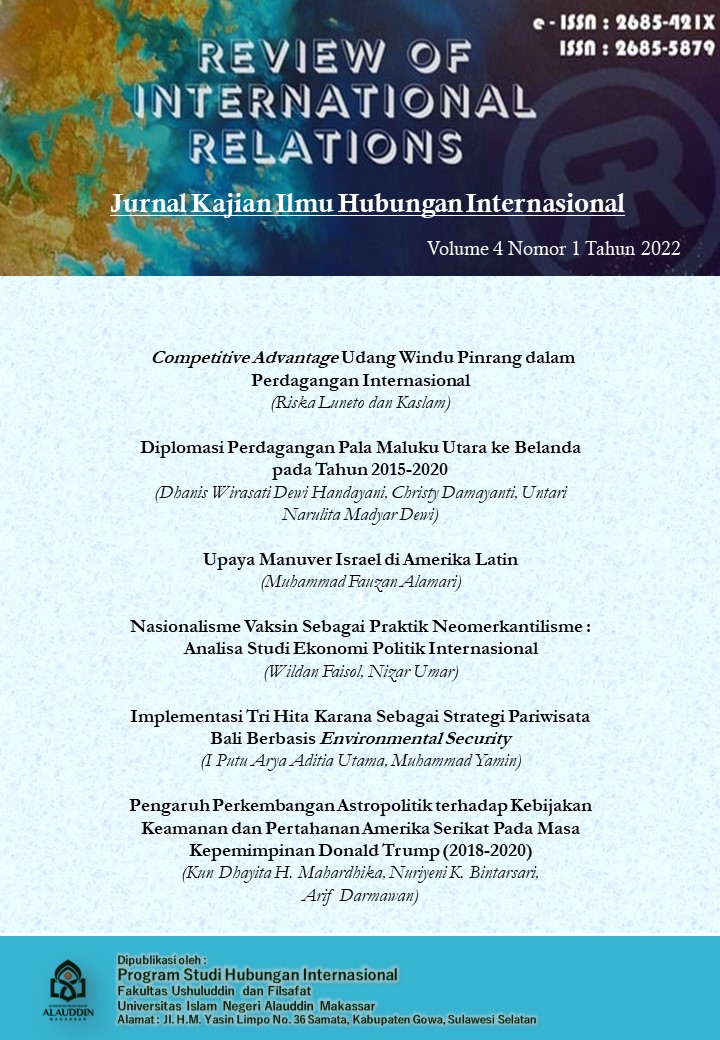 How to Cite
Luneto, R., & Kaslam. (2022). COMPETITIVE ADVANTAGE UDANG WINDU PINRANG DALAM PERDAGANGAN INTERNASIONAL. Review of International Relations , 4(1), 1-20. https://doi.org/10.24252/rir.v4i1.28459
Copyright (c) 2022 Riska Luneto
This work is licensed under a Creative Commons Attribution-ShareAlike 4.0 International License.

Abstract viewed = 393 times