Pandemi Covid 19 dan Perubahan Pola Pembayaran dalam Industri Pariwisata di Kabupaten Banyumas Berbasis Cashless Management System
Muhammad Yamin

Jenderal Soedirman University




(ID)

Ratna Ningtyas

Universitas Jenderal Soedirman




(ID)

I Putu Arya Aditia Utama

Universitas Jenderal Soedirman




(ID)
Keywords:
Banyumas, Cashless, Covid-19, Tourism
Abstract
This study aims to determine changes in payment patterns in the tourism industry in the Banyumas district based on a cashless management system during the Covid-19 pandemic. Tourism is one of the sectors affected by the Covid-19 pandemic. In response to the Covid-19 pandemic, Indonesian tourism has quickly adapted to the various changes that have occurred, including in transaction patterns. Banyumas Regency is one of the areas that is well-known for its tourism industry potential, so the author will further analyze the efforts of the Banyumas tourism industry in dealing with changes in transaction patterns that occurred during the Covid-19 pandemic. This study uses the concept of a cashless management system in analyzing the efforts of the Banyumas tourism industry in responding to changes in transaction patterns that occur. The method used in this paper is qualitative with a case study approach. The data collection technique used the library study method. Research shows that the Banyumas tourism industry responds to changes in transaction patterns by implementing a cashless management system to create a sense of security and comfort for tourists who want to travel in the Banyumas area. In addition, implementing a cashless management system is also carried out to accommodate people who wish to make non-cash transactions, and indirectly, applying a cashless management system will form a transparent and accountable financial climate.
Downloads
Download data is not yet available.
References
Antara News. (2020, Mei 20). Bupati berharap tidak ada lonjakan COVID-19 di Banyumas usai Lebaran. Retrieved Oktober 4, 2021, from Antara News: https://www.antaranews.com/berita/2165394/bupati-berharap-tidak-ada-lonjakan-covid-19-di-banyumas-usai-lebaran
Awirya, A. A. (2020). DAMPAK PENURUNAN KEGIATAN PARIWISATA TERHADAP KETENAGAKERJAAN DI INDONESIA. Retrieved from Research Gate: https://www.researchgate.net/publication/340117775_DAMPAK_PENURUNAN_KEGIATAN_PARIWISATA_TERHADAP_KETENAGAKERJAAN_DI_INDONESIA
Badan Pusat Statistik. (2020, Mei 5). Ekonomi Indonesia Triwulan I 2020 Tumbuh 2,97 Persen. Retrieved from Badan Pusat Statistik: https://www.bps.go.id/pressrelease/2020/05/05/1736/ekonomi-indonesia-triwulan-i-2020-tumbuh-2-97-persen.html
Bintarto, E. A. (2018). Fintech dan Cashless Society : Sebuah Revolusi Pendongkrak Ekonomi Kerakyatan. Surabaya: Universitas Airlangga.
Buhalis, D., & Jun, S. H. (2011). E-Tourism. Contemporary Tourism Reviews, 1-30.
DW. (2020). Bagaimana Sektor Pariwisata Indonesia Bertahan di Tengah Pandemi Corona. Retrieved from DW: https://www.dw.com/id/bagaimana-pariwisata-indonesia-bertahan-di-tengah-pandemi/a-54818132
Folinas, S., & Metaxas, T. (2020). Tourism: The Great Patient of Coronavirus COVID-2019. Munich Personal RePEc Archive, 1-14.
Hong, Y., Cai, G., Mo, Z., Gao, W., Xu, L., Jiang, Y., et al. (2020). The Impact of COVID-19 on Tourist Satisfaction with B&B in Zhejiang, China: An Importance–Performance Analysis. International Journal of Environmental Research and Public Health,, 17(10), 1-19.
Husain, A., Varshney, T., Bhatnagar, S., & Satsangi, A. K. (2019). E-SATISFACTION TOWARDS CASHLESS TRANSACTIONS: RE-TESTS MODEL FOR E-TOURISM. International Journal of Advance and Innovative Research, 6(2), 1-11.
KEMENKES. (2020, Juni 19). Keputusan Menteri Kesehatan Nomor HK.01.07/MENKES/382/2020 - Regulasi. Retrieved Agustus 31, 2021, from Covid19.go.id: https://covid19.go.id/p/regulasi/keputusan-menteri-kesehatan-nomor-hk0107menkes3822020
Kurniati, P. N., & Nugroho, B. Y. (2019). Urgensi Pelaksanaan Sistem Cashless Government dalam Membangun Birokrasi yang Transparan dan Akuntabel. Jurnal Administrasi Publik (Public Administration Journal), 9(2), 136-150.
Marhaeningsih, I. (2021, September 5). Angka Kasus Covid-19 di Banyumas Terus Menurun. Retrieved Oktober 4, 2021, from RRI: https://rri.co.id/daerah/1177555/angka-kasus-covid-19-di-banyumas-terus-menurun
Passah, D. R., & Kumar, A. (2019). Cashless Economy and Digitalization of Tourism & Hospitality Practices in India. Proceedings of 10th International Conference on Digital Strategies for Organizational Success, 453-464.
Purba, J. H., Fathiah, R., & Steven. (2021, Maret). THE IMPACT OF COVID-19 PANDEMIC ON THE TOURISM SECTOR IN INDONESIA. Jurnal Aplikasi Ekonomi, Akuntansi dan Bisnis, 3 (1), 389 - 401.
Safriana, L. (2020, Juni 30). New Normal, Peta e-Tourism 4.0 dan Kemandirian Bangsa. Retrieved from Opini Katadata.co.id: https://katadata.co.id/redaksi/indepth/5ef9ce654ac50/new-normal-peta-e-tourism-40-dan-kemandirian-bangsa
Suara Purwokerto. (2020, Oktober 5). Wabup Resmikan Pembayaran Non Tunai Pelayanan Uji Kendaraan Bermotor. Retrieved Agustus 31, 2021, from Suara Purwokerto: https://www.suarapurwokerto.com/banyumas/4092/wabup-resmikan-pembayaran-non-tunai-pelayanan-uji-kendaraan-bermotor
Sumarwoto. (2021, Juli 9). Berharap dari pelaksanaan PPKM Darurat di Banyumas. Retrieved from Antara News: https://www.antaranews.com/berita/2258530/berharap-dari-pelaksanaan-ppkm-darurat-di-banyumas
UNWTO. (2021, Januari 28). 2020: WORST YEAR IN TOURISM HISTORY WITH 1 BILLION FEWER INTERNATIONAL ARRIVALS. Retrieved from Barometer UNWTO: https://webunwto.s3.eu-west-1.amazonaws.com/s3fs-public/2021-01/210128-barometer-en.pdf?GaI1QTYG.Ky9LDZ2tlDKc.iRZkinJeuH
UNWTO. (2021, Juni 2). TOURIST NUMBERS DOWN 83% BUT CONFIDENCE SLOWLY RISING. Retrieved from Barometer | UNWTO: https://webunwto.s3.eu-west-1.amazonaws.com/s3fs-public/2021-06/210602-unwto-barometer-en.pdf?rNy0Q9kCLL.4MgS3dLIc8vpDxNCUt7LY
UNWTO. (n.d). UNWTO Tourism Defnitions. Retrieved April 17, 2021, from UNWTO: https://www.e-unwto.org/doi/epdf/10.18111/9789284420858
Widodo, W. S. (2020, Juni 3). Disiplin, Kunci Dunia Pariwisata Hadapi Era New Normal. Retrieved from detikTravel: https://travel.detik.com/travel-news/d-5038445/disiplin-kunci-dunia-pariwisata-hadapi-era-new-normal
Yandip Prov. Jateng. (2020, September 11). Berwisata dan Belanja Nontunai dengan QRIS. Retrieved from Portal Berita Pemerintah Jawa Tengah: https://jatengprov.go.id/beritadaerah/berwisata-dan-belanja-nontunai-dengan-qris/
Marlina, L., Mundzir, A., & Pratama, H. (2020). Cashless dan Cardless Sebagai Perilaku Transaksi di Era Digital. Co-Management Journal, 3(2), 533-542.
Sule, E., & Saefullah, K. (2010). Pengantar Manajemen. Jakarta: Kencana.
Tarantang, J., Awaaliyah, A., Astuti, M., & Munawaroh, M. (2019). Perkembangan Sistem Pembayaran Digital pada Era Revolusi Industri 4.0 di Indonesia. Jurnal Al-Qardh, 1(1).
Saragih, S. (2019). Technology Acceptance of Digital Payment System pada Pelaku UMKM di Kota Batam. Computer Based Information System Journal, 7(2), 82-90.
Lubis, N. (2019). Pengaruh Sistem Pembayaran Non-Tunai pada Era Digital terhadap Tingkat Inflasi di Indonesia.
Susanto, A. (2004). Sistem Informasi Manajemen. Bandung: Linggar Jaya.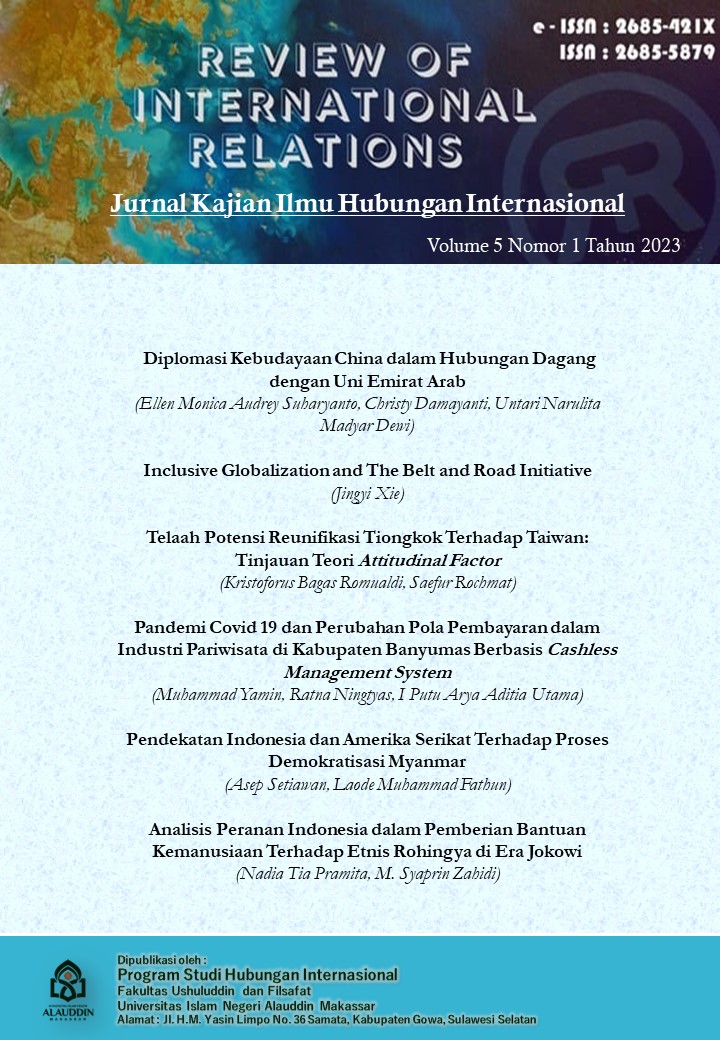 How to Cite
Yamin, M., Ningtyas, R., & Aditia Utama, I. P. A. (2023). Pandemi Covid 19 dan Perubahan Pola Pembayaran dalam Industri Pariwisata di Kabupaten Banyumas Berbasis Cashless Management System. Review of International Relations , 5(1), 54-69. https://doi.org/10.24252/rir.v5i1.35665
Copyright (c) 2023 Muhammad Yamin
This work is licensed under a Creative Commons Attribution-ShareAlike 4.0 International License.

Abstract viewed = 54 times