Otentisitas Hadis dan Bantahan Harald Motzki atas Skeptisisme Orientalis terhadap Hadis
Nur Fiatin Hafidz

UIN SUNAN AMPEL




(ID)
Abstract
As the second source, the tradition has its own magnet to get people's attention. Studies of tradition are often investigated by all circles, either insider or outsider. Nevertheless, orientalists' study is not certainly as objective as the study of tradition Muslim scholars. The resulted thought must be sceptic for its being built on a negative impression on tradition. It can be demonstrated that most orientalists who did a scientific work to the tradition inferred that tradition is not authentic. But along with the era development, there appeared a different point of view. Some new orientalists who did more open-minded study on tradition presented, such as Harald Motzki. He is an orientalist who has a significant role in journey of tradition study. Through analytical descriptive method, this article means to serve the methodology of Harald Motzki on tradition and his criticisms to the previous sceptic scholars. It results that Harald Motzki could break his predecessor's theories with his own theory; dating and isnad cum matn analysis. He strikes back at the sanad criticism of Ignaz Goldziher and Joseph Schacht and common link  and family-isnad criticism of G.H.A. Juynboll. Besides, he also contributes to bear next scientific tradition studies. As an example, isnad cum matn theory is much borrowed to identify the tradition quality so far.
References
Fanon, Frantz. The Wretched of the Earth. Perancis: Grove Press, 1963.
Motzki, Harald. Ḥadīth Origins and Developments. New York: Routledge, 2016.
Adib, Shohibul. "Pemikiran Harald Motzki Tentang Hadis; Telaah Metodologi Penelitian Harald Motzki Terhadap Kitab al-Mushannaf Karya Abdur Razzaq as-San'ani". An-Nidzam, vol. 4, no. 1, Januari-Juni 2017.
Ahmad, Lalu Turjiman. "Ignaz Goldziher; Kritikus Hadis dan Kritikus Sastra". Jurnal Holistic al-Ḣaḋis, vol. 1, no. 1, Januari-Juni 2015.
Amiruddin, Ahmad Ramzy, Muhammad al-Fatih Suryadilaga. "Kritik Harald Motzki Terhadap Klasifikasi Model Pemikiran Hadis Herbert Berg". Ushuluna: Jurnal Ilmu Ushuluddin,vol. 07, no. 01, Juni 2021.
Firdausy, Hilmy. "Ragam Pembacaan Hadis: Memahami Hadis Melalui Tatapan Postradsionalisme". Religia, vol. 19, no. 2, Oktober 2016.
Haitomi, Faisal, Muhammad Syachrofi. "Aplikasi Teori Isnad Cum Matn Harald Motzki dalam Hadis Misoginis Penciptaan Perempuan". Al-Bukhārī: Jurnal Ilmu Hadis, vol. 3, no. 1, Juni 2020.
Hera, Siska Helma. "Kritik Ignaz Goldziher dan Pembelaan Musthofa Azami Terhadap Hadis dalam Kitab Shahih al-Bukhari". Jurnal Living Hadis UINSUKA Yogyakarta, vol. V, no. 1, Mei 2020.
Idri. "Perspektif Orientalis Tentang Hadis: Telaah Kritis dan Implikasinya Terhadap Eksistensi dan Kehujjahannya". al-Tahrir, vol. 11, no. 1, Mei 2011.
Jannah, Shofiyatul. "Kritik Harald Motzki Terhadap Teori Isnad Hadis Joseph Schacht". Riwayah: Jurnal Studi Hadis, vol. 6, no. 2, 2020.
Junaidi, M. Rofiq. "Otentitas Hadis dalam Perspektif Harald Motzki". Al-A'raf: Jurnal Pemikiran Islam dan Filsafat, vol. XII, no. 1, Januari 2015.
Mahmudah, Nur. "Pemikiran G.H.A. Juynboll Terhadap Hadis". Jurnal Mutawâtir: Jurnal Keilmuan Tafsir Hadis, vol.3, no. 1, Januari-Juni 2013.
Mufid, Abdul. "Dating Hadits tentang Persaksian Melihat Hilal; Telaah atas Isnad Cum Matn Analysis Harald Motzki". Millatī: Journal of Islamic Studies and Humanities, vol. 2, no. 1, Juni 2018.
Nugroho, Sapta Wahyu. "Dinamika Kajian Orientalis Terhadap Eksistensi Hadis Awal Abad Hijriah; Studi Pemikiran Harald Motzki Terhadap al-Mushannaf 'Abd al-Razzāq. Diyā' al-Afkār: Jurnal Studi al-Qur'an dan al-Hadis, vol. 9, no. 1, Juni 2021.
Setiawati, Cucu. "Kajian Orientalis Ignaz Goldziher Tentang Hadis dan Sunnah". Journal of Qur'ān and Hadīth Studies, vol. 7, no. 2, Juli-Desember 2018.
Suwarno, Rahmadi Wibowo "Kesejarahan Hadis dalam Teori Common Link". Jurnal Living Hadis, vol. 3, no.1, Mei 2018.
Wazna, Ruhama. "Metode Kontemporer Menggali Otentisisitas Hadis (Kajian Pemikiran Harald Motzki)". Ilmu Ushuluddin, vol. 17. no. 2, Juli-Desember 2018.
Zaimah. "Orientalis Versus Ulama (Studi Kritik Terhadap Hadis Nabi)". Rusydiah: Jurnal Pemikiran Islam, vol. 2, no. 1, Januari-Juni 2021.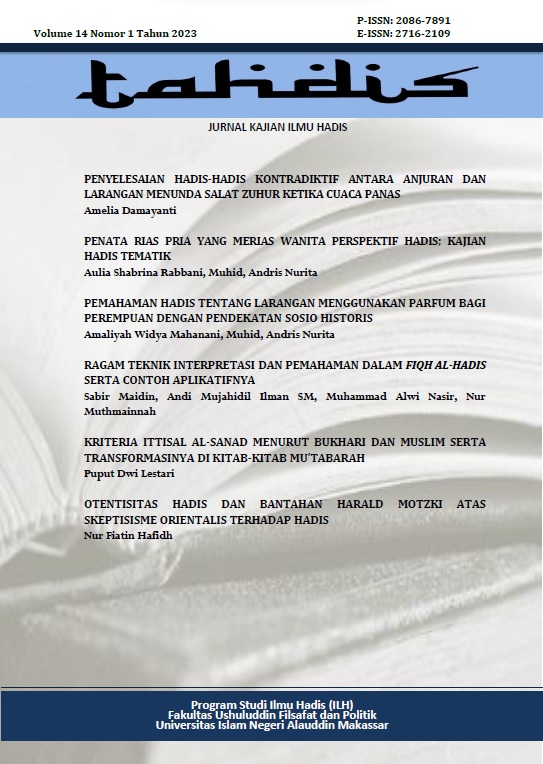 Authors who publish with this journal agree to the following terms:

(1) Authors retain copyright and grant the journal right of first publication with the work simultaneously licensed under a Creative Commons Attribution License that allows others to share the work with an acknowledgment of the work's authorship and initial publication in this journal.

(2) Authors are able to enter into separate, additional contractual arrangements for the non-exclusive distribution of the journal's published version of the work (e.g., post it to an institutional repository or publish it in a book), with an acknowledgment of its initial publication in this journal.

(3) Authors should sign copyright transfer agreement when they have approved the final proofs sent by Biogenesis prior the publication.

Abstract viewed = 59 times