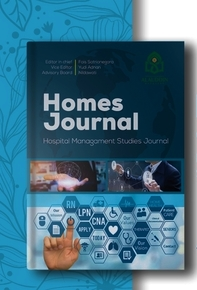 HOSPITAL MANAGEMENT STUDIES JOURNAL:
Hospital Management Studies Journal (Homes Journal) is the journal which will publish scientific article about research health and hospital management. The focus of this journal is in Health Regulation and Policy, Human Resources Management, Medical Record Management, Quality Management of Health Services, Public Health Management, Hospital Accreditation, infection control management and patient safety, health organization and organizational behaviour in hospital, healthcare services, healthcare quality and patient safety, health facilities management, hospital accreditation, patient and employee satisfaction, pain management, inpatient and out-patient management, health insurance, health policy and healthcare informatics etc.
This journal includes the leadership, management and administration of public health systems, hospitals and hospital networks.
Clinical Department Management
Clinical Ethics
Clinical Risk
Health Data Management
Health Economics
Inpatient Management
Nursing Management
Out-Patient Management
We accept original articles as well as review articles, editorials and other listed in the Author Instruction. All the submission and review process are managed through OJS system, an electronic system that ensures a rapid turn around of manuscript from submission to publication
Announcements
No announcements have been published.
Vol 1, No 2 (2021): Homes Journal
Table of Contents
Surahmawati Surahmawati

Abstract - 24

1-8
Azriful Azriful, Yudi Adnan, Rahmawaty Rahmawaty

Abstract - 14

9-19
Dewi Ayu, M Fais Satrianegara, Fatmawaty Mallapiang

Abstract - 16

20-29
Dian Dwiana Maydinar, Buyung Keraman, Eti Lestati

Abstract - 22

30-36
Juli Widiyanto, Fitri Sapar Laia

Abstract - 24

37-45
Rezky Amalia Amal, Syahratul Aeni, Syarfaini Syarfaini, A Syamsiah Adha

Abstract - 19

46-53
Wihda Arfiah, Muhammad Rusmin, Syarfaini Syarfaini, Nildawati Nildawati, Syamsul Alam

Abstract - 21

54-67
Silvah Silvah, M. Irsan Arief Ilham, Saktiawati Saktiawati

Abstract - 13

68-74