Laa Maisyir: Journal of Islamic Economics is a journal that focuses on the study of Islamic economic thought which includes several fields of study such as buying and selling, leasing, pawning, profit sharing, and the development of economic transactions. This journal is published by the Department of Islamic Economics Faculty of Islamic Economics and Business UIN Alauddin Makassar. This journal is published twice a year.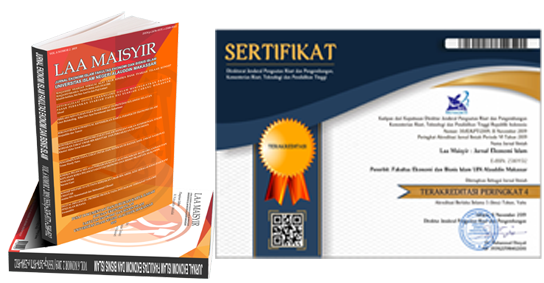 The journal has been accredited by Akreditasi Jurnal Nasional ARJUNA officially Managed by Ministry of Research, Technology, and Higher Education, Republic Indonesia SINTA 4 grade according to Surat Keputusan Direktur Jenderal Penguatan Riset dan Pengembangan Kementerian Riset, Teknologi dan Perguruan Tinggi Nomor 30/E/KPT/2019 Tentang Peringkat Akreditasi Jurnal Ilmiah Periode VI Tahun 2019. 
Announcements
No announcements have been published.
VOL 8, NO 2 (2021)
Table of Contents
Fitri Yetty, Ade Nur Rohim, Praptiningsih Praptiningsih

Abstract - 44

1-16
Sirajuddin Sirajuddin, Nurmiati Nurmiati

Abstract - 23

17-38
Arwin Arwin Adam, Besse Faradiba

Abstract - 9

39-54