Gambaran Pengetahuan Dan Sikap Ibu Tentang Manajemen Laktasi Di Wilayah Kerja Puskesmas Samaenre Kabupaten Sinjai Tahun 2014
Irviani Anwar Ibrahim

UIN Alauddin Makassar




(ID)

Azriful Azriful




(ID)

Humairah Humairah




(ID)
Abstract
Manajemen laktasi merupakan segala tatalaksana yang diperlukan untuk menunjang keberhasilan menyusui sehingga bayi dapat disusui dengan baik dan benar khususnya pemberian ASI eksklusif. Tujuan dalam penelitian ini adalah untuk mengetahui tingkat pengetahuan dan sikap ibu tentang manajemen laktasi di wilayah kerja Puskesmas Samaenre Kabupaten Sinjai tahun 2014. Populasi dalam penelitian ini adalah semua ibu yang memiliki bayi berusia 6-12 bulan di wilayah kerja Puskesmas Samaenre pada tahun 2014. Data yang dikumpulkan sebanyak 101 melalui sampel yang terpilih dengan menggunakan teknik pengambilan sampel yaitu quota sampling  atau pengambilan sampel berdasarkan jatah dan menggunakan kuesioner sebagai instrumen penelitian. Prosedur analisis data dimulai dengan uji validitas dan reliabilitas terhadap instrumen yang digunakan melalui analisis SPSS 21 dengan uji Corrected Item Correlation untuk mengetahui validitas instrumen, sedangkan uji reliabilitas menggunakan nilai Croanbach's Alpha.
Hasil penelitian memberikan gambaran bahwa pengetahuan, sikap dan manajemen laktasi ibu di wilayah kerja Puskesmas Samaenre pada tahun 2014 sebagian besar masih berada pada kategori kurang baik yaitu  sebanyak 78 responden (77,2%) dan terdapat 23 responden (22,8%) berpengetahuan baik tentang manajemen laktasi. Disebabkan, karena kurangnya kesadaran atau kontrol dari lingkungan keluarga, masyarakat, petugas kesehatan serta kesadaran dari ibu itu sendiri.
Untuk meningkatkan pengetahuan dan sikap ibu tentang manajemen laktasi, maka diperlukan adanya penyaluran informasi atau sosialisasi terkait masalah kesehatan khususnya tentang manajemen laktasi dari petugas kesehatan kepada masyarakat. Serta disarankan kepada masyarakat khususnya para ibu untuk berpartisipasi dalam kegiatan-kegiatan yang dilakukan oleh petugas kesehatan dan banyak bertanya kepada yang lebih paham tentang kesehatan.
Downloads
Download data is not yet available.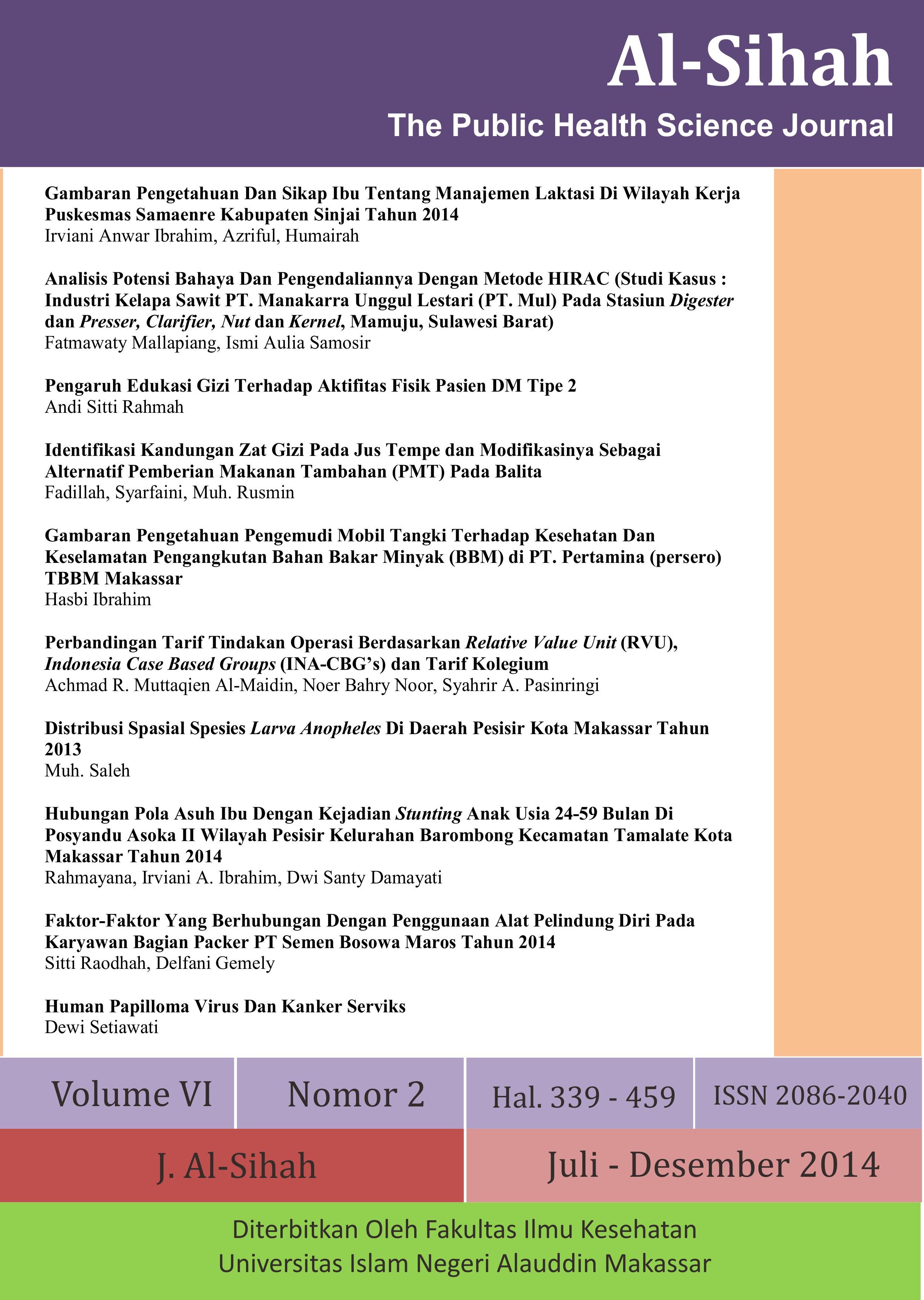 How to Cite
Ibrahim, I. A., Azriful, A., & Humairah, H. (2014). Gambaran Pengetahuan Dan Sikap Ibu Tentang Manajemen Laktasi Di Wilayah Kerja Puskesmas Samaenre Kabupaten Sinjai Tahun 2014. Al-Sihah: The Public Health Science Journal, 6(2). https://doi.org/10.24252/as.v6i2.1611
Section
Volume 6-8, Nomor 1-2, Tahun 2014-16
Authors retain copyright and grant the journal right of first publication with the work simultaneously licensed under a Creative Commons Attribution-NonCommercial-ShareAlike 4.0 International License that allows others to share the work with an acknowledgment of the work's authorship and initial publication in this journal.
Authors are able to enter into separate, additional contractual arrangements for the non-exclusive distribution of the journal's published version of the work (e.g., post it to an institutional repository or publish it in a book), with an acknowledgment of its initial publication in this journal.
Authors are permitted to publish their work online in third parties as it can lead to wider dissemination of the work.

Abstract viewed = 450 times