Analisis Potensi Bahaya Dan Pengendaliannya Dengan Metode HIRAC (Studi Kasus : Industri Kelapa Sawit PT. Manakarra Unggul Lestari (PT. Mul) Pada Stasiun Digester dan Presser, Clarifier, Nut dan Kernel, Mamuju, Sulawesi Barat)
Fatmawaty Mallapiang

UIN Alauddin




(ID)

Ismi Aulia Samosir

UIN Alauddin



Abstract
Setiap aktifitas yang melibatkan faktor manusia, lingkungan dan mesin serta melalui tahap-tahap proses memiliki risiko bahaya. PT. Manakarra Unggul Lestari  merupakan perusahaan  yang bergerak pada perkebunan dan pengolahan kelapa sawit. Tujuan dari penelitian ini adalah untuk mengetahui bagaimana mengidentifikasi potensi bahaya, penilaian risiko serta upaya pengendaliannya dengan menggunakan metode HIRAC, terdiri dari identifikasi bahaya, penlaian risiko, dan pengendalian risiko dibagian pengolahan/produksi minyak kelapa sawit. Populasi dalam penelitian ini adalah seluruh pekerja pabrik minyak kelapa sawit lelling sebanyak 84 pekerja dan Sampel pada penelitian ini adalah pekerja/karyawan bulanan tetap sebanyak 17. Kriteria inklusi yaitu karyawan tetap bagian produksi pada stasiun pencacahan (Digester) dan pengempaan (Presser), pemurnian (Clarifier), Nut dan Kernel yang bertugas di pabrik pengolahan  PT.MUL, Mamuju Sulawesi Barat. Teknik analisis data dan metode yang digunakan dalam penelitian ini adalah Deskriptif dengan metode HIRAC (Hazard Identification Risk Asessment Control ). Penarikan sampel berdasarkan teknik Non probability Sampling dengan cara Purposive Sampling.
Hasil penelitian yang telah dilakukan pada bagian pengolahan/produksi minyak kelapa sawit PT. MUL dengan 3 stasiun didalamnya yaiu dimulai dari Identifikasi bahaya : lama kerja yang berisiko hingga 12 jam kerja, peralatan yang tidak safety, gangguan pernafasan, peralatan panas, penanganan bahan kimia yang tidak benar kebisingan dan suhu panas, kemudian Penilaian risiko : M (Moderate Risk) risiko menengah, H (High Risk) risiko tinggi, terakhir pengendalian yang dilakukan berdasarkan Hierarchy of control yaitu Administratif, Alat pelindung diri (APD), Eliminasi dan Subtitusi
Implikasi dari penelitian ini yaitu 1)training tentang Hazard Identifikasi dan Risk Assesment Control serta penerapan pengendalian secara Tehnis, Administratif dan APD. 2)melaksanakan Review Hazard Identification Risk Asessment Risk Control. 3)pihak pelatihan oleh manajemen dan penjadwalan tindakan perbaikan secepatnya 4) pembuatan system prosedur bekerja secara aman dan prosedur rutin.
Downloads
Download data is not yet available.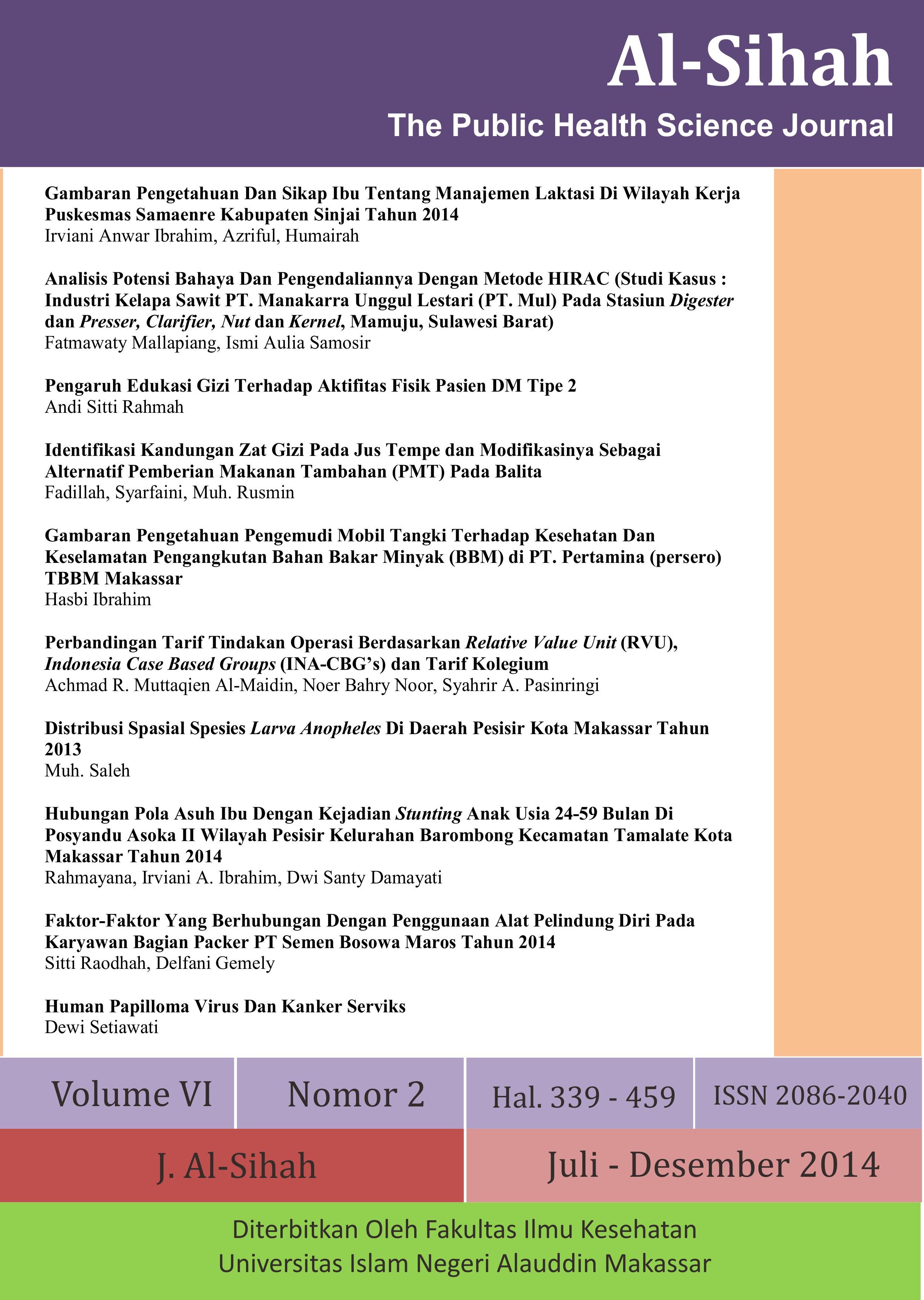 How to Cite
Mallapiang, F., & Samosir, I. A. (2014). Analisis Potensi Bahaya Dan Pengendaliannya Dengan Metode HIRAC (Studi Kasus : Industri Kelapa Sawit PT. Manakarra Unggul Lestari (PT. Mul) Pada Stasiun Digester dan Presser, Clarifier, Nut dan Kernel, Mamuju, Sulawesi Barat). Al-Sihah: The Public Health Science Journal, 6(2). https://doi.org/10.24252/as.v6i2.1612
Section
Volume 6-8, Nomor 1-2, Tahun 2014-16
Authors retain copyright and grant the journal right of first publication with the work simultaneously licensed under a Creative Commons Attribution-NonCommercial-ShareAlike 4.0 International License that allows others to share the work with an acknowledgment of the work's authorship and initial publication in this journal.
Authors are able to enter into separate, additional contractual arrangements for the non-exclusive distribution of the journal's published version of the work (e.g., post it to an institutional repository or publish it in a book), with an acknowledgment of its initial publication in this journal.
Authors are permitted to publish their work online in third parties as it can lead to wider dissemination of the work.

Abstract viewed = 4112 times