Pengaruh Edukasi Gizi Terhadap Aktifitas Fisik Pasien Dm Tipe 2
Abstract
Angka Kejadian Diabetes Melitus terus mengalami peningkatan, baik di Indonesia maupun seluruh dunia. Gaya hidup yang tidak sehat, seperti malas berolahraga, banyaknya aktifitas sedentary,dll merupakan salah satu faktor resiko terjadinya DM tipe 2. Edukasi gizi sangat dibutuhkan untuk memberikan pemahaman terhadap pasien DM tipe 2 tentang cara hidup yang sehat. Tujuan penelitian adalah melihat pengaruh edukasi gizi terhadap aktifitas fisik pasoen DM tipe 2. Penelitian dilakukan di Puskesmas Bara-Baraya dan Puskesmas Batua Makassar terhadap 19 orang pasien DM tipe 2. Dilakukan pengukuran antropometri dan aktifitas fisik sebelum dan setelah diberikan edukasi gizi. Edukasi gizi dilakukan secara kelompok 1x di awal penelitian, kemudian dilanjutkan dengan 1x per minggu secara indivual dengan mendatangi rumah responden. Diperoleh hasil  terjadi peningkatan aktifitas fisik yang bermakna (p<0.05) dari 1575.7±910.40 met/minggu menjadi 1717.1±854.68 met/minggu. Disimpulkan bahwa pemberian edukasi gizi meningkatkan aktifitas fisik pasien DM tipe 2
Downloads
Download data is not yet available.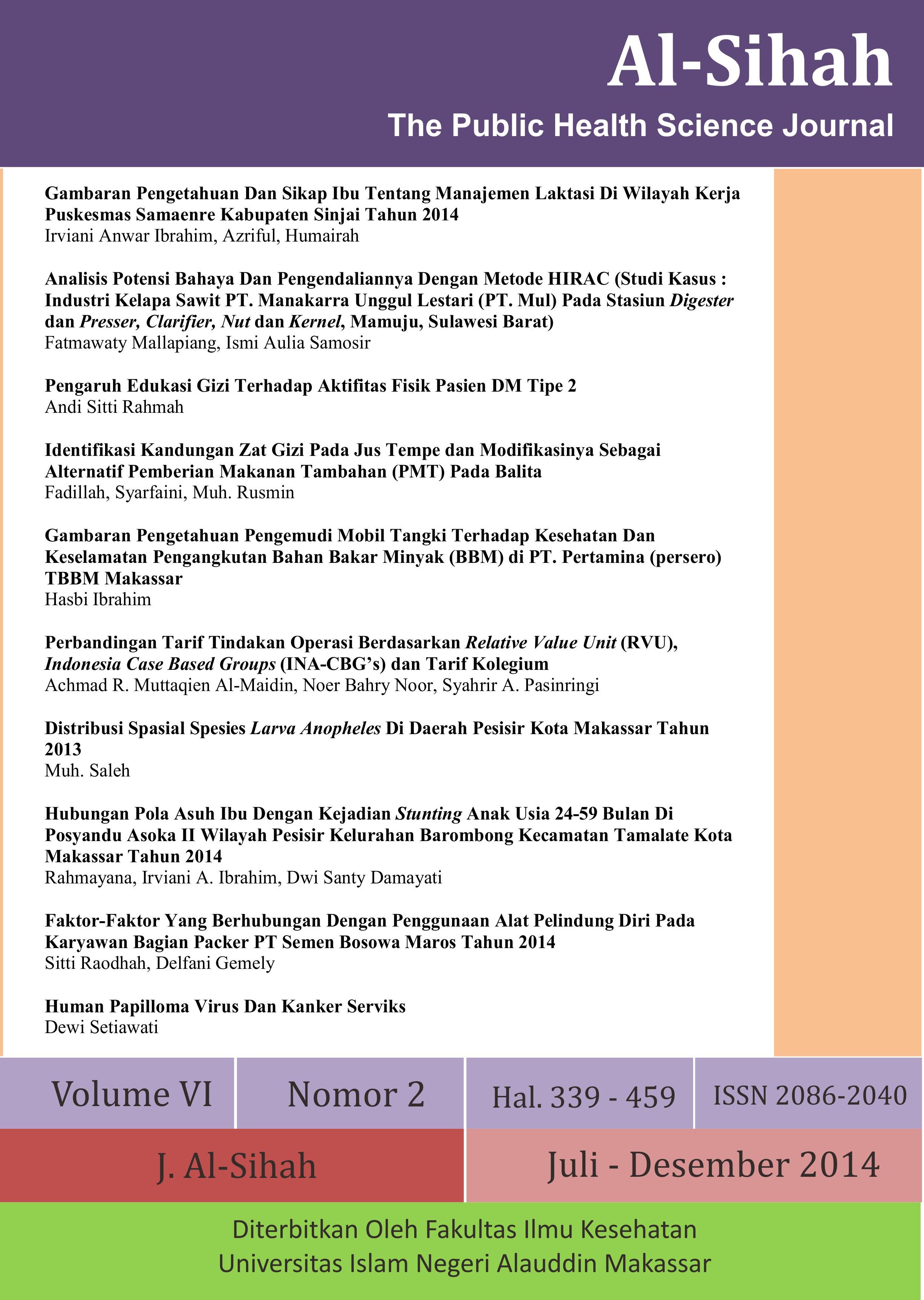 How to Cite
Rahma, A. S. (2014). Pengaruh Edukasi Gizi Terhadap Aktifitas Fisik Pasien Dm Tipe 2. Al-Sihah: The Public Health Science Journal, 6(2). https://doi.org/10.24252/as.v6i2.1613
Section
Volume 6-8, Nomor 1-2, Tahun 2014-16
Authors retain copyright and grant the journal right of first publication with the work simultaneously licensed under a Creative Commons Attribution-NonCommercial-ShareAlike 4.0 International License that allows others to share the work with an acknowledgment of the work's authorship and initial publication in this journal.
Authors are able to enter into separate, additional contractual arrangements for the non-exclusive distribution of the journal's published version of the work (e.g., post it to an institutional repository or publish it in a book), with an acknowledgment of its initial publication in this journal.
Authors are permitted to publish their work online in third parties as it can lead to wider dissemination of the work.

Abstract viewed = 218 times