Identifikasi Kandungan Zat Gizi Pada Jus Tempe dan Modifikasinya Sebagai Alternatif Pemberian Makanan Tambahan (PMT) Pada Balita
Fadillah Fadillah




Syarfaini Syarfaini

UIN Alauddin




(ID)

Muhammad Rusmin

UIN Alauddin Makassar



Abstract
Penelitian ini bertujuan untuk mengetahui kandungan zat gizi pada jus tempe dan modifikasinya sebagai alternatif PMT pada balita. Jenis penelitian ini adalah Pre-eksperimen dengan pendekatan kuantitatif. Desain penelitian yaitu one-shot case study design. Lokasi penelitian ini di Balai Besar Laboratorium Kesehatan Makassar dan Universitas Negeri Makassar. Objek dalam penelitian ini yaitu tempe, pisang dan pepaya yang kemudian dijadikan jus dengan formula, jus tempe yaitu tempe 50 gr, gula 5 gr, dan air 90 ml. Formula pada jus tempe pisang yaitu tempe 30 gr, pisang 15 gr, gula 5 gr, dan air 90 ml. Sedangkan formula pada jus tempe pepaya yaitu tempe 30 gr, pepaya 15 gr, gula 5 gr, dan air 90 ml. Alat yang digunakan dalam  membuat sampel yaitu blender, pisau, talenan, panci, saringan panci, sendok, dan piring. Adapun bahan yang digunakan yaitu masing-masing buah yang menjadi sampel (pepaya dan pisang), tempe, gula, dan air. Parameter pengamatan yaitu karbohidrat, protein, lemak, vitamin C dan Fe, dan juga dilakukan uji organoleptik.
Hasil penelitian menunjukkan kandungan gizi pada jus tempe sebesar: karbohidrat 8,9%, protein 8,8%, lemak 3,06 mg/gr, vitamin C 7,57 mg/gr dan Fe 1,52 mg/gr. Pada jus tempe pisang yaitu karbohidrat 9,9%, protein 4,7%, lemak 2,5%, vitamin C 9,4 mg/gr, dan Fe 0,83 mg/gr. Sedangkan pada jus tempe pepaya karbohidrat 6,7%, protein 4,4%, lemak 3,7%, vitamin C 9,6 mg/gr, dan Fe 1,6 mg/gr. Pada uji organoleptik jus tempe dan modifikasinya, jus dengan nilai rata-rata tingkat kesukaan tertinggi terdapat pada jus tempe pisang (76,25%), kemudian jus tempe pepaya (71,25%), dan jus tempe (68,75%).
Dalam pemenuhan kebutuhan nutrisi terhadap balita, disarankan kepada orangtua agar memberikan makanan dengan nilai gizi yang tepat. Seperti pada jus tempe dan jus tempe pisang yang kaya akan zat gizi makro sebaiknya diberikan kepada balita yang mengalami gizi kurang dan KEP. Sedangkan pada jus tempe pepaya yang kaya akan zat gizi mikro seperti vitamin C dan Fe yang sangat baik untuk membantu absorbsi zat gizi makro dan baik untuk penderita Anemia Gizi Besi.
Downloads
Download data is not yet available.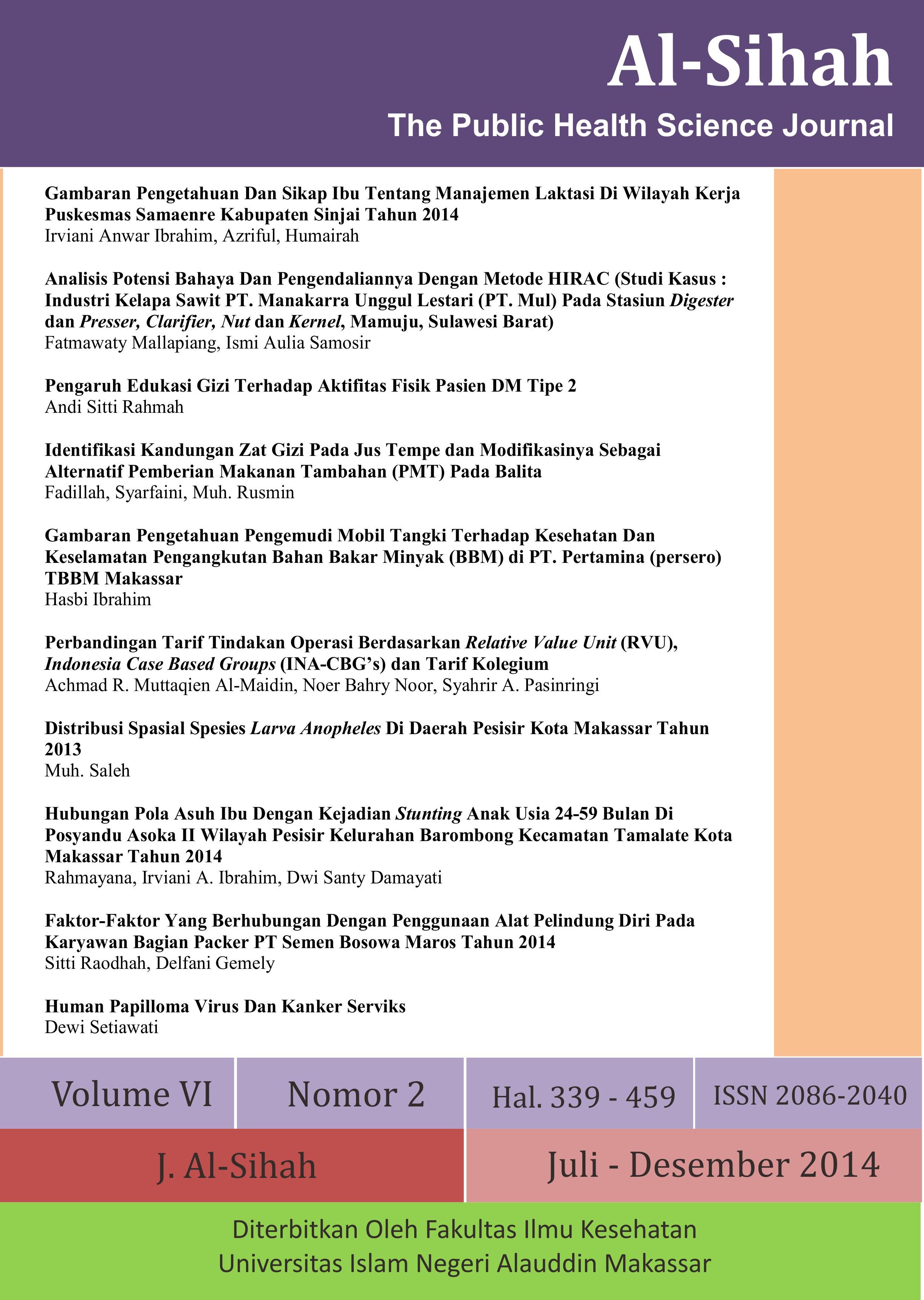 How to Cite
Fadillah, F., Syarfaini, S., & Rusmin, M. (2014). Identifikasi Kandungan Zat Gizi Pada Jus Tempe dan Modifikasinya Sebagai Alternatif Pemberian Makanan Tambahan (PMT) Pada Balita. Al-Sihah: The Public Health Science Journal, 6(2). https://doi.org/10.24252/as.v6i2.1614
Section
Volume 6-8, Nomor 1-2, Tahun 2014-16
Authors retain copyright and grant the journal right of first publication with the work simultaneously licensed under a Creative Commons Attribution-NonCommercial-ShareAlike 4.0 International License that allows others to share the work with an acknowledgment of the work's authorship and initial publication in this journal.
Authors are able to enter into separate, additional contractual arrangements for the non-exclusive distribution of the journal's published version of the work (e.g., post it to an institutional repository or publish it in a book), with an acknowledgment of its initial publication in this journal.
Authors are permitted to publish their work online in third parties as it can lead to wider dissemination of the work.

Abstract viewed = 970 times