Faktor-Faktor Yang Berhubungan Dengan Penggunaan Alat Pelindung Diri Pada Karyawan Bagian Packer PT Semen Bosowa Maros Tahun 2014
Sitti Raodhah

Fakultas Kedokteran dan Ilmu Kesehatan UIN Alauddin Makassar




(ID)

Delfani Gemely

Fakultas Kedokteran dan Ilmu Kesehatan UIN Alauddin Makassar




(ID)
Abstract
Penggunaan Alat Pelindung Diri (APD)  merupakan tahap akhir dari metode pengendalian kecelakaan maupun penyakit akibat kerja. Meskipun demikian, penggunaan APD akan menjadi sangat penting apabila pengendalian secara tekhnis dan administratif telah dilakukan secara maksimal namun potensi risiko masih tergolong tinggi. Besarnya manfaat dari penggunaan APD ini pada saat bekerja, tidak menjamin semua pekerja akan memakainya. Keefektifan penggunaan APD terbentur dari para tenaga kerja sendiri. Penelitian ini bertujuan untuk mengetahui faktor-faktor yang berhubungan dengan penggunaan APD pada karyawan bagian Packer PT. Semen Bosowa Maros tahun 2014.
Metode penelitian yang digunakan adalah survey analitik dengan pendekatan cross sectional study. Populasi dalam penelitian ini adalah seluruh karyawan bagian packer yang terdiri dari karyawan organik dan nonorganik yang berjumlah 96 orang. Sampel berjumlah 77 orang responden dengan teknik penarikan sampel  quota sampling. Data diperoleh dengan melalui observasi dan kuesioner. Analisis data yang digunakan adalah analisis univariat dan analisis bivariat berupa uji chi square.
Hasil penelitian di PT. Semen Bosowa Maros menunjukkan bahwa pengetahuan, pelatihan K3 dan kebijakan mempengaruhi penggunaan APD dimana dari masing-masing variabel didapatkan nilai p = 0.000, p = 0.000 dan p = 0.000 (p≤0.05), sementara ketersediaan APD dan pengawasan tidak mempengaruhi penggunaan APD dimana masing-masing variabel didapatkan nilai p = 0.241 dan 1.523 (p>0.05).
Disarankan agar pihak perusahaan lebih memperhatikan kelengkapan dalam penggunaan APD karyawan yang telah disiapkan. Dengan pelaksanaan pengawasan berkelanjutan melalui pembinaan terhadap kepatuhan penggunaan APD secara lengkap.
Downloads
Download data is not yet available.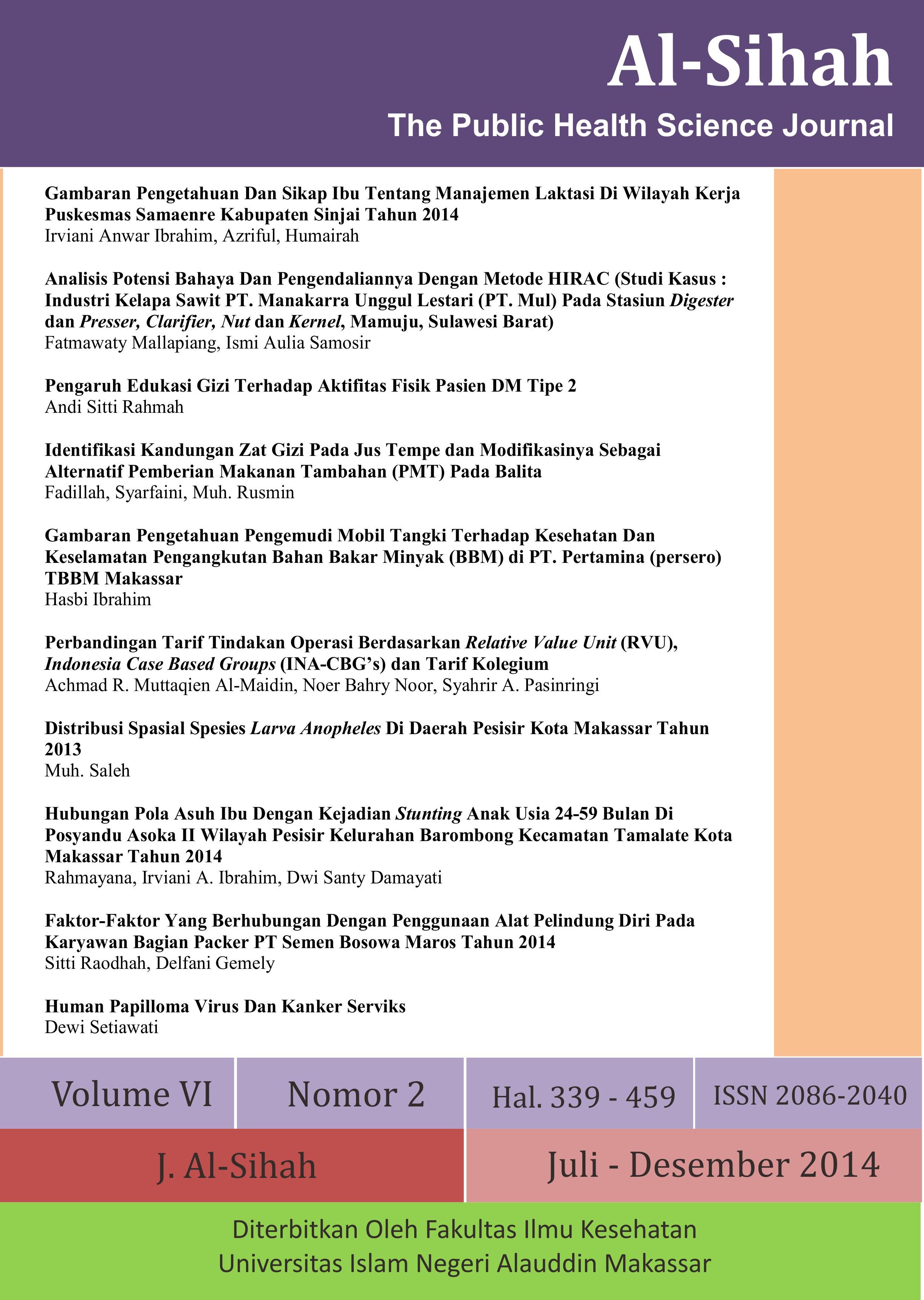 How to Cite
Raodhah, S., & Gemely, D. (1). Faktor-Faktor Yang Berhubungan Dengan Penggunaan Alat Pelindung Diri Pada Karyawan Bagian Packer PT Semen Bosowa Maros Tahun 2014. Al-Sihah: The Public Health Science Journal, 6(2). https://doi.org/10.24252/as.v6i2.1967
Section
Volume 6-8, Nomor 1-2, Tahun 2014-16
Authors retain copyright and grant the journal right of first publication with the work simultaneously licensed under a Creative Commons Attribution-NonCommercial-ShareAlike 4.0 International License that allows others to share the work with an acknowledgment of the work's authorship and initial publication in this journal.
Authors are able to enter into separate, additional contractual arrangements for the non-exclusive distribution of the journal's published version of the work (e.g., post it to an institutional repository or publish it in a book), with an acknowledgment of its initial publication in this journal.
Authors are permitted to publish their work online in third parties as it can lead to wider dissemination of the work.

Abstract viewed = 1945 times