Analisis Kandungan Formalin Pada Tahu di Pasar Tradisional Kota Makassar Tahun 2014
Syarfaini Syarfaini

Fakultas Kedokteran dan Ilmu Kesehatan UIN Alauddin Makassar




(ID)

Muhammad Rusmin

Fakultas Kedokteran dan Ilmu Kesehatan UIN Alauddin Makassar




(ID)
Abstract
Formalin adalah bahan pengawet yang sangat berbahaya apabila ditambahkan dalam makanan, tertera jelas dalam Peraturan Menteri Kesehatan No. 1168/MenKes/PER/X/1999. Salah satu makanan yang sering ditambahkan formalin adalah tahu karena daya simpannya yang relatif singkat. Dalam Islam dikenal dengan istilah makanan halalan thayyiban, sebagaimana dalam Q.S. Al Baqarah/2:168. Makanan halalan yaitu makanan yang tidak diharamkan dan tidak menyalahi hukum syari`at Islam. Makanan thayyiban yaitu dari sudut pemenuhan kebutuhan gizi, pengolahan makanan dan bahan campuran yang baik. Tujuan penelitian ini untuk mengetahui dan menganalisis kandungan formalin pada tahu di pasar tradisional kota makassar tahun 2014. Jenis penelitian ini adalah penelitian kuantitatif, menggunakan rancangan penelitian observasional dengan pendekatan deskriptif. Teknik pengambilan sampel yaitu cluster random sampling. Sampel penelitian ini adalah tahu. Lokasi pengambilan sampel yaitu di 8 pasar yang tersebar di beberapa kecamatan di kota Makassar. 8 pasar tersebut adalah pasar Baru di kecamatan Ujung Pandang, pasar Cidu di kecamatan Wajo, pasar Daya di kecamatan Biringkanaya, pasar Maricaya di kecamatan Makassar, pasar Pa'baeng-baeng di kecamatan Tamalate, pasar Pannampu di kecamatan Tallo, pasar Terong di kecamatan Bontoala, dan pasar Todoppuli (Panakkukang) di kecamatan Panakkukang. Pengujian kandungan formalin pada tahu dilakukan di Balai Besar Laboratorium Kesehatan Makassar. Hasil penelitian kandungan formalin pada tahu di 8 pasar tradisional kota Makassar adalah dari 15 tahu (100%) ada 5 tahu dengan persentase sebesar 33.3% tidak aman dikonsumsi karena mengandung formalin yaitu di P.B1 (pasar Pa'baeng-baeng 1), P.P1 (pasar Pannampu 1), P.BR (pasar Baru), P.TD (pasar Todoppuli), P.C (pasar Cidu) dan ada 10 tahu dengan persentase sebesar 66.7% aman dikonsumsi karena tidak mengandung formalin yaitu di P.B2 (pasar Pa'baeng-baeng 2), P.B3 (pasar Pa'baeng-baeng 3), P.T1 (pasar Terong 1), P.T2 (pasar Terong 2), P.T3 (pasar Terong 3), P.D1 (pasar Daya 1), P.D2 (pasar Daya 2), P.P2 (pasar Pannampu 2), P.M1 (pasar Maricaya 1), dan P.M2 (pasar Maricaya 2). Implikasi penelitian ini adalah: Diharapkan dapat dijadikan bahan referensi oleh konsumen dalam memilih tahu yang yang dijual di pasar-pasar tradisional kota Makassar untuk dikonsumsi dan diperlukan penemuan bahan alami pengganti formalin yang murah, efektif, dan efisien.
Downloads
Download data is not yet available.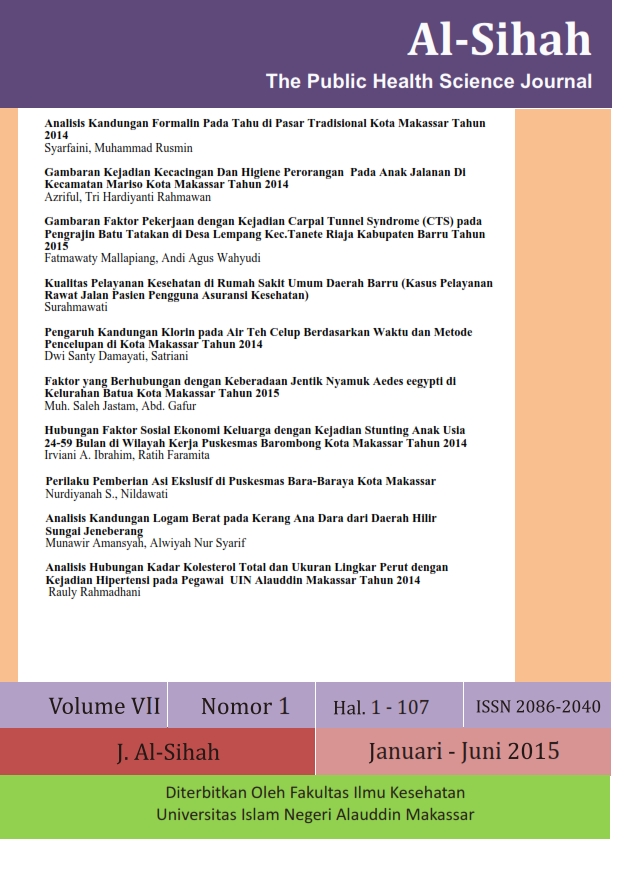 How to Cite
Syarfaini, S., & Rusmin, M. (1). Analisis Kandungan Formalin Pada Tahu di Pasar Tradisional Kota Makassar Tahun 2014. Al-Sihah: The Public Health Science Journal, 7(1). https://doi.org/10.24252/as.v7i1.1972
Section
Volume 6-8, Nomor 1-2, Tahun 2014-16
Authors retain copyright and grant the journal right of first publication with the work simultaneously licensed under a Creative Commons Attribution-NonCommercial-ShareAlike 4.0 International License that allows others to share the work with an acknowledgment of the work's authorship and initial publication in this journal.
Authors are able to enter into separate, additional contractual arrangements for the non-exclusive distribution of the journal's published version of the work (e.g., post it to an institutional repository or publish it in a book), with an acknowledgment of its initial publication in this journal.
Authors are permitted to publish their work online in third parties as it can lead to wider dissemination of the work.

Abstract viewed = 1260 times