Gambaran Faktor Pekerjaan dengan Kejadian Carpal Tunnel Syndrome (CTS) pada Pengrajin Batu Tatakan di Desa Lempang Kec. Tanete Riaja Kabupaten Barru Tahun 2015
Fatmawaty Mallapiang

Fakultas Kedokteran dan Ilmu Kesehatan UIN Alauddin Makassar




(ID)

Andi Agus Wahyudi

Fakultas Kedokteran dan Ilmu Kesehatan UIN Alauddin Makassar




(ID)
Abstract
Carpal Tunnel Syndrome (CTS) disebabkan terjebaknya saraf medianus dalam terowongan karpal pada pergelangan tangan dengan gejala rasa nyeri, pembengkakan, rasa seperti tertusuk, hipotesia pada ibu jari, telunjuk dan jari tengah. Penelitian ini bertujuan untuk mengetahui gambaran faktor pekerjaan yang berisiko terhadap kejadian CTS pada pengrajin batu tatakan di Desa Lempang, Kecamatan Tanete Riaja, Kabupaten Barru.
Penelitian ini adalah menggunakan pendekatan observasional dengan metode deskriptif dengan sampel sebanyak 59 orang dari populasi 69 orang yang dipilih secara purposive sampling.
Responden dengan CTS sebanyak 20  dari total 57 responden dalam keadaan bekerja dengan gerakan berulang berisiko, sementara terdapat 22 responden yang mengalami Carpal Tunnel Syndrome (CTS) dan berisiko melakukan pekerjaan menggenggam atau menjepit. Adapun 22 responden yang mengalami Carpal Tunnel Syndrome (CTS) dan memiliki postur janggal yang berisiko (responden bekerja dengan salah satu postur tangan tidak alamiah).
Gerakan berulang dengan frekuensi ≥ 30 kali dalam satu menit yang dilakukan setiap hari dapat meninggkatkan tendinitis yang menjadi penyebab kompresi saraf dan menimbulkan CTS. Maka diharapkan pekerja dapat melakukan pekerjaan sesuai dengan kemampuan,  dan beristirahat (peregangan pada tangan) secukupnya jika lama kerja mencapai 4-8 jam dalam upaya memperlancar aliran darah dan tidak terjadi penekanan pada nervus medianus.
Downloads
Download data is not yet available.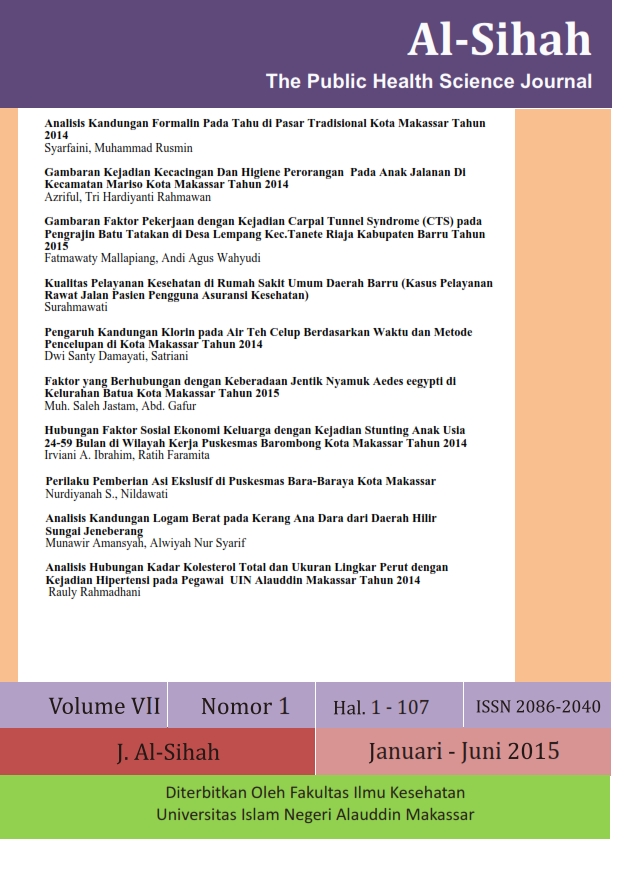 How to Cite
Mallapiang, F., & Wahyudi, A. A. (1). Gambaran Faktor Pekerjaan dengan Kejadian Carpal Tunnel Syndrome (CTS) pada Pengrajin Batu Tatakan di Desa Lempang Kec. Tanete Riaja Kabupaten Barru Tahun 2015. Al-Sihah: The Public Health Science Journal, 7(1). https://doi.org/10.24252/as.v7i1.1974
Section
Volume 6-8, Nomor 1-2, Tahun 2014-16
Authors retain copyright and grant the journal right of first publication with the work simultaneously licensed under a Creative Commons Attribution-NonCommercial-ShareAlike 4.0 International License that allows others to share the work with an acknowledgment of the work's authorship and initial publication in this journal.
Authors are able to enter into separate, additional contractual arrangements for the non-exclusive distribution of the journal's published version of the work (e.g., post it to an institutional repository or publish it in a book), with an acknowledgment of its initial publication in this journal.
Authors are permitted to publish their work online in third parties as it can lead to wider dissemination of the work.

Abstract viewed = 1355 times