Pengaruh Kandungan Klorin pada Air Teh Celup Berdasarkan Waktu dan Metode Pencelupan di Kota Makassar Tahun 2014
Dwi Santy Damayati

Fakultas Kedokteran dan Ilmu Kesehatan UIN Alauddin Makassar




(ID)

Satriani Satriani

Fakultas Kedokteran dan Ilmu Kesehatan UIN Alauddin Makassar




(ID)
Abstract
Teh merupakan salah satu hasil olahan komoditi pertanian yang dibuat dari daun pucuk tanaman Camellia sinensis. Dengan proses yang berbeda akan dihasilkan jenis teh yang berbeda, diantaranya yaitu teh hijau (diproses tanpa fermentasi) dan teh hitam (diproses dengan fermentasi penuh). Sebagai salah satu minuman yang banyak digemari, teh ternyata mempunyai kelebihan yaitu memberikan banyak manfaat bagi kesehatan. Tujuan penelitian ini adalah untuk mengetahui kadar klorin pada teh celup yang berasal dari air teh celup yang ada di masyarakat Makassar. Jenis penelitian yang dilakukan adalah eksperimen semu yang bersifat analitik yaitu untuk mengetahui kadar klorin pada air teh celup berdasarkan waktu dan metode pencelupan dengan melakukan pemeriksaan laboratorium secara kuantitatif.  Objek penelitian adalah air teh celup yang berasal dari pencampuran  teh celup dengan air minum yang ada dimasyarakat. Pengujian dilakukan di Laboratorium Kesehatan Makassar Ditjen Bina Upaya Kesehatan Kementerian Kesehatan RI, Jalan Perintis Kemerdekaan Tamalanrea Km. 11 Makassar. Hasil dari penelitian ini adalah kandungan klorin mengalami penurunan pada metode pencelupan direndam seiring dengan lamanya waktu pencelupan. Namun kandungan klorin mengalami peningkatan pada metode pencelupan dicelup berulang – ulang seiring dengan lamanya waktu pencelupan. Berdasarkan hasil uji statistik diperoleh bahwa terdapat pengaruh kadar klorin pada metode pencelupan, waktu pencelupan, jenis teh, interaksi jenis teh dan metode pencelupan, namun tidak ada pengaruh antara interaksi jenis teh dan waktu pencelupan. Implikasi penelitian ini adalah : 1) Diharapkan kepada masyarakat bila sering mengkonsumsi teh sebaiknya menggunakan teh seduh dalam mengkonsumsi minuman teh walaupun sedikit repot namun terhindar dari konsumsi klorin. 2) Diharapkan hasil penelitian ini hendaknya menjadi suatu landasan bagi penelitian serupa dan pengembangan penelitian ini sangat diharapkan di masa yang akan datang, baik dari segi perlakuan maupun parameter uji.
Downloads
Download data is not yet available.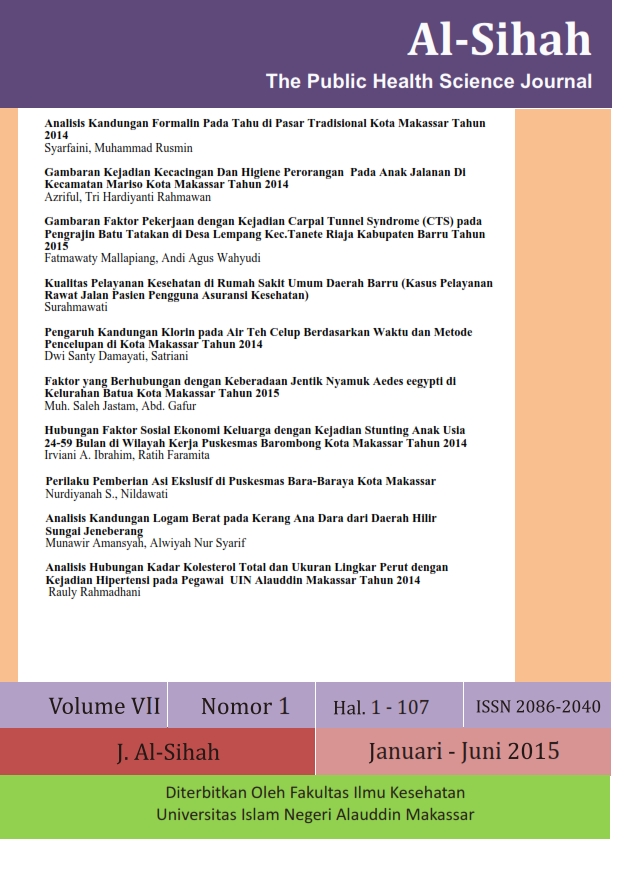 How to Cite
Damayati, D. S., & Satriani, S. (1). Pengaruh Kandungan Klorin pada Air Teh Celup Berdasarkan Waktu dan Metode Pencelupan di Kota Makassar Tahun 2014. Al-Sihah: The Public Health Science Journal, 7(1). https://doi.org/10.24252/as.v7i1.1976
Section
Volume 6-8, Nomor 1-2, Tahun 2014-16
Authors retain copyright and grant the journal right of first publication with the work simultaneously licensed under a Creative Commons Attribution-NonCommercial-ShareAlike 4.0 International License that allows others to share the work with an acknowledgment of the work's authorship and initial publication in this journal.
Authors are able to enter into separate, additional contractual arrangements for the non-exclusive distribution of the journal's published version of the work (e.g., post it to an institutional repository or publish it in a book), with an acknowledgment of its initial publication in this journal.
Authors are permitted to publish their work online in third parties as it can lead to wider dissemination of the work.

Abstract viewed = 466 times