Analisis Hubungan Kadar Kolesterol Total dan Ukuran Lingkar Perut dengan Kejadian Hipertensi pada Pegawai UIN Alauddin Makassar Tahun 2014
Rauly Ramadhani

Fakultas Kedokteran dan Ilmu Kesehatan UIN Alauddin Makassar




(ID)
Abstract
Salah satu faktor resiko untuk terjadinya hipertensi adalah kadar kolesterol dalam darah yang tinggi serta ukuran lingkar perut berlebih. Tujuan dari penelitian ini adalah diketahuinya hubungan antara kadar kolesterol total, lingkar perut dengan kejadian hipertensi pada pegawai UIN Alauddin Makassar. Penelitian ini merupakan penelitian analitik dengan pendekatan cross-sectional. Sampel dalam penelitian ini adalah sebanyak 45 orang dengan  menggunakan metode purposive sampling. Responden diukur tekanan darahnya, lingkar perut serta kadar kolesterol total kemudian diuji dengan menggunakan uji chi square. Hasil penelitian menunjukkan bahwa terdapat korelasi yang signifikan antara kadar kolesterol total dan ukuran lingkar perut dengan kejadian hipertensi dengan nilai p sebesar 0,001 dan 0,012 (p< 0,05). Dari hasil analisis regeresi logistik ganda kedua variable memiliki hubungan yang sangat bermakna terhadap kejadian hipertensi. Variable kadar kolesterol total memiliki hubungan 21,5 kali lebih besar dan variable lingkar perut memiliki hubungan 5 kali lebih besar .
Downloads
Download data is not yet available.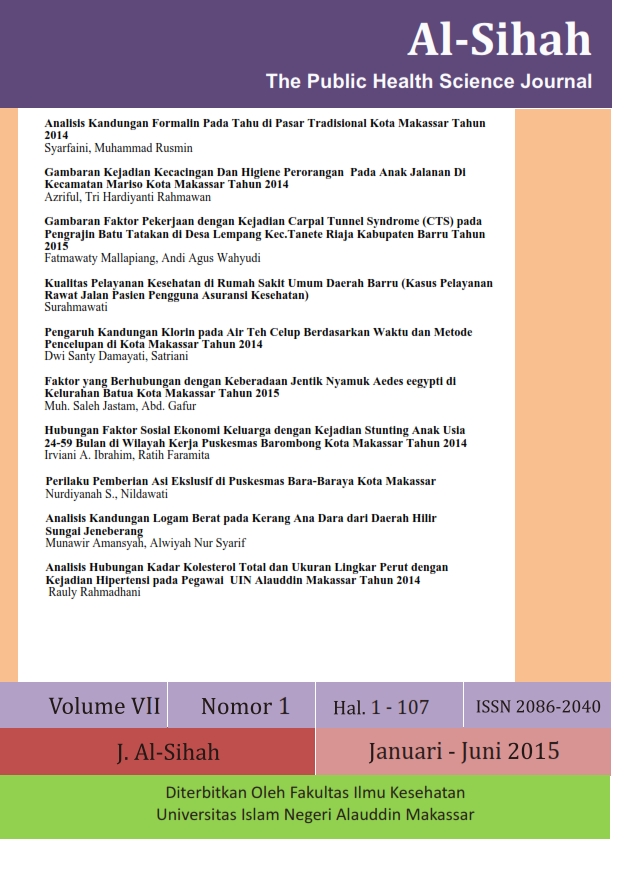 How to Cite
Ramadhani, R. (1). Analisis Hubungan Kadar Kolesterol Total dan Ukuran Lingkar Perut dengan Kejadian Hipertensi pada Pegawai UIN Alauddin Makassar Tahun 2014. Al-Sihah: The Public Health Science Journal, 7(1). https://doi.org/10.24252/as.v7i1.1981
Section
Volume 6-8, Nomor 1-2, Tahun 2014-16
Authors retain copyright and grant the journal right of first publication with the work simultaneously licensed under a Creative Commons Attribution-NonCommercial-ShareAlike 4.0 International License that allows others to share the work with an acknowledgment of the work's authorship and initial publication in this journal.
Authors are able to enter into separate, additional contractual arrangements for the non-exclusive distribution of the journal's published version of the work (e.g., post it to an institutional repository or publish it in a book), with an acknowledgment of its initial publication in this journal.
Authors are permitted to publish their work online in third parties as it can lead to wider dissemination of the work.

Abstract viewed = 481 times