Peningkatan Kualitas Air Sumur Gali Berdasarkan Parameter Besi (Fe) dengan Pemanfaatan Kulit Pisang Kepok di Dusun Alekanrung Desa Kanrung Kabupaten Sinjai
Andi Susilawaty

Fakultas Kedokteran dan Ilmu Kesehatan UIN Alauddin Makassar




(ID)

Munawir Amansyah

Fakultas Kedokteran dan Ilmu Kesehatan UIN Alauddin Makassar




Jumiati Jumiati

Fakultas Kedokteran dan Ilmu Kesehatan UIN Alauddin Makassar




(ID)
Abstract
Kulit Pisang Kepok (Musa acuminate L.) adalah salah satu jenis tanaman yang dapat digunakan sebagai penurun kadar zat Besi yang ada pada air, penurun kadar logam berat yang lain seperti timah, mangan dan variabel lainnya. Kulit pisang terdiri dari sejumlah nitrogen, sulfur dan komponen organik seperti asam karboksilat, selulosa, hemiselulosa, pigmen klorofil dan zat pektin yang mengandung asam galacturonic, arabinosa, galaktosa dan rhamnosa. Asam galacturonic dapat mengikat kuat ion logam yang merupakan gugus fungsi gula karboksil. Berdasarkan pemeriksaan pendahuluan di laboratorium ternyata air sumur gali memiliki kadar zat Besi sebanyak 1,67 mg/L, padahal standar yang diperbolehkan untuk air bersih dalam Standar Kualitas Baku Mutu Air menurut Permenkes No. 416/MENKES/PER/IX/1990 adalah 1,0 mg/L. Penelitian ini dilakukan di Dusun Alekanrung Desa Kanrung Kecamatan Sinjai Tengah Kabupaten Sinjai dan pemeriksaan sampel dilakukan di Laboratorium Badan Lingkungan Hidup Daerah Provinsi Sulawesi Selatan, yang bertujuan untuk mengetahui berapa besar tingkat penurunan kandungan logam besi (Fe) dengan memanfaatkan kulit pisang kepok pada air sumur gali. Jenis penelitian yang digunakan adalah eksperimen sungguhan (True Experiment). Desain penelitian yang digunakan adalah pre test-post test with control group design, dimana terdapat pretest sebelum diberi perlakuan. Berdasarkan hasil penelitian  tentang  Peningkatan Kualitas Air Sumur Gali Berdasarkan Parameter Besi (Fe) dengan Pemanfaatan Kulit Pisang Kepok, maka dapat diambil kesimpulan untuk uji Laboratorium bahwa tingkat kadar zat besi  (Fe) pada air sumur gali sebelum mendapat perlakuan adalah 1,67 mg/L. Kemudian terjadi penurunan tingkat kadar zat Besi (Fe) air sesudah mendapat perlakuan dengan Kulit Pisang Kepok yaitu dengan berat20 gr sebanyak 0,80 mg/L atau 52%,40gr sebanyak 0,94 mg/L atau 43,7% dan 60gr sebanyak 0,81 atau 51%.Diharapkan kepada masyarakat agar memperhatikan sarana air bersih yang mereka gunakan dengan melakukan pengolahan terlebih dahulu, salah satu alternatifnya adalah dengan menggunakan kulit pisang kepok.Kepada peneliti lain, disarankan untuk meneliti manfaat kulit pisang kepok ini dengan indikator parameter yang lain
Downloads
Download data is not yet available.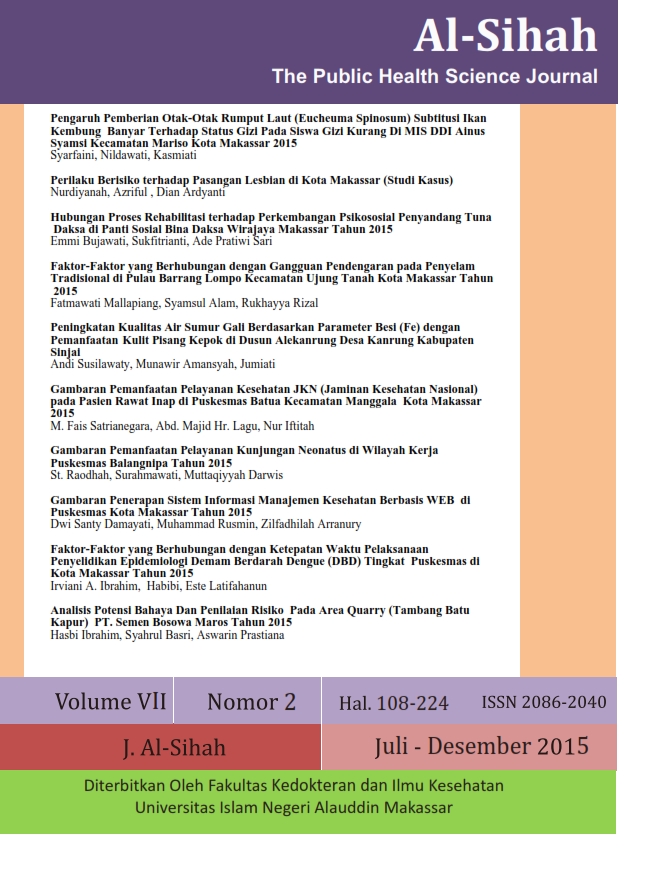 How to Cite
Susilawaty, A., Amansyah, M., & Jumiati, J. (1). Peningkatan Kualitas Air Sumur Gali Berdasarkan Parameter Besi (Fe) dengan Pemanfaatan Kulit Pisang Kepok di Dusun Alekanrung Desa Kanrung Kabupaten Sinjai. Al-Sihah: The Public Health Science Journal, 7(2). https://doi.org/10.24252/as.v7i2.2001
Section
Volume 6-8, Nomor 1-2, Tahun 2014-16
Authors retain copyright and grant the journal right of first publication with the work simultaneously licensed under a Creative Commons Attribution-NonCommercial-ShareAlike 4.0 International License that allows others to share the work with an acknowledgment of the work's authorship and initial publication in this journal.
Authors are able to enter into separate, additional contractual arrangements for the non-exclusive distribution of the journal's published version of the work (e.g., post it to an institutional repository or publish it in a book), with an acknowledgment of its initial publication in this journal.
Authors are permitted to publish their work online in third parties as it can lead to wider dissemination of the work.

Abstract viewed = 680 times