Gambaran Pemanfaatan Pelayanan Kesehatan JKN (Jaminan Kesehatan Nasional) pada Pasien Rawat Inap di Puskesmas Batua Kecamatan Manggala Kota Makassar 2015
Muhammad Fais Satrianegara

Fakultas Kedokteran dan Ilmu Kesehatan UIN Alauddin Makassar




(ID)

Abdul Majid H.R. Lagu

Fakultas Kedokteran dan Ilmu Kesehatan UIN Alauddin Makassar




(ID)

Nur Iftitah

Fakultas Kedokteran dan Ilmu Kesehatan UIN Alauddin Makassar




(ID)
Abstract
Mutu pelayanan kesehatan sebagai salah satu bagian dari manajemen akan memberikan berbagai manfaat bagi manajemen suatu instan( Pohan:2007).  Oleh karena itu, setiap pemberi layanan kesehatan atau profesi layanan kesehatan yang secara langsung melayani pasien perlu memiliki keterampilan, termasuk dalam berkomunikasi dengan konsumen/pasien. Meski demikian mutu pelayanan kesehatan tidak hanya ditentukan dari tingkat kemampuan akademisnya, tetapi juga oleh sifatsifat kemanusiaan yang dimiliki oleh petugas kesehatan di suatu rumah sakit maupun puskesmas. Penelitian ini menggunakan metode deskriptif observasional. Populasi dalam penelitian ini  Pasien rawat inap  yang berkunjung di wilayah Puskesmas Batua pada bulan 1 sampai bulan 6 Tahun 2015 yang berjumlah 149 orang dengan mengunakan teknik total accidental Sampling. Hasil penelitian didapatkan bahwa bahwa 50 responden (83.3%) memanfaatkan pelayanan kesehatan dan yang tidak memanfaatkan 10 responden (16.7%). responden yang tingkat pendidikannya paling banyak adalah responden mempunyai jenjang pendidikan SMA yaitu sebanyak 25 orang (41,7%). dari Aksesbilitas yang mudah sebanyak 48 responden (80.0%) sedangkan responden yang Aksesbilitasnya Sulit sebanyak 12 responden (20.0%). Dari Persepsi responden mengatakan baik sebanyak 57 responden (95%) dan persepsi responden yang mengatakan  tidak baik sebanyak 3 responden (5.0%). Kesimpulan dalam penelitian ini yaitu lebih banyak responden yang memanfaatkan pelayanan kesehatan di Puskesmas Batua daripada yang tidak memanfaatkan pelayanan kesehatan di Puskesmas Batua. Saran yaitu petugas kesehatan lebih banyak Melakukan pendekatan kepada masyarakat sehingga masyarakat lebih mengenal petugas kesehatan dan pasien lebih dapat meningkatkan pemanfaatkan pelayanan kesehatan di Puskesmas Batua.
Downloads
Download data is not yet available.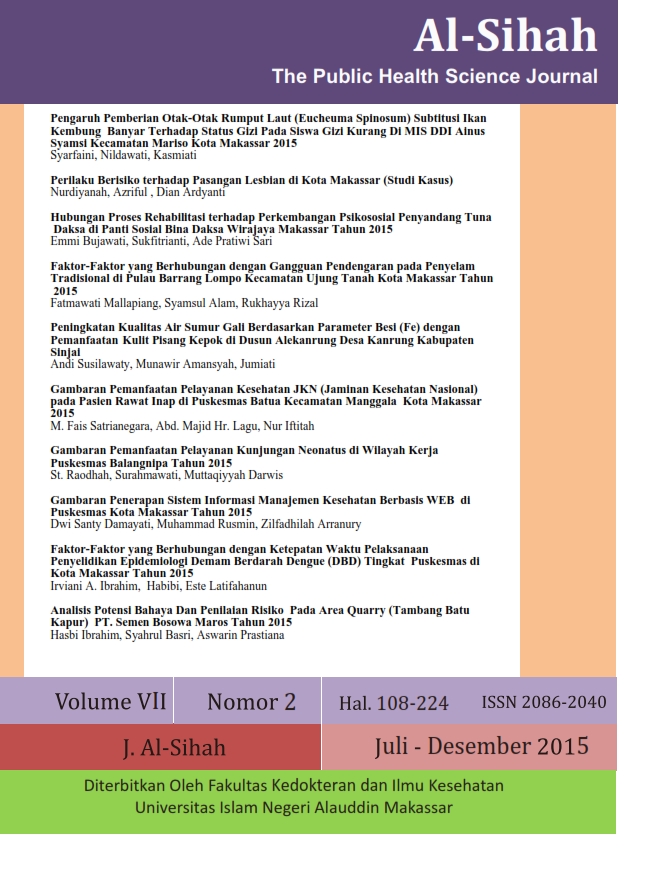 How to Cite
Satrianegara, M. F., Lagu, A. M. H., & Iftitah, N. (1). Gambaran Pemanfaatan Pelayanan Kesehatan JKN (Jaminan Kesehatan Nasional) pada Pasien Rawat Inap di Puskesmas Batua Kecamatan Manggala Kota Makassar 2015. Al-Sihah: The Public Health Science Journal, 7(2). https://doi.org/10.24252/as.v7i2.2003
Section
Volume 6-8, Nomor 1-2, Tahun 2014-16
Authors retain copyright and grant the journal right of first publication with the work simultaneously licensed under a Creative Commons Attribution-NonCommercial-ShareAlike 4.0 International License that allows others to share the work with an acknowledgment of the work's authorship and initial publication in this journal.
Authors are able to enter into separate, additional contractual arrangements for the non-exclusive distribution of the journal's published version of the work (e.g., post it to an institutional repository or publish it in a book), with an acknowledgment of its initial publication in this journal.
Authors are permitted to publish their work online in third parties as it can lead to wider dissemination of the work.

Abstract viewed = 433 times