Gambaran Pemanfaatan Pelayanan Kunjungan Neonatus di Wilayah Kerja Puskesmas Balangnipa Tahun 2015
Sitti Raodhah

Fakultas Kedokteran dan Ilmu Kesehatan UIN Alauddin Makassar




(ID)

Surahmawati Surahmawati

Fakultas Kedokteran dan Ilmu Kesehatan UIN Alauddin Makassar




(ID)

Muttaqiyyah Darwis

Dosen Konsentrasi Administrasi Kebijakan Kesehatan Jurusan Kesehatan Masyarakat FKIK UIN Alauddin Makassar




(ID)
Abstract
Kunjungan neonatus merupakan salah satu intervensi untuk mengurangi AKB yaitu melakukan kontak langsung dengan tenaga kesehatan minimal tiga kali. Penelitian ini bertujuan untuk mengetahui pemanfaatan pelayanan kunjungan neonatus di wilayah kerja Puskesmas Balangnipa. Penelitian ini menggunakan metode deskriptif observasional. Populasi dan sampel adalah 75 ibu yang telah melahirkan di Puskesmas Balangnipa. Pengambilan sampel meggunakan teknik total sampling. Pengumpulan data menggunakan kuesioner dan analisis data menggunakan statistic deskriptif. Hasil penelitian didapatkan bahwa 75 responden (100%) memanfaatkan pelayanan kunjungan neonatus. Dari akses geografis, sebanyak 72 orang (96%) yang mampu menjangkau pelayanan KN dan 3 orang (4%) yang tidak mampu menjangkau pelayanan KN. Dari faktor ekonomi, 23 orang (30.7%) memiliki pendapatan keluarga yang tinggi dan 52 orang (69.3%) memiliki pendapatan keluarga yang rendah. Dari faktor sosial budaya, sebagian besar responden masih memiliki kepercayaan tentang bayi baru lahir, sedangkan faktor sikap dan persepsi menunjukkan 75 orang (100%) responden memiliki sikap yang baik dan persepsi yang positif terhadap pelayanan kunjungan neonatus. Dan dari faktor pelayanan kesehatan, 75 orang (100%) berpendapat bahwa pelayanan kesehatan yang diberikan oleh tenaga kesehatan sudah baik.  Penelitian ini menunjukkan bahwa semua ibu melakukan memanfaatkan pelayanan kunjungan neonatus terutama KN1 karena masih berada di tempat pelayanan kesehatan saat bersalin.Dengan penelitian ini adalah disarankan kepada tenaga kesehatan lebih aktif melakukan penyuluhan tentang kunjungan neonatus kepada masyarakat.
Downloads
Download data is not yet available.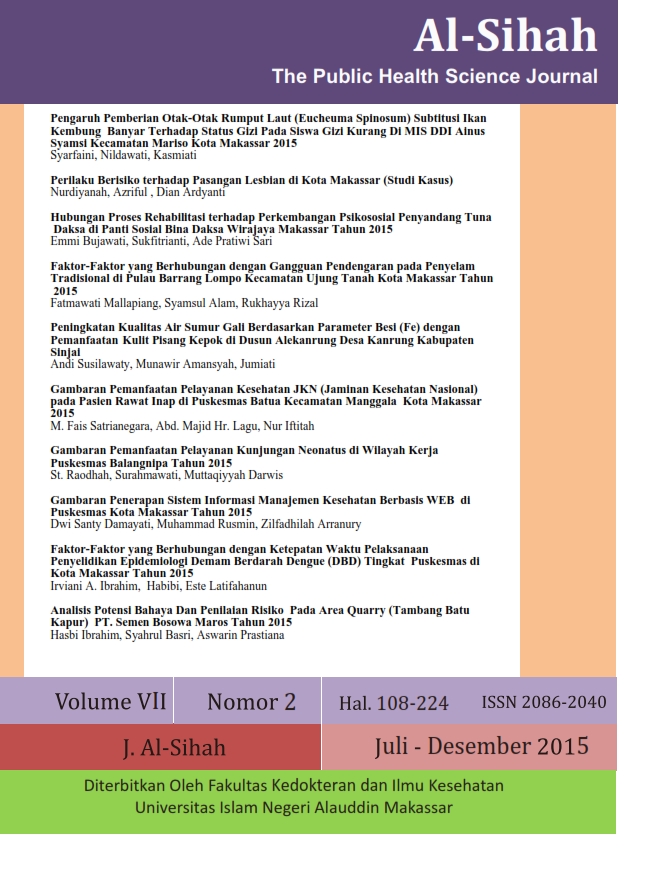 How to Cite
Raodhah, S., Surahmawati, S., & Darwis, M. (1). Gambaran Pemanfaatan Pelayanan Kunjungan Neonatus di Wilayah Kerja Puskesmas Balangnipa Tahun 2015. Al-Sihah: The Public Health Science Journal, 7(2). https://doi.org/10.24252/as.v7i2.2005
Section
Volume 6-8, Nomor 1-2, Tahun 2014-16
Authors retain copyright and grant the journal right of first publication with the work simultaneously licensed under a Creative Commons Attribution-NonCommercial-ShareAlike 4.0 International License that allows others to share the work with an acknowledgment of the work's authorship and initial publication in this journal.
Authors are able to enter into separate, additional contractual arrangements for the non-exclusive distribution of the journal's published version of the work (e.g., post it to an institutional repository or publish it in a book), with an acknowledgment of its initial publication in this journal.
Authors are permitted to publish their work online in third parties as it can lead to wider dissemination of the work.

Abstract viewed = 654 times