Faktor-Faktor yang Berhubungan dengan Kekambuhan Pengguna Narkoba pada Pasien Rehabilitasi di Balai Rehabilitasi Badan Narkotika Nasional Baddoka Makassar Tahun 2015
Habibi Habibi

Fakultas Kedokteran dan Ilmu Kesehatan UIN Alauddin Makassar




(ID)

Syahrul Basri

Fakultas Kedokteran dan Ilmu Kesehatan UIN Alauddin Makassar




(ID)

Fitri Rahmadhani

Fakultas Kedokteran dan Ilmu Kesehatan UIN Alauddin Makassar




(ID)
Abstract
Masalah   penyalahgunaan   narkoba   merupakan   masalah   yang   sangat kompleks bagi pengguna narkoba sehingga beberapa faktor masih menjadi penyebab pengguna narkoba mengalami relapse. Penelitian ini bertujuan untuk mengetahui faktor-faktor yang berhubungan dengan kekambuhan (relapse) pengguna narkoba pada pasien rehabilitasi. Penelitian ini merupakan penelitian survei analitik dengan pendekatan cross sectional dimana penarikan sampelnya menggunakan tehnik simple random sampling. Jumlah populasi 115 dan jumlah sampel  yaitu 89 pasien pengguna narkoba. Hasil uji chi-square menunjukkan bahwa terdapat hubungan yang bermakna antara status ekonomi (nilai p=0.02 dan RP=1.96), jenis napza (p=0.01 dan RP=1.69), faktor keluarga (nilai p=0.03 dan RP=1.78) dan faktor teman (nilai p=0.00 dan RP=1.34) dengan kekambuhan kembali. Disarankan kepada pihak rehabilitasi agar dapat memperkuat program yang ada di balai rehabilitasi, yang mampu membekali pasien untuk mengatasi trigger factor setelah mereka selesai mengikuti kegiatan rehabilitasi. Bagi residen yang menjalani rehabilitasi manfaatkanlah harta dengan membelanjakan barang yang halal, dan bergaul dengan teman yang lebih baik serta jauhilah ajakan teman yang bersifat negatif yang dapat berpengaruh buruk terhadap anda
Downloads
Download data is not yet available.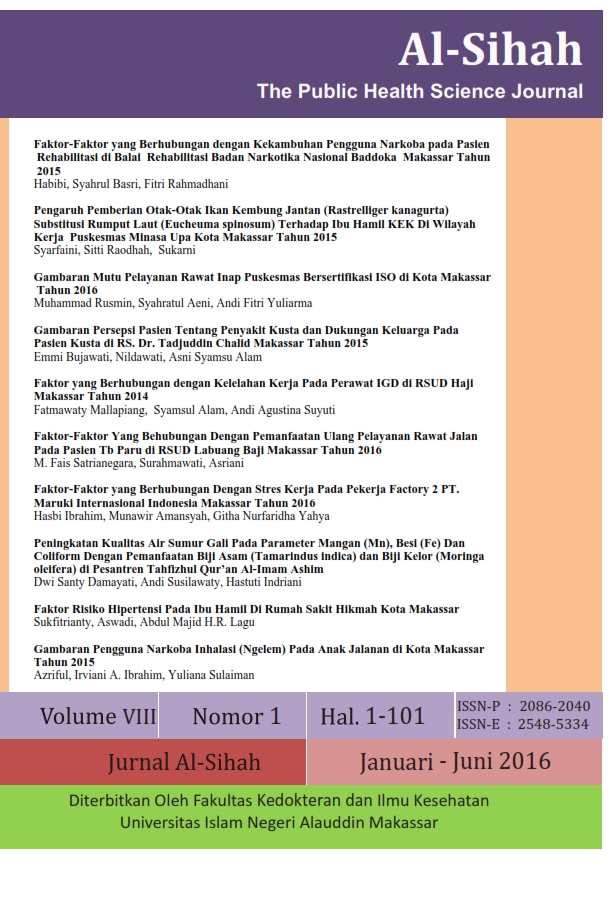 How to Cite
Habibi, H., Basri, S., & Rahmadhani, F. (1). Faktor-Faktor yang Berhubungan dengan Kekambuhan Pengguna Narkoba pada Pasien Rehabilitasi di Balai Rehabilitasi Badan Narkotika Nasional Baddoka Makassar Tahun 2015. Al-Sihah: The Public Health Science Journal, 8(1). https://doi.org/10.24252/as.v8i1.2017
Section
Volume 6-8, Nomor 1-2, Tahun 2014-16
Authors retain copyright and grant the journal right of first publication with the work simultaneously licensed under a Creative Commons Attribution-NonCommercial-ShareAlike 4.0 International License that allows others to share the work with an acknowledgment of the work's authorship and initial publication in this journal.
Authors are able to enter into separate, additional contractual arrangements for the non-exclusive distribution of the journal's published version of the work (e.g., post it to an institutional repository or publish it in a book), with an acknowledgment of its initial publication in this journal.
Authors are permitted to publish their work online in third parties as it can lead to wider dissemination of the work.

Abstract viewed = 1031 times