Faktor Risiko Hipertensi Pada Ibu Hamil Di Rumah Sakit Hikmah Kota Makassar
Sukfitrianty Sukfitrianty

Fakultas Kedokteran dan Ilmu Kesehatan UIN Alauddin Makassar




(ID)

Aswadi Aswadi

Fakultas Kedokteran dan Ilmu Kesehatan UIN Alauddin Makassar




(ID)

Abdul Majid H.R Lagu

Fakultas Kedokteran dan Ilmu Kesehatan UIN Alauddin Makassar




(ID)
Abstract
Hipertensi ibu hamil dijumpai di negara berkembang maupun di negara maju, dan oleh organisasi kesehatan dunia (WHO) dalam seventh general programmer of work untuk tahun 2009 sampai 2012 tercatat sebagai masalah ibu hamil di dunia. Di negara maju, hipertensi ibu hamil merupakan penyebab kematian maternal. Penelitian ini dilaksanakan di Rumah Sakit Hikmah Kota Makassar. Jenis penelitian yang digunakan adalah observasional dengan pendekatan case control study dengan tujuan untuk mengetahui faktor risiko terhadap hipertensi. Sampel penelitian ini adalah ibu hamil dengan pengambilan sampel secara simple random sampling dengan jumlah 136 sampel. Hasil penelitian diperoleh bahwa umur ibu merupakan faktor risiko hipertensi dengan nilai OR = 2,566, status bekerja ibu merupakan faktor risiko hipertensi dengan nilai OR = 3,916, konsumsi fast food merupakan faktor risiko hipertensi dengan nilai OR = 2,971, dan antenatal care  merupakan faktor risiko hipertensi dengan nilai OR = 2,352, .Disarankan bagi ibu hamil memiliki umur risiko tinggi tetap memperhatikan atau mengurangi makanan yang banyak mengandung natrium. Disarankan kepada peneliti selanjutnya untuk melanjutkan penelitian ini dengan mengamati variabel-variabel lain yang berhubungan dengan judul penelitian ini
Downloads
Download data is not yet available.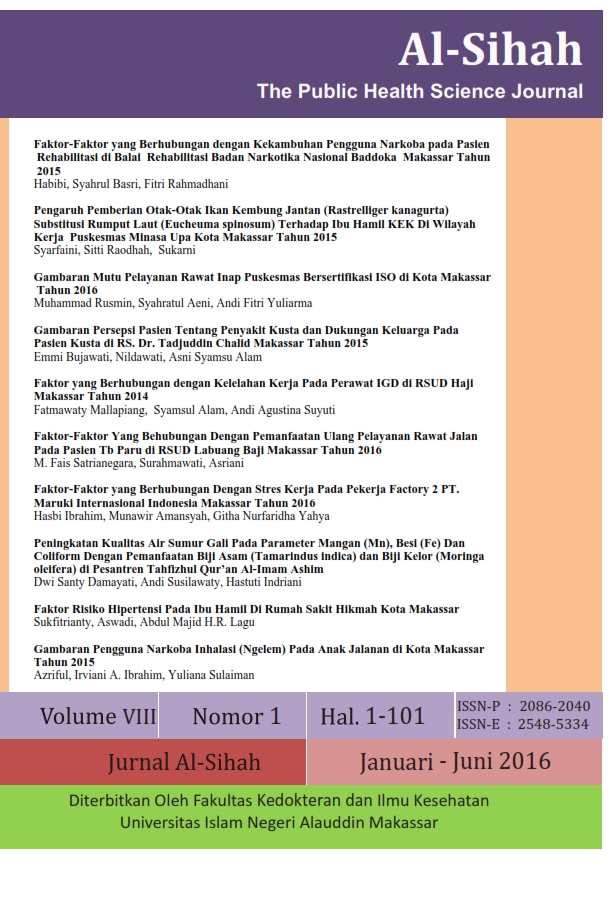 How to Cite
Sukfitrianty, S., Aswadi, A., & Lagu, A. M. H. (1). Faktor Risiko Hipertensi Pada Ibu Hamil Di Rumah Sakit Hikmah Kota Makassar. Al-Sihah: The Public Health Science Journal, 8(1). https://doi.org/10.24252/as.v8i1.2086
Section
Volume 6-8, Nomor 1-2, Tahun 2014-16
Authors retain copyright and grant the journal right of first publication with the work simultaneously licensed under a Creative Commons Attribution-NonCommercial-ShareAlike 4.0 International License that allows others to share the work with an acknowledgment of the work's authorship and initial publication in this journal.
Authors are able to enter into separate, additional contractual arrangements for the non-exclusive distribution of the journal's published version of the work (e.g., post it to an institutional repository or publish it in a book), with an acknowledgment of its initial publication in this journal.
Authors are permitted to publish their work online in third parties as it can lead to wider dissemination of the work.

Abstract viewed = 2902 times