Gambaran Pengguna Narkoba Inhalasi (Ngelem) Pada Anak Jalanan Di Kota Makassar Tahun 2015
Azriful Azriful

Fakultas Kedokteran dan Ilmu Kesehatan UIN Alauddin Makassar




(ID)

Irviani Anwar Ibrahim

Fakultas Kedokteran dan Ilmu Kesehatan UIN Alauddin Makassar




(ID)

Yuliana Sulaiman

Fakultas Kedokteran dan Ilmu Kesehatan UIN Alauddin Makassar




(ID)
Abstract
Perilaku menyimpang yang populer dikalangan anak jalanan adalah ngelem yang secara harfiah memang berarti menghirup lem. Penelitian ini bertujuan mengetahui gambaran epidemiologi pengguna narkoba inhalasi (ngelem) pada anak jalanan di Kota Makassar. Penelitian ini tergolong kuantitatif dengan pendekatan Deskriptif Observasional dengan sampel sebanyak 43 responden yang dipilih secara Accidental sampling. Metode pengumpulan data yang digunakan adalah observasi, wawancara, dan dokumentasi. Pengolahan dan analisis data dilakukan dengan menggunakan SPSS. Hasil penelitian menunjukkan anak jalanan yang menggunakan narkoba inhalasi (ngelem) sebagian besar pada umur 15-18 tahun sebanyak 29 (67,4%) responden, dengan jenis kelamin tertinggi adalah laki-laki sebanyak 41 (95,3%) responden. serta pendidikan tertinggi yakni, SD sebanyak 21 (48,8%) responden. Status ekonomi orang tua responden cenderung rendah dimana pendidikan pada ayah yang tertinngi yakni SD sebanyak 15 (34,9%) responden begitu pula pada Ibu yakni SD sebanyak 19 (44,2%) responden. Sebagian besar Pekerjaan Ayah yaitu di bidang jasa sebanyak 18 (41,9%) responden sedangkan pada Ibu yaitu IRT sebanyak 34 79,1% responden serta seagian besar pendapatan orang tua kurang dari Rp 2.075.000 sebanyak 33 (76,7%) responden.Jenis lem yang tertinggi yang digunakan adalah lem fox sebanyak 39 (90,7%) responden sebagian besar mendapatkan lem dengan membeli sendiri sebanyak 17 (39,5%) responden dan sebagian besar menghirup lem karena diajak teman sebanyak 22 (51,2%) responden. Teknik menghirup lem yang tertinggi dengan menggunakan kantong plastik sebanya 33 (76,7%) responden dan sebagian besar menghirup lem dilakukan di emperan toko sebanyak 17 (39,5%) responden diatas pukul 22 Wita sebanyak 14 (32,6%) responden. Lama menggunakan lem sebagian besar 1-4 bulan sebanyak 19 (44,2%) responden. Dengan Menghabiskan lem sebagian besar 1-3 kaleng/hari sebanyak 22 (51,2%) responden dengan menghirup lem sebagian besar 4-6 kali/hari sebanyak 27 (62,8%) responden. Implikasi penelitian ini adalah dihimbau kepada Dinas sosial dan LSM yang terkait lainnya agar menggiatkan Komunikasi Informasi dan Edukasi (KIE) tentang bahaya penggunaan narkoba khususnya pada inhalasi (ngelem).
Kata Kunci : Anak Jalanan, Narkoba inhalasi (Ngelem)
Downloads
Download data is not yet available.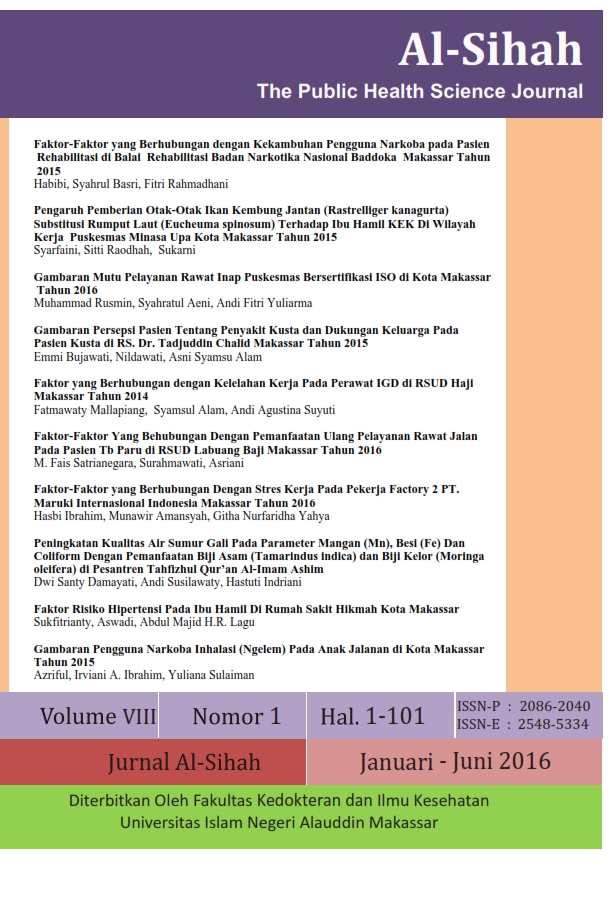 How to Cite
Azriful, A., Ibrahim, I. A., & Sulaiman, Y. (1). Gambaran Pengguna Narkoba Inhalasi (Ngelem) Pada Anak Jalanan Di Kota Makassar Tahun 2015. Al-Sihah: The Public Health Science Journal, 8(1). https://doi.org/10.24252/as.v8i1.2153
Section
Volume 6-8, Nomor 1-2, Tahun 2014-16
Authors retain copyright and grant the journal right of first publication with the work simultaneously licensed under a Creative Commons Attribution-NonCommercial-ShareAlike 4.0 International License that allows others to share the work with an acknowledgment of the work's authorship and initial publication in this journal.
Authors are able to enter into separate, additional contractual arrangements for the non-exclusive distribution of the journal's published version of the work (e.g., post it to an institutional repository or publish it in a book), with an acknowledgment of its initial publication in this journal.
Authors are permitted to publish their work online in third parties as it can lead to wider dissemination of the work.

Abstract viewed = 801 times