Faktor-Faktor yang Berhubungan Dengan Teknik Menyusui pada Ibu di Puskesmas Pattallassang Kabupaten Takalar
Sukfitrianti Syahrir

Fakultas Kedokteran dan Ilmu Kesehatan UIN Alauddin Makassar




(ID)

Syamsul Alam

Fakultas Kedokteran dan Ilmu Kesehatan UIN Alauddin Makassar




(ID)
Abstract
Rendahnya cakupan ASI juga dipengaruhi oleh teknik menyusui yang salah. Teknik tidak benar dapat menyebabkan puting lecet dan menjadikan ibu enggan menyusui dan bayi jarang menyusu karena bayi enggan manyusu akan berakibat kuarang baik, karena isapan bayi sangat berpengaruh pada rangsangan produksi ASI selanjutnya. Penelitian ini dilaksanakan di Puskesmas Pattallassang Kec. Pattalassang Kab. Takalar. Jenis penelitian yang digunakan adalah survey analitik dengan pendekatan cross sectional yang bertujuan untuk mengetahui faktor-faktor yang berhubungan dengan teknik menyusui pada ibu. Hasil penelitian diperoleh bahwa ada hubungan antara pengetahuan dengan tehnik menyusui pada ibu dimana nilai p adalah 0,000 < 0,05 dan tidak ada hubungan antara paritas dengan teknik menyusui diperoleh nilai p adalah 0,54 > 0,05. Disarankan bagi ibu menyusui menambah pengetahuan, wawasan dan mencari informasi yang sebanyak-banyaknya tentang cara menyusui yang benar serta meningkatkan hubungan antar individu yang nantinya bisa berbagai informasi, pengalaman serta saling mendukung dalam memberikan ASI kepada anaknya.
Downloads
Download data is not yet available.
References
Creasoft. 2008. Teknik Menyusui Yang Benar. diakses tanggal 3 April 2016.
Huang. Ya-Yi, et al. 2009. Factors Related f Maternal Perception f Milk Supply While in the Hospital. Journal f Nursing Research Vol. 17. No. 3, September, 2009.
Komalasari. 2012. Analisis Faktor- Faktor Yang Berhubungan Dengan Persepsi Ketidakcukupan ASI Pada Ibu Yang Memiliki Bayi Umur 0-12 Bulan Di Wilayah Kerja Puskesmas Pancoran Mas Kota Depok Tahun 2011. Skripsi Fakultas Kesehatan Masyarakat UI.
Kristiyanti,Weni. 2014. ASI, Menyusui Dan Sadari. Yogyakarta: Nuha Medika.
Pollard,Maria. 2016. ASI Asuhan Berbasisi Bukti. Jakarta:EGC.
Rhipiduri Rivanica. 2014. Faktor-Faktor Yang Berhubungan Dengan Teknik Menyusui Pada Ibu Primipara.
Riset Kesehatan Dasar. 2010. Badan Penelitian dan Pengembangan Kesehatan Departemen Kesehatan, Republik Indonesia.
Roesli, U. 2011. Mengenal ASI Ekslusif. Surabaya : Niaga Swadaya
Singh, B. 2010. Knowladge, Attitude practice of Breast Feding- A case Study. European Journal of Scientific Research.
Sulistyowati Wiwit. 2011. Teknik Menyusui Yang Benar Pada Ibu Primipara Di Desa Gayaman Kecamatan Mojoanyar Kabupaten Mojokerto. Vol 3. No.2 Nopember 2011. Hospital Majapahit.
Suparmi, Tjandraini, D.H., Herdayanti,M. 2010. Exclusife Breastfeding but Not Selected Contraceptives Use Delayed Resumption of Menstruation. Health Science Journal f Indonesia. Vol. 1 No.1, December 2010. Jakarta: Badan Litbangkes.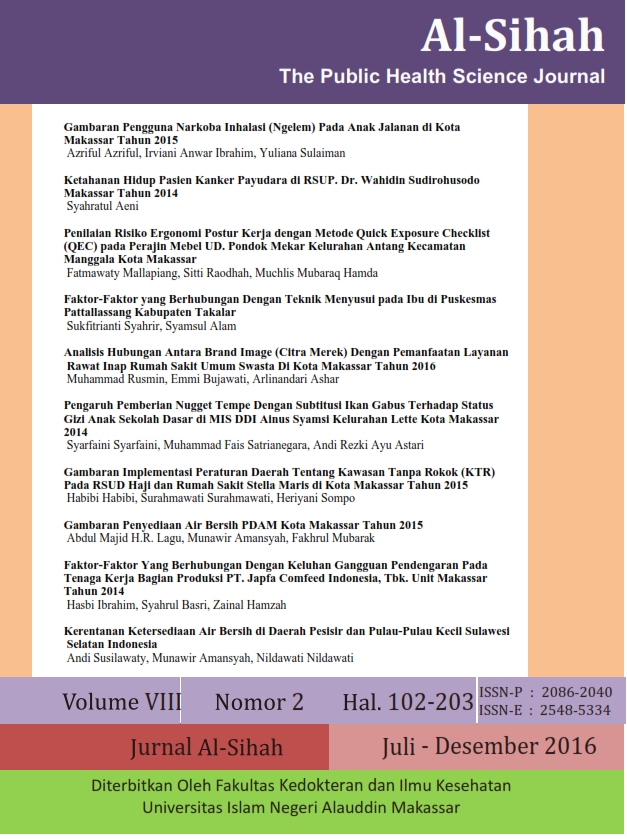 How to Cite
Syahrir, S., & Alam, S. (1). Faktor-Faktor yang Berhubungan Dengan Teknik Menyusui pada Ibu di Puskesmas Pattallassang Kabupaten Takalar. Al-Sihah: The Public Health Science Journal, 8(2). https://doi.org/10.24252/as.v8i2.2649
Section
Volume 8, Nomor 2, Tahun 2016
Authors retain copyright and grant the journal right of first publication with the work simultaneously licensed under a Creative Commons Attribution-NonCommercial-ShareAlike 4.0 International License that allows others to share the work with an acknowledgment of the work's authorship and initial publication in this journal.
Authors are able to enter into separate, additional contractual arrangements for the non-exclusive distribution of the journal's published version of the work (e.g., post it to an institutional repository or publish it in a book), with an acknowledgment of its initial publication in this journal.
Authors are permitted to publish their work online in third parties as it can lead to wider dissemination of the work.

Abstract viewed = 1503 times