Karakteristik Nutrisi Korban dan Pelaku Bullying Pada Anak Usia Sekolah Dasar
Reny Noviasty

FKM Universitas Mulawarman




(ID)

Rahmi Susanti

FKM Universitas Mulawarman




(ID)

Ika Wulan Sari

FKM Universitas Mulawarman




(ID)
Abstract
Penelitian ini bertujuan untuk melihat karakteristik gizi terkait kebiasaan makan diantaranya frekuensi makan dalam sehari, kebiasaan sarapan, konsumsi fast food, soft drink, dan cemilan, serta status gizi dengan indeks IMT/U anak usia sekolah yang menjadi korban maupun pelaku bullying serta kecenderungan perilaku bullying terjadi pada anak dengan status gizi tidak normal. Metode dalam penelitian ini adalah metode penelitian deskriptif kuantitatif dengan pendekatan studi kecenderungan atau prediksi. Penelitian ini dilakukan pada anak SD kelas 5 usia 10-12 tahun. Siswa-siswi yang berpartisipasi dalam penelitian ini sebanyak 46 anak. Pada penelitian ini akan dilakukan Penilaian Kebiasaan konsumsi dan Perilaku Bullying dilakukan dengan menggunakan kuesioner sementara status gizi diukur menggunakan pengukuran antropometri.  Hasil penelitian memperlihatkan bahwa sebanyak dari 26 anak (56,5%) yang menjadi korban bullying, 12 anak (46,2%) terkategori status gizi normal, 14 anak (53.5%) terkategori malnutrisi (11,5% kurus, 15,4% gemuk, 26,9% obesitas), sementara terdapat 17 anak (36,9%) yang menjadi pelaku bullying dimana 8 anak (47.1%) terkategori status gizi normal dan 9 anak (52.9%) terkategori malnutrisi (17,6% gemuk, 35,3% obesitas). Penelitian ini juga memperlihatkan bahwa terdapat 3 anak (6,5%) yang terkategori menjadi korban sekaligus pelaku bullying dengan status gizi 100% mengalami obesitas. Tidak terlihat perbedaan yang significant pada karakteristik gizi antara korban dan pelaku bullying pada anak SD. Tapi terlihat adanya kecenderungan bahwa yang menjadi korban maupun pelaku bullying adalah mereka yang terkategori gemuk dan obesitas. Diperlukan peran orang tua maupun pihak sekolah untuk memantau pola konsumsi dan status gizi dalam upaya pencegahan bullying yang disebabkan oleh ukuran tubuh.
Downloads
Download data is not yet available.
References
Adair LS, Popkin BM. Are child eating patterns being transformed globally?. Obesity Research. 2005; 13. p. 1281–1299
BPOM RI, 2009. Pangan Jajanan Anak Sekolah. Jakarta : Edisi II.
DEPKES RI, 2011. Jejaring Informasi Pangan dan Gizi. Jakarta ; Edisi II.
Departemen Kesehatan., 2014. Peraturan Menteri Kesehatan Republik Indonesia Nomor 41 Tahun 2014Tentang Pedoman Gizi Seimbang. Diunduh dari http://gizi.depkes.go.id
Hardinsyah dan Aries. 2012. Jenis Sarapan dan Perannya Dalam Asupan Gizi Harian Anak Usia 6-12 tahun di Indonesia. Jurnal gizi dan Pangan, Juli 2012, 792) : 89-96
Hardinsyah., 2015. Berbagi PESAN(Pekan Sarapan Nasional). Materi Kampanye Berbagi PESAN di Jakarta 2015. Diunduh dari http://pergizi.org
Hidayati, Nurul. 2012. Bullying pada Anak: Analisis dan Alternatif Solusi. INSAN Vol. 14 No. 01, April 2012
Siswati dan Widayanti, Costrie. 2009. Fenomena Bullying di Sekolah Dasar Negeri di Semarang : Sebuah Studi Deskriptif. Jurnal Psikologi Undip, Vol 5 No 2 Desember 2009. http://www.psikologi.undip.ac.id/eprints.undi.ac.id/8336/. Diakses tanggal 19 September 2017.
Saputro, Anung. 2013. Hubungan Paparan Kekerasan dengan Perilaku Bullying di Sekolah Dasar. Skripsi. Fakutas Psikologi Universitas Muhammadiyah Surakarta.
Smokowski, P.R. & Kopasz, K.H. (2005). Bullying in school: An overview of types, effects, family charateristics, and intervention strategies. Children & School Journal, 27 (2): 101-109.
Martianto D., 2006. Kalau Mau Sehat, Jangan Tinggalkan Kebiasaan Sarapan. Diunduh dari http://republika.co.id
Murphy, A.G. (2009). Character education: Dealing with bullying. New York: Chelsea House Publishers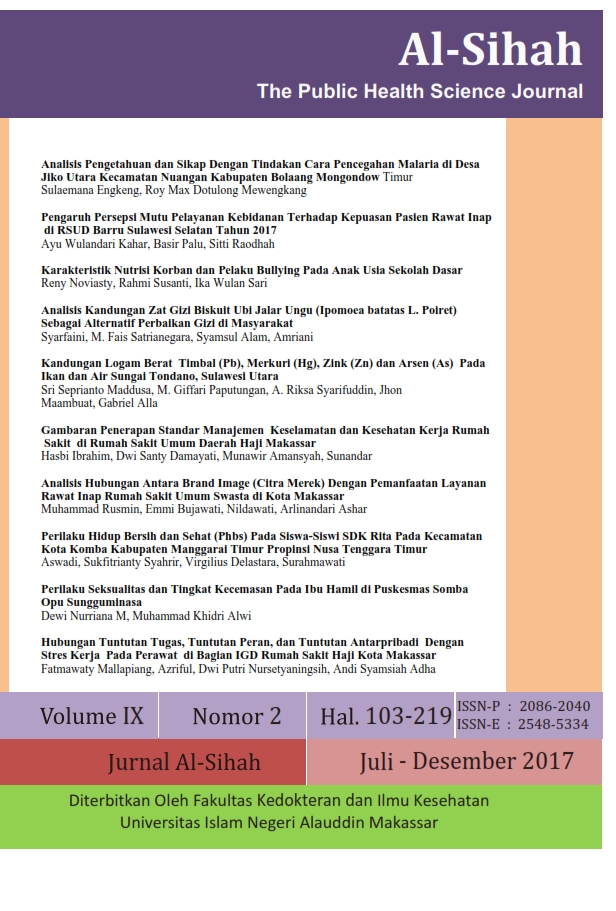 How to Cite
Noviasty, R., Susanti, R., & Sari, I. W. (1). Karakteristik Nutrisi Korban dan Pelaku Bullying Pada Anak Usia Sekolah Dasar. Al-Sihah: The Public Health Science Journal, 9(2). https://doi.org/10.24252/as.v9i2.3761
Section
Volume 9, Nomor 2, Tahun 2017
Authors retain copyright and grant the journal right of first publication with the work simultaneously licensed under a Creative Commons Attribution-NonCommercial-ShareAlike 4.0 International License that allows others to share the work with an acknowledgment of the work's authorship and initial publication in this journal.
Authors are able to enter into separate, additional contractual arrangements for the non-exclusive distribution of the journal's published version of the work (e.g., post it to an institutional repository or publish it in a book), with an acknowledgment of its initial publication in this journal.
Authors are permitted to publish their work online in third parties as it can lead to wider dissemination of the work.

Abstract viewed = 605 times