Pengaruh Penyimpanan Pada Suhu Rendah (Freezer -3oC) Terhadap Kandungan Air dan Kandungan Lemak pada Ikan Lemuru (Sardinella longiceps)
Anna Handayani

3Jurusan Kimia, Fakultas Sains dan Teknologi, UIN Alauddin Makassar




(ID)

Alimin Alimin




Wa Ode Rustiah



Abstract
One of the peaceful and best pickling methode to maintain freshness of product is depository at low temperature (freezer). Through depository of process industrial balance and availability of processing result of fishery will remained to be taken care of. Depository of fish raw material specially of fish flesh expected will be more be economic in course of depository at low temperature (freezer). The fat rate before is depository (0 day) that is 5,14%, while  at depository 1 day until 3 day of it fat is 9,43%, 14,70%, 15,30%, and to 4 until 7 days the fat content is downhill that is 7, 15%, 5, 50%, 3,96%. The rate irrigate before is depository (0 day) that is 26, 96%. While at depository 1 day until 3 day of its water that is 27, 87%, 27, 44%, 27,20%, and depository to 4 day until 7 days water content mount that is 27,94%, 27,97%, 28,10%, 28,40%. Depository of lamuru fish flesh (sardinella longiceps) conducted by at low temperature (freezer -3oC) during 7 day can cause degradation quality of good fish flesh of fat rate and also lamuru fish flesh colour changing from squeezing colour to become to squeeze to turn pale. While its water content is depository longer progressively increase.
Downloads
Download data is not yet available.
References
Arif, T., M., dan Ilyas B., 2002, Statistika Terapan, Makassar: Andira Publisher. Chon, Ahmad H., dan Sumarna A., 1986, Intisari Pengetahuan Barang. Bogor: Departemen Perindustrian Bogor.
Ilyas, S. 1983, Teknologi Refrigerasi Hasil Perikanan: Teknik Pendinginan Ikan. Jakarta: Paripurna.
Ketaren, S. Minyak dan Lemak Pangan, Jakarta: Universitas Indonesia, 1986. Khomson, A., Pangan dan Gizi untuk Kesehatan, Edisi 1, Cetakan ke-2, Jakarta: PT Raja Grafindo Persada.
Nettleton, J.A. "Omega-3 Fatty Acid and Health", A Thomson Publishing Company, online, http://www.campany.com.Omega-3-fatty-acid-and- health.html. diakses 21 Juli 2010.
Nurjanah, 2002, "Omega-3 dan Kesehatan", online, http://radyct.tripod.com/2002/09/omega-3-dan kesehatan.html, diakses, 22 Desember 2009.
Poedjiadi, A., 1994, Dasar-Dasar Biokimia. Jakarta: UI-Press.
Pratisto, A.,. 2009, Statistik Menjadi Mudah dengan SPSS. Jakarta: Kompas Gramedia.
Sudarmadji, S., Haryono, B. dan Suhardi., 1996, Analisa Bahan Makanan dan Pertanian, Yogyakarta: Penerbit Liberty.
Tambunan, A.H. 14 Agustus 2009, "Teknik Pendinginan", IIR Thematic File A Brief History of Refrigeration., online, http://www.iifiir.org/2endossiers-dossiers-histoire.html. diakses 29 Agustus 2010.
Winarno, F.G. 1995, Enzim Pangan, Jakarta: Gramedia Pustaka Utama.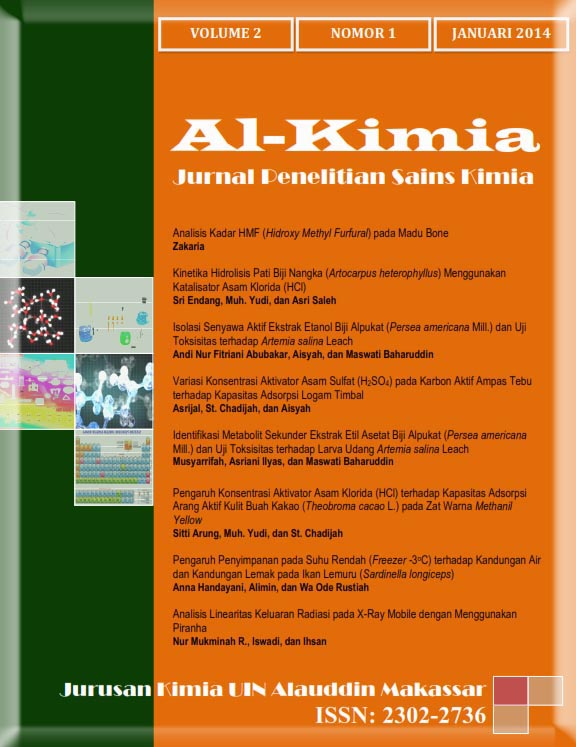 How to Cite

Handayani, A., Alimin, A., & Rustiah, W. O. (2014). Pengaruh Penyimpanan Pada Suhu Rendah (Freezer -3oC) Terhadap Kandungan Air dan Kandungan Lemak pada Ikan Lemuru (Sardinella longiceps). Al-Kimia, 2(1), 64-75. https://doi.org/10.24252/al-kimia.v2i1.1639

Authors who publish with this journal agree to the following terms:

1) Authors retain copyright and grant the journal right of first publication with the work simultaneously licensed under a Creative Commons Attribution License that allows others to share the work with an acknowledgement of the work's authorship and initial publication in this journal.

2) Authors are able to enter into separate, additional contractual arrangements for the non-exclusive distribution of the journal's published version of the work (e.g., post it to an institutional repository or publish it in a book), with an acknowledgement of its initial publication in this journal.

3)Authors are permitted and encouraged to post their work online (e.g., in institutional repositories or on their website) prior to and during the submission process, as it can lead to productive exchanges, as well as earlier and greater citation of published work (See The Effect of Open Access).

Abstract viewed = 3007 times