ANALISIS SOSIAL HUKUM ISLAM DALAM QS AN-NUR AYAT 22
Mayyadah Mayyadah

IAIN Palu




(ID)
Abstract
This paper aims to analyze QS al-Nū/24: 22, from text to context. Historically, the text of QS al-Nū/24: 22came down related to the occurrence of the ḥadīṡ al-ifkī, incident that hit 'Aisyah radiyallahu 'anha. That event predicted by historians took place after the Bani Musthaliq war around 5 or 6 H. Some of the social aspects of Islamic law which contained in this text are ethical principles in social interaction, individual attitudes in dealing with slander or hoaxes, and the legal consequences stipulated by the Shari'a against perpetrators and spreaders of fake news or hoaxes.
Keywords: Asbāb Nuzūl, historical context, social law, hoax.
References
Afandi, Irfan. "Hoax dalam Sejarah Islam Awal (Kajian Kritis tentang QS An-Nr: 11-20)". Ar-Risalah Vol. XVI No. 1 (2018), h. 161.
Ali al-Syaikh, Shalih bin 'Abdul 'Aziz. al-Tafsīr al-Muyassar. Madīnah: Maktabah al-Malik al-Fahd, 1420 H.
Ali, Zainuddin. Sosiologi Hukum. Jakarta: Sinar Grafika, 2015.
Amin, Ma'ruf. Fatwa dalam Sistem Hukum Islam. Cet.I: Jakarta: elSAS, 2008.
Al-'Asqalani, Ibnu Hajar. Fatḥ al-Bārī bi Syarḥ al-Bukhārī. Juz 10. Cet. I; Riyad: Dar al-Taibah, 2005.
'Asyur, Abdul Fattah. Manhaj al-Qur'ān fī Tarbiyah al-Mujtama'. (Cet. I; Mesir: Maktabah al-Khanji, 1979.
Kementrian Agama RI. Qur'an Kemenag Versi 1.3.3.9 (Aplikasi Mobile Android). Lajnah Pentashihan Mushaf Al-Qur'an, 2018.
Mufid, Muhammad. "Aplikasi Fiqh al-Wāqi': Pertimbangan-Pertimbangan Aspek Sosiologis dalam Pemikiran al-Qaraḍāwī". Istinbath Vol. 14 no. 2 (2017): h. 273-295 http://ejournal.metrouniv.ac.id/index.php/istinbath/article/view/798/788. (1 April 2019).
Riyani, Irma. "Menelusuri Latar Historis Turunnya al-Qur'an dan Proses Pembentukan Tatanan Masyarakat Islam". Al-Bayan vol. 1 No. 1 (Juni 2916), h. 27-33.
Rofiq, Ahmad. Fiqh Kontekstual dari Normatif ke Pemaknaan Sosial. Cet. II; Yogyakarta: Pustaka Pelajar, 2012.
Al-Sabuni, Muh}ammad 'Ali. Rawā'i al-Bayān Tafsār Āyāt al-Aḥkām min al-Qur'ān. Juz 2. Cet. I; Jakarta: Dar al-Kutub al-Islāmiyyah, 2001.
Scott, John. Social Theory: Central Isuues in Sociology. Terj. Ahmad Lintang Lazuardi. Teori Sosial Masalah-Masalah Pokok dalam Sosiologi. Cet. I; Yogyakarta: Pustaka Pelajar, 2012.
Soekanto, Soerjono. Pokok-Pokok Sosiologi Hukum. Cet. XXIV; Jakarta: Rajagrafindo Persada, 2016.
Al-Suyuthi, Jalaluddin. Asbāb al-Nuzūl. Cet. I; Beirut: Mu'assah al-Kutub al-Saqafiyyah, 2002.
Tadmuri, 'Umar 'Abdussalam (ed.). al-Sirah al-Nabawiyyah li Ibni Hisyām. Juz 3 Beirut: Dar al-Kitab al'Arabi, 1990.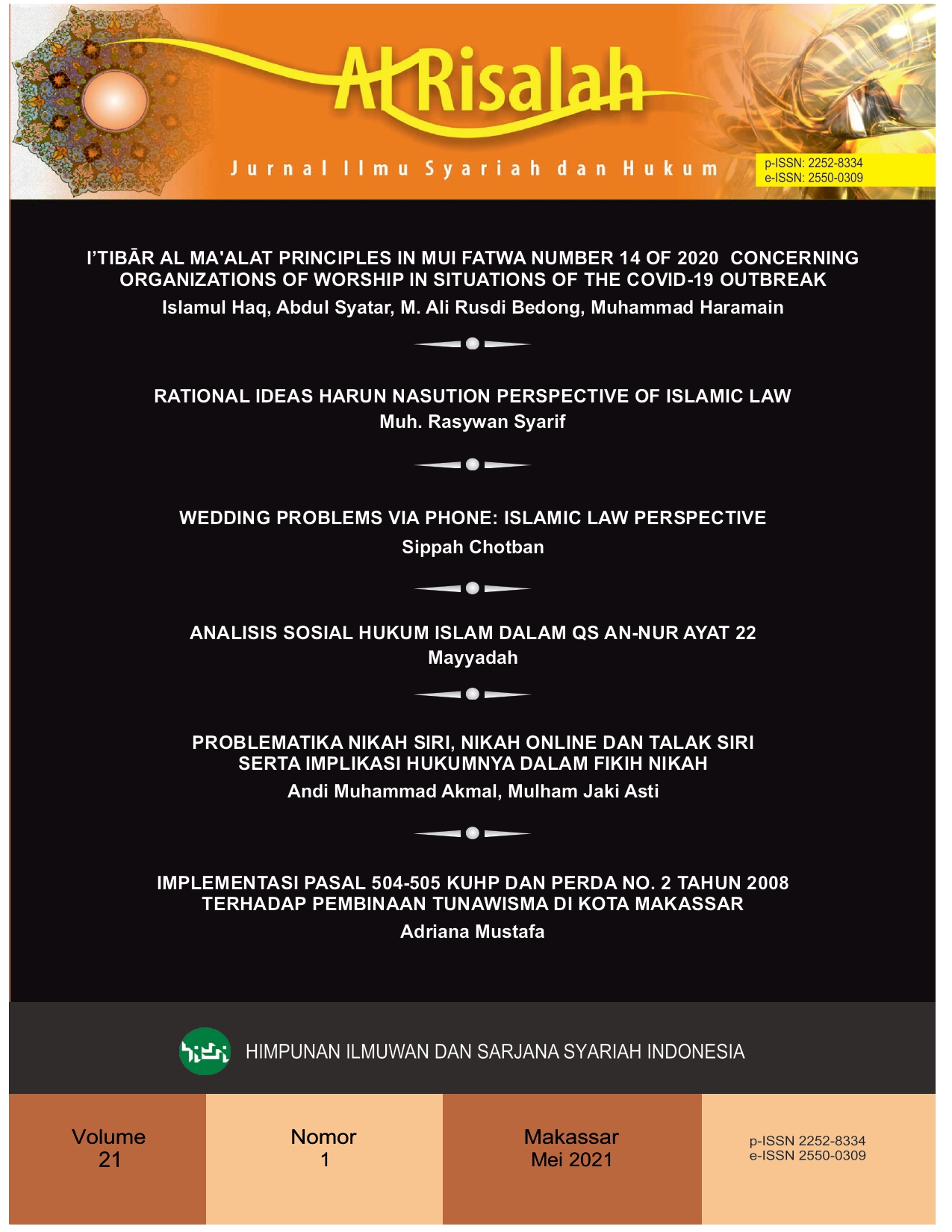 How to Cite

Mayyadah, M. (2021). ANALISIS SOSIAL HUKUM ISLAM DALAM QS AN-NUR AYAT 22. Al-Risalah Jurnal Ilmu Syariah Dan Hukum, 1(1), 36-44. https://doi.org/10.24252/al-risalah.v1i1.21730

Abstract viewed = 191 times