Revealing the Economic Justice in the Inheritance Legal System in Indonesia
Muhammad Majdy Amiruddin

IAIN Parepare




(ID)
Keywords:
Economic Justice, Inheritance Law, Faraidh, Wealth Distribution
Abstract
The purpose of this study was to reveal economic justice in the inheritance legal system in Indonesia Qualitative research was used in this study to frame, analyze, and provide solutions in the form of a strategic role model for the Indonesian government in completing and streamlining the distribution of inheritance riches. It is hoped that the answers will be based on the difficulties that Islamic groups and religious courts have had in distributing inheritance riches. In addition to zakat, infaq, shodaqoh, and endowments, suggest inheriting money as a public fund. Religious courts and Islamic organizations handle the execution and resolution of inheritance wealth distribution disputes. In Indonesia, the distribution of inherited wealth takes on a new dimension thanks to the proliferation of different types of institutions. Individual family tensions, hoarding treasure, and societal economic inequities could all be avoided if legacy wealth distribution is handled correctly
References
Rangkuti, Afifa. 2017. "Konsep Keadilan Dalam Perspektif Islam." Tazkiya 6 (1).
Salfitra, Alifta, Auliya Izzah Hasanah, and Rachmad Risqy Kurniawan. 2021. "Keadilan Dalam Perspektif Ekonomi Islam."
Husni, Indra Sholeh. 2020. "Konsep Keadilan Ekonomi Islam Dalam Sistem Ekonomi: Sebuah Kajian Konsepsional." Islamic Economics Journal 6 (1): 57–74.
Heryant, B Rini, Amri Panahatan Sihotang, and Aga Natalis. 2020. "Recognition of Traditional Inheritance Law in Indonesia: A Case Study of Sedulur Sikep Traditional Society." PalArch's Journal of Archaeology of Egypt/Egyptology 17 (10): 793–800.
Irianto, Sulistyowati. 2004. "Competition and Interaction between State Law and Customary Law in the Court Room: A Study of Inheritance Cases in Indonesia." The Journal of Legal Pluralism and Unofficial Law 36 (49): 91–112.
Fauzi, Mohammad Yasir. 2017. "Legislasi Hukum Kewarisan Di Indonesia." Ijtimaiyya: Jurnal Pengembangan Masyarakat Islam 9 (2): 53–76.
Judiasih, Sonny Dewi, and Efa Laela Fakhriah. 2018. "Inheritance Law System: Considering the Pluralism of Customary Law in Indonesia." Padjadjaran Journal of Law 5 (2): 315–30.
Prasetyo, Yuli Adhi, Triyono Triyono, and Muhyidin Muhyidin. 2021. "Questioning the Customary Inheritance Law After Law No. 3 of 2006 about Religious Jurisdiction." Indonesian Journal of Advocacy and Legal Services 3 (1): 111.
Suprihatin, Supriatin, and Nurrohman Syarif. 2020. "The Meeting Point of The Development of Formal Islamic Inheritance Law In Indonesia with International Law." Ulûmuna: Jurnal Studi Keislaman Vol. 6 No. 2: Desember 2020 P-ISSN 2442-8566 E-ISSN 2685-9181 6 (2): 219–35.
Sarono, Agus. 2022. "THE IMPLEMENTATION SYSTEM FOR THE DISTRIBUTION OF INHERITANCE TO MUSLIM COMMUNITIES IN INDONESIA IN THE PERSPECTIVE OF ISLAMIC LAW." Journal of Legal, Ethical and Regulatory Issues 25 (1): 1–11.
Irawaty, Irawaty, and Diyantari Diyantari. 2017. "Inheritance Laws in Indonesia." Hayula: Indonesian Journal of Multidisciplinary Islamic Studies 1 (2): 209–28.
Eleanora, Fransiska Novita, and Andang Sari. 2019. "Distribution of Inheritance Based on The Principle of Justice According to National Law." Varia Justicia 15 (1): 9–17.
Uyuni, Badrah, and Mohammad Adnan. 2021. "APPLICATION OF ISLAMIC INHERITANCE LAW AMONG MUSLIM SOCIETY." El-Arbah: Jurnal Ekonomi, Bisnis Dan Perbankan Syariah 5 (1): 19–32.
Masakke, Fransisca Utami, Irena Hapsari, and Syaukah Az-Zahro. n.d. "THE EXISTENCE OF CUSTOMARY INHERITANCE LAW IN INDONESIA." Tadulako Law Review 5 (1): 89–98.
Abdul Rahim Gaffar. Personal Interview. A Judge
Tono, Sidik, M Roem Syibly, Amir Mu'allim, Ahmad Nurozi, and Muhammad Roy Purwanto. 2019. "The Harmonious Relationship between Minangkabau Custom and Islam in the Distribution of Inheritance." Al-Shajarah: Journal of the International Institute of Islamic Thought and Civilization (ISTAC), 39–55
Muhiddin Bakry. Personal Interview. Cleric and caretaker in Batsu al masa'il NU Parepare
Hannani, Personal Interview. The chief of the Islamic Propagation Institutes of NU in Parepare
Zuleika, Adelina, and Ni Putu Desinthya. 2013. "Islamic Inheritance Law (Faraid) and Its Economic Implication." Tazkia Islamic Finance and Business Review 8 (1).
Annual Report Directory of Religious Court of Parepare 2017.
Mahsyar. Personal Interview. The Legal Affairs Committee of Regional Muhammadiyah of Parepare
Mustakim. Personal Interview. A judge
Nasrul, Muhammad Amrullah Drs, Zati Ilham Abdul Manaf, Syafwendi Syafril, and Moh Fathurrohman. 2021. "AN OVERVIEW OF THE INHERITANCE LEGAL SYSTEM IN MALAYSIA AND INDONESIA: ISSUES FACED BY BOTH COUNTRIES." Journal of Shariah Law Research 6 (2): 181–200.
Andayani, I Dewa Ayu Yus, M H SH, Anak Agung Ngurah Alit Suteja, and Anak Agung Putu Oka Seputra. n.d. "THE VALIDITY OF THE HEIR TO REJECT THE INHERITANCE ACCORDING TO INHERITANCE LAW IN INDONESIA."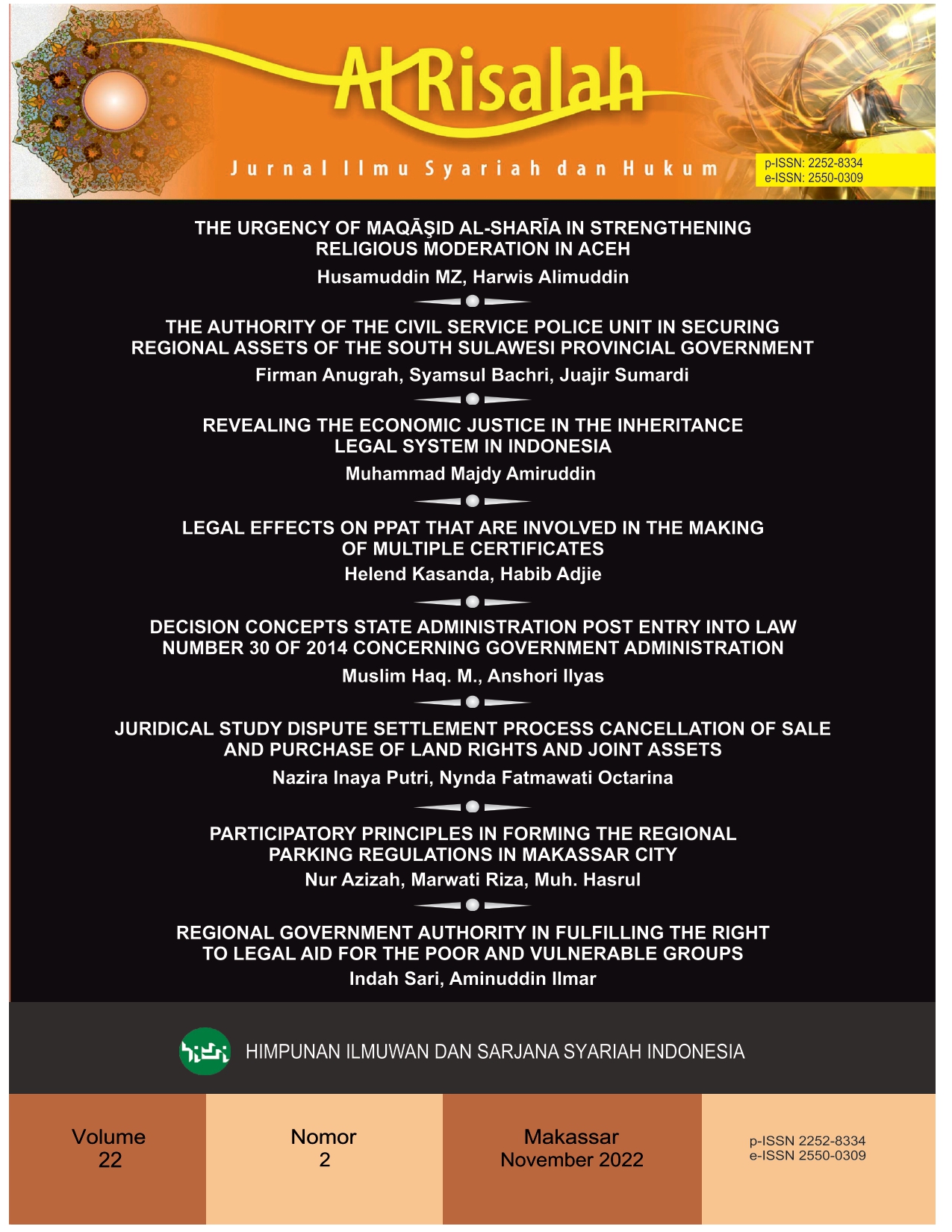 How to Cite
Amiruddin, M. M. (2022). Revealing the Economic Justice in the Inheritance Legal System in Indonesia. Al-Risalah Jurnal Ilmu Syariah Dan Hukum, 142-153. https://doi.org/10.24252/al-risalah.vi.33523
Copyright (c) 2022 Muhammad Majdy Amiruddin
This work is licensed under a Creative Commons Attribution 4.0 International License.

Abstract viewed = 97 times