Enforcement of the Prosecutor's Dominus Litis Principle Against the Authority of Military Auditors as Public Prosecutors in Military Courts
Nurul Amaliah

Universitas Hasanuddin




(ID)

M. Syukri Akub

Universitas Hasanuddin




(ID)

Haeranah

Universitas Hasanuddin




(ID)
Abstract
Enforcement of the Dominus Litis Principle of the Prosecutor's Office against the Authority of Military Prosecutors as Public Prosecutors in the Military Courts with the presence of UURI No. 31 of 1997 concerning Military Justice there is an overlap of authority with the principle of dominus litis from the prosecutor's office as the only state institution that is given authority in prosecution in Indonesia. This research is an empirical normative research, combining the normative legal approach of legislation with empirical elements in the form of interviews. The results showed that the authority possessed by military prosecutors as public prosecutors in military courts clashed with the dominus litis principle of the prosecutor's office as the only state institution granted authority in prosecutions in the country, but with the establishment of Jampidmil in the organizational body of the prosecutor's office specifically as a public prosecutor in the military courts, as a solution to restore the principle of dominus litis as a foundation ...
References
Agustinus P.H. "Prospeksi Dan Urgensi Acara Pemeriksaan Koneksitas" Dalam Jurnal Miliyer, Volume I Nomor 2 November 2007. Jakarta: Pusat Studi Hukum Militer Sthm.
Anonim., "Persatuan Jaksa Indonesia, Jaksa Agung Burhanuddin Melantik Laksada Tni Anwar Saadi Sebagai Jam-Pidmil", Diperoleh Dari Https://Pji.Kejaksaan.Go.Id/Index.Php/Home/Berita/1690, Diakses Pada 06/11/2022.
Ardilafiza, Independensi Kejaksaan Sebagai Pelaksana Kekuasaan Penuntutan Dalam Sistem Ketatanegaraan Indonesia, Jurnal Konstitusi Volume Iii Nomor 2 November 2010, Jakarta.
Asep N. Mulyana, Hukum Pidana Militer Kontemporer, Gramedia Widiasarana Indonesia, Jakarta, 2021
Buaton, Tiarsen, Peradilan Militer di Indonesia di Bawah Kekuasaan Mahkamah Agung dalam Demi Keadilan, Antologi Hukum Pidana dan Sistem Peradilan Pidana, Pustaka Kemang, Jakarta, 2016.
Darwan Prinst, Peradilan Militer, Citra Aditya Bakti, Bandung, 2003. hal. 35
Edy, Slamet Sarwo. "Independensi Sistem Peradilan Militer di Indonesia (Studi Tentang Struktur Peradilan Militer)." Jurnal Hukum Dan Peradilan 6, No. 1 (2017): 105-128.
Hari Sasongko, Penuntutan Dan Teknik Membuat Surat Dakwan, Dharma Surya Berlian, Surabaya, 1996.
Liijova, Rain. The Oxford Handbook of Criminal Law, Cambridge: Cambridge University Press.
M. Yahya Harahap, Pembahasan Permasalahan Dan Penerapan Kuhap (Edisi Kedua) Seri: Penyidikan Dan Penuntutan, Sinar Grafika, Jakarta. 2000.
Moch Faisal Salim, Hukum Pidana Militer Di Indonesia, Mandar Maju, Jakarta.
Moch Faisal Salim, Hukum Pidana Militer Di Indonesia, Mandar Maju, Jakarta.
Naskah Akademik Rancangan Undang-Undang Republik Indonesia Tentang Perubahan Atas Undang-Undang Atas Undang-Undang Nomor 16 Tahun 2004 Tentang Kejaksaan Republik Indonesia.
Pasal 1 Ayat (7) Undang-Undang Nomor 31 Tahun 1997 Tentang Peradilan Militer
Pembentukan Jampidmil Era Jokowi Menunggui Semangat Reformasi, Tirto.Id, 31 Januari, 2021. Diperoleh Https://Tirto.Id/Pembentukan-Jampidmil-Era-Jokowi-Memunggungi-Semangat-Reformasi-F9gk ,Diakses Pada (3/4/2022).
Pusat Litbang, Pengkajian & Pengembangan, Independensi Kejaksaan Dalam Kaitannya Dengan Sistem Negara Hukum Di Indonesia, Diakses Melalui Http://Www.Kejaksaan.Go.Id/Unit_Kejaksaan.Php?Idu=28&Idsu=35&Idke=0&Hal=1&Id=1543 &Bc= Pada Hari Jumat, 22 Oktober 2021 Pukul 20.45 Wita.
Rudi Pradisetia Sudirdja, Satu Komando Penuntutan Untuk Sipil Dan Militer, Https://Bahasan.Id/Satu-Komando-Penuntutan-Untuk-Sipil-Dan-Militer/, (Diakses Pada 18 April 2022).
Soniardhi, "Kewenangan Ankum Terhadap Tawanan Perang Dalam Hukum Disiplin Militer". Jurnal Magister Hukum Udayana (Udayanan Master Law Journal) 6, No. 4 (2017), hal. 464-477.
Suara.Com., Relasi Fungsional Jaksa Dan Oditur Militer, Diperoleh Dari Www.Suara.Com, Diakses 08/9/2020.
Us Legal, Dominus Litis Law And Legal Definition, Https://Definitions.Uslegal.Com/D/Dominus-Litis/, Diakses Pada 19 April 2022.
Widodo, Tedhy. "Gugatan Pihak Ketiga Terhadap Eksekusi Barang Sitaan Dalam Perkara Tindak Pidana Korupsi." Jurnal Magister Hukum Udayana (Udayana Master Law Journal) 7, No. 2 (2018): 238-249.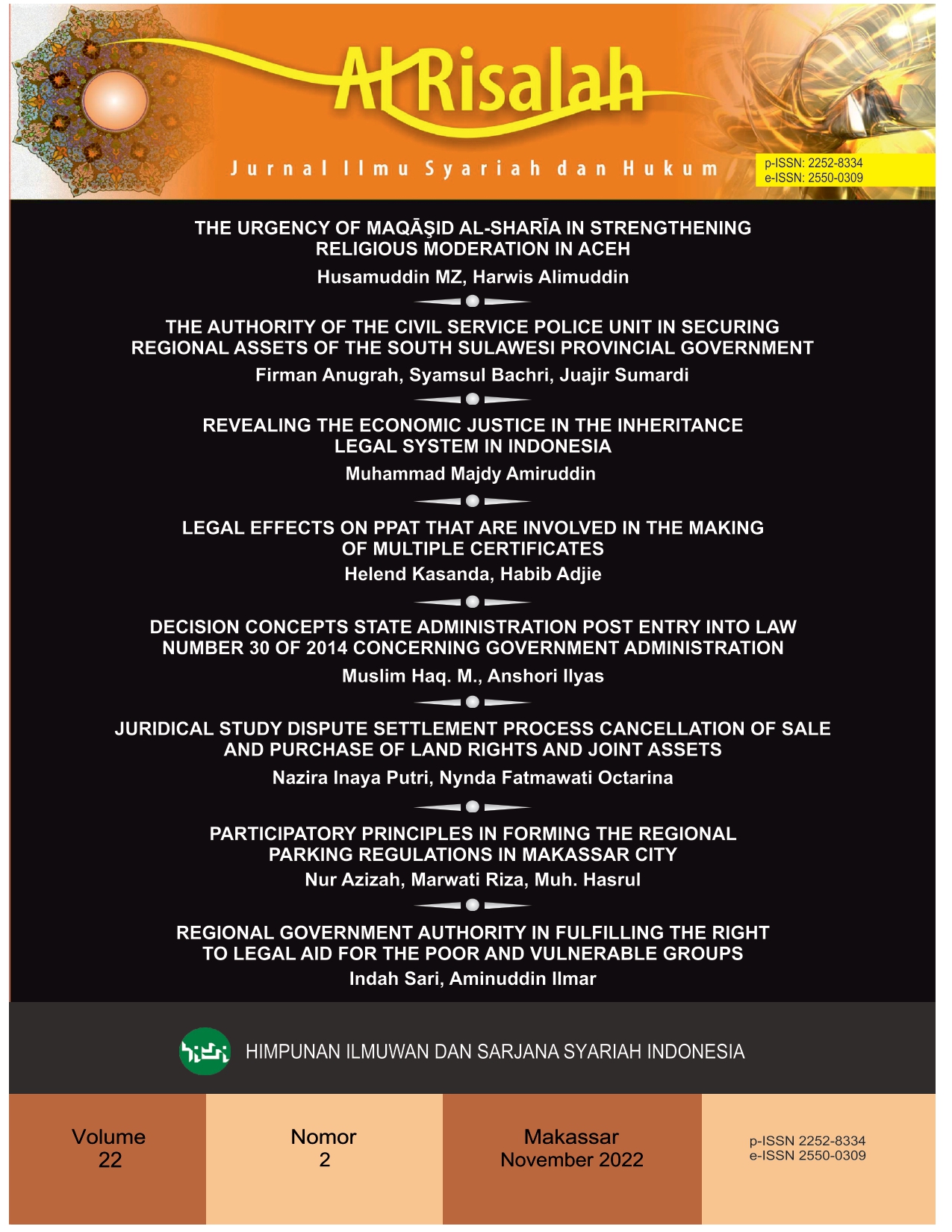 How to Cite
Amaliah, N., Akub, M. S., & Haeranah. (2022). Enforcement of the Prosecutor's Dominus Litis Principle Against the Authority of Military Auditors as Public Prosecutors in Military Courts. Al-Risalah Jurnal Ilmu Syariah Dan Hukum, 224. https://doi.org/10.24252/al-risalah.vi.34355
Copyright (c) 2022 Nurul Amaliah, M. Syukri Akub, Haeranah
This work is licensed under a Creative Commons Attribution 4.0 International License.

Abstract viewed = 109 times