Green Economy Indonesia Dalam Perspektif Maqashid Syari'ah
Abstract
This
article to describe the Green Economy
concept
in Indonesia from
Maqashid al-Syari'ah perspective. With the content analysis method, this paper describes how the Green Economy concept and the relevance of its implementation in Indonesia as Pancasila state and its implementation in the perspective of religion, soul, reason, descent, property, and environment. The results show that in designing an implementative, reliable and comprehensive Green Economy model, Indonesia should have a truly green economic model that is relevant to the characteristics of the Indonesia with philosophical Islamic Eco-ethics that is in harmony with the Indonesian sociocultural community. The principle of low carbon is basically in line with the maintenance of soul and mind. The principle of efficient resources is also in line with the maintenance of offspring and assets. Also, the principle of socially inclusiveness is found in the five aspects of maintenance in the concept of maqashid al-syari'ah.
Keywords: Green, Economy, Maqashid, Syari'ah 
Artikel ini bertujuan untuk mendeskripsikan konsep Green Economy di Indonesia dari perspektif Maqashid al-Syari'ah. Dengan metode content analysis dalam bentuk riset kepustakaan (library research), penelitian ini memaparkan bagaimana konsep Green Economy dan relevansi implementasinya dalam konteks Indonesia sesuai karakteristiknya sebagai negara berketuhanan (Pancasila) dan penerapannya dalam perspektif penjagaan agama, jiwa, akal, keturunan, harta benda, dan lingkungan hidup. Hasil penelitian menunjukkan bahwa dalam merancang model penerapan Ekonomi Hijau yang implementatif, reliabel dan komprehensif, Indonesia seyogyanya memiliki model perekonomian yang benar-benar hijau dan relevan dengan karakteristik bangsa Indonesia dengan berbasis filosofis Islamic Eco-ethics yang selaras dengan sosiokultural masyarakat Indonesia. Prinsip low carbon pada dasarnya searah dengan pemeliharaan jiwa dan akal. Prinsip resource efficient juga searah dengan pemeliharaan keturunan dan harta. Begitu juga prinsip socially inclussive terdapat pada kelima aspek pemeliharaan dalam konsep maqashid al-syari'ah

Kata Kunci: Green, Economy, Maqashid, Syari'ah
References
Afiff, Faisal. (2012). Rangkaian Kluster I Dare to Think. Universitas Bina Nusantara, Jakarta.
Akhtar, M. R. (1996). Toward Islamic approach for environmental balance. Islamic Economic Studies, Vol. 3 No. 2.
Al-Fairūzābādiy, Muhammad Ibn Ya'qūb. (1995). Al-Qāmūs al-Muhīth. Beirut: Dār al-Fikr.
Al-Khadimi, Nuur Ad-Diin bin Mukhtar. (2001). Ilmu Al-Maqashid As Syariah. Beirut: Maktabah Al-Ubaikan.
Al-Qardhawi, Yusuf. (2001). Ri'ayatu Al-Bi`ah fi As-Syari'ah Al-Islamiyah. Dar Al-Syuruq, Kairo.
Badan Psuat Statistik (BPS). 2019. Penduduk Menurut Wilayah dan Agama yang Dianut. Sensus Penduduk 2013. Badan Pusat Statistik. http://sp2010.bps.go.id/. Diakses pada tanggal 28 Januari 2019.
Arifin, A. M. (2013). Islamic Eco-Ethics: Ideal Philosophical Base to Implement Green Economy in Indonesia. MPRA Paper No. 61437. https://mpra.ub.uni-muenchen.de/61437/.
Ar-Raisuni, Ahmad. (1992). Nadzariyah Al-Maqashid Inda As-Syatibi. Daar Al-'Alamiyah li Al-Kitab Al-Islami.
Ar-Raziy, Muhammad bin Abi Bakr bin Abd al Qadir. (1995). Mukhtar As-Shihah. Beirut: Maktabah Lubnan Nasyrirun.
As-Syatibi. (1997). Al-Muwafaqat. Mesir: Daar Ibn 'Affan.
Az-Zuhaili, Wahbah. (1986). Ushul Al Fiqh Al-Islami. Beirut: Dar Al Fikr.
Fauzi, Hasan, Svensson, Goran, Azhar dan A. R. (2010). Triple Bottom Line as Sustainable Corporate Performance: A Proposition for the Future. Sustainability, 2: 1345-1360.
Fauzia, Ika Yunia. (2016). Urgensi Implementasi Green Economy Perspektif Pendekatan Dharuriyah Dalam Maqashid Al-Shariah. Jurnal Ekonomi dan Bisnis Islam, Vol. 2, No. 1, Januari-Juni 2016.
Islam, M. M. (2004). Toward a Green Earth: An Islamic Perspective. Asian Affairs, Vol 26 No. 4, October-December 2004.
Kamali, M. H. (2010). Environmental Care in Islam: A Quranic Perspective. Proceeding Environment in Islam, 15th General Conference, 27-29 /9 2010 : 7-30.
Makmun. 2016. Green Economy : Konsep, Impelentasi dan Peran Kementerian Keuangan. Jurnal Ekonomi dan Pembangunan, Vol 19, No 2 (2011).
Marsuki, Mohd Zuhdi. (2012). Religious Agendas Towards Sustainable Development: An Islamic Perspective. Malaysia Journal of Science and Technological Studies, June 2012: 33
Umam , Khairul. (2001). Ushul Fiqih. Bandung: Pustaka Setia.
UNEP. (2001). Environmental Management Accounting Procedures & Principles. Newyork.
Yafie, Ali. (2006). Merintis Fiqh Lingkungan Hidup. Jakarta Selataka Regency, Indonesia. Jurnal Ekonomi Bisnis Syariah, 1(1), 38-47.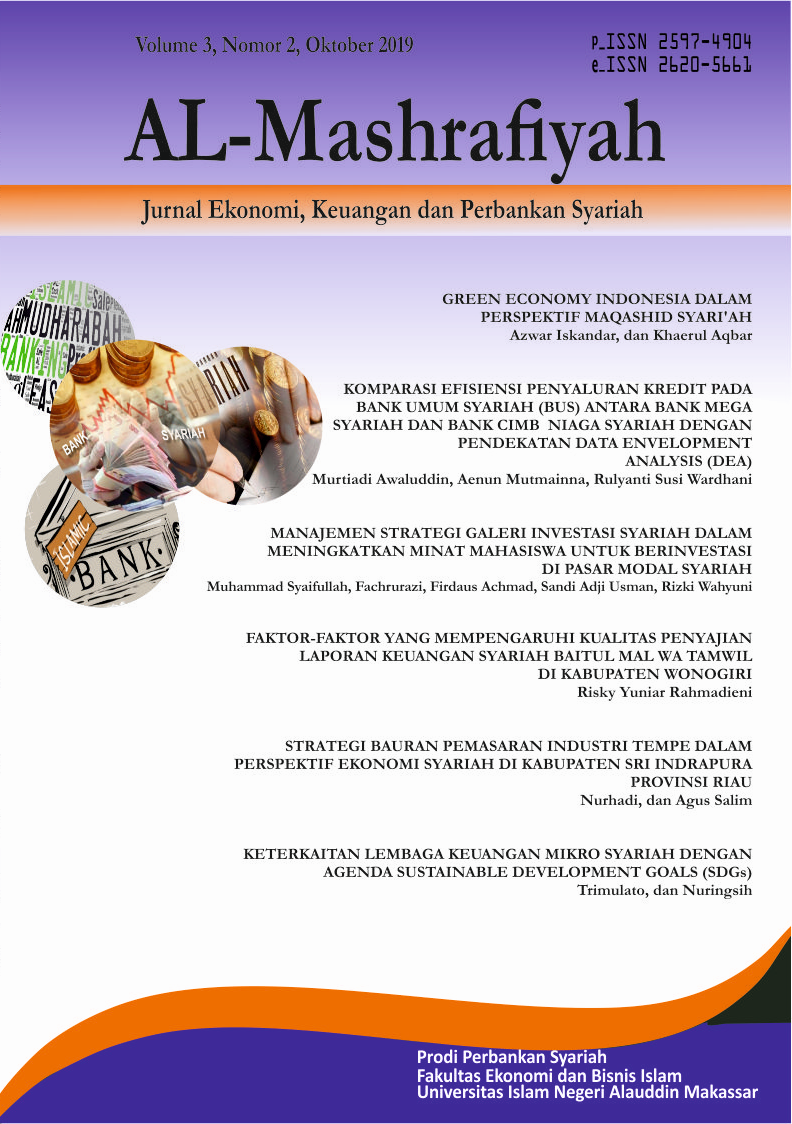 How to Cite

Iskandar, A., & Aqbar, K. (2019). Green Economy Indonesia Dalam Perspektif Maqashid Syari'ah. Al-Mashrafiyah: Jurnal Ekonomi, Keuangan, Dan Perbankan Syariah, 3(2), 83-94. https://doi.org/10.24252/al-mashrafiyah.v3i2.9576

Section

AL-MASHRAFIYAH VOLUME 3 NOMOR 2 (2019)

Abstract viewed = 1245 times