Pengaruh Pemberian Tepung Kayu Manis (Cinnamomum Burmanii) Dalam Ransum Terhadap Bobot Karkas dan Persentase Karkas Itik Pedaging
Effect of Cinnamon Powder (Cinnamomum burmannii) in The Ration on Carcass Weight and Carcass Percentage of Broiler Duck
Irmayani

Universitas Muhammadiyah Parepare




(ID)

Hikmah Daming

Universitas Muhammadiyah Parepare




(ID)

Munir Munir

Universitas Muhammadiyah Parepare




(ID)

Fitriani Fitriani

Universitas Muhammadiyah Parepare




(ID)

Nevyani Asikin

Politeknik Pertanian Negeri Pangkajene Kepulauan




(ID)
Keywords:
Cinnamont Flour, Carcass Weight, Carcass Percentage
Abstract
This study aims to determine the effect of giving cinnamon flour in the ration to the carcass percentage and carcass weight of broiler ducks. This research was conducted in September-October 2021, Maritengae sub-district, Sidrap Regency. The design model used in this study was a completely randomized design (CRD) consisting of 4 treatments and 3 replications so that there were 12 units of observation and where each unit consisted of 5 birds so that a total of 60 observations were made. The feed was arranged according to the nutritional needs of the ducks. The treatments were: P0: No control treatment 0%, P1: Cinnamon bark flour 1% of the total feed, P2: Cinnamon bark flour 3% of the total feed and P3: Cinnamon bark flour 5% of the total feed. The results showed that the addition of Cinnamon (Cinnamomum burmanii) flour to quail feed had no significant effect (P>0.05) on carcass weight, while the addition of Cinnamomum (Cinnamomum burmanii) flour to quail feed had no significant effect (P>0.05). to the carcass percentage.
Downloads
Download data is not yet available.
References
Armissaputri, N.K., Ismoyowati & Mugiyono, S. (2013). Perbedaan bobot dan persentase bagian-bagian karkas dan non-karkas pada itiklokal dan itik manila. Jurnal Ilmiah Peternakan, 1 (3),1086-1094.
Cahyono, B. (2011). Pembibitan itik. Cetakan ke-2. Jakarta: Penebar Swadaya,
Hardjosworo, P. & Rukmiasih. (1999). Itik, permasalahan dan pemecahan. Penebar Swadaya, Bogor.
Hermana, W.D., Puspitasari, I., Wiryawan K.G. & Suharti S. (2008). Pemberian tepung daun salam (Syzygium polyanthum (wight) walp.) dalam ransum sebagai bahan anti bakteri escherichia coli terhadap organ dalam ayam broiler. Departemen Ilmu Nutrisi dan Teknologi Pakan, Bogor: Institut Pertanian Bogor.
Irham, M. (2012). Pengaruh pengunaan eceng gondok (eichornia crassipes) terhadap persentase karkas, nonkarkas dan lemak abdominal itik lokal jantan umur delapan minggu. Skripsi. Surakarta: Universitas Sebelas Maret.
Mahfudz, L.D., Maulana, F.L., Atmomarsono, U., & Sarjana, T.A. (2009). Karkas dan lemak abdominal ayam broiler yang diberi ampas bir dalam ransum. Prosiding Seminar nsional Kebangkitan Peternakan, Semarang 20 Mei 2009.
Mountzouris, K.C., Tsirtsikos, P., Kalamara, E., Nitsch, S., Schatzmayr, G., & Fegeros, K. (2007). Evaluation of the efficacy of a probiotic containing Lactobacillus, Bifidobacterium, Enterococcus, and Pediococcus strains in promoting broiler performance and modulating cecal microflora composition and metabolic activities. Poult. Sci. 86 (2), 309–317.
Mulatsih, Sumiati S. & Tjakradijaja. (2010). Intensifikasi usaha peternakan itik dalam rangka peningkatan pendapatan rumah tangga. Laporan Akhir Program Iptek bagi Masyarakat. Bogor: Institut Pertanian Bogor.
Sari, K.A., Sukamto, B. & Dwiloka, B. (2014). Efisiensi penggunaan protein pada ayam broiler dengan pemberian pakan mengandung tepung daun kayambang (salvinia molesta). Agripet. 14 (2), 76-83.
Sayuti, K. & Yenrina, R. (2015). Antioksidan alami dan sintetik. Padang: Andalas University Press.
Soeparno (2009). Ilmu dan teknologi daging. Yogyakarta: Gadjah Mada University Press.
Syah, A. (2011). Penambahan tepung daun katuk dalam ransum ayam broiler. Skripsi. Makassar: TD.
Windhyarti, S. (2010). Beternak ItikTanpa Air. Jakarta: Penebar Swadaya.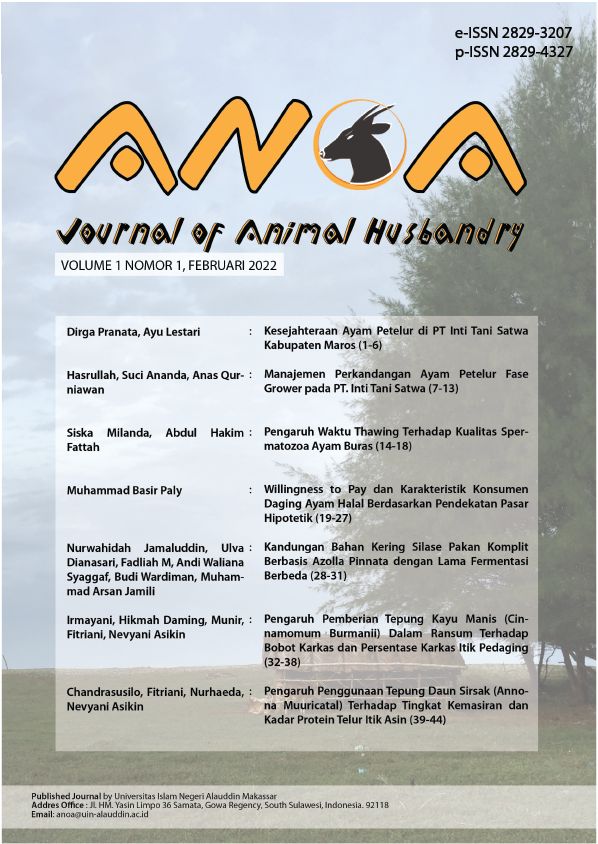 How to Cite

Irmayani, Daming, H., Munir, M., Fitriani, F., & Asikin, N. (2022). Pengaruh Pemberian Tepung Kayu Manis (Cinnamomum Burmanii) Dalam Ransum Terhadap Bobot Karkas dan Persentase Karkas Itik Pedaging: Effect of Cinnamon Powder (Cinnamomum burmannii) in The Ration on Carcass Weight and Carcass Percentage of Broiler Duck. Anoa: Journal of Animal Husbandry, 1(1), 32-38. https://doi.org/10.24252/anoa.v1i1.28277

Abstract viewed = 189 times