EFEKTIFITAS PENGGUNANAA PERSONAL HEALTH RECORD (PHR) DAN MOBILE HEALTH APPLICATION TERHADAP PENANGANAN PASIEN KANKER: LITERATURE REVIEW
Lisna Karim

Universitas Indonesia




(ID)

Sukihananto Sukihananto

Departemen Keperawatan Komunitas Fakultas Ilmu Keperawatan Universitas Indonesia




(ID)
Abstract
Cancer is a disease that occurs due to abnormal cell growth for which the cause is unknown. The current management of cancer in Indonesia is not optimal, both in terms of early detection screening, capacity and access to cancer treatment facilities. The rapid development of technology currently allows cancer treatment to be assisted through the use of Personal Health Records (PHR) and mobile health applications. This study aims to determine effectiveness of using Personal Health Record (PHR) and mHealth on cancer treatment . The method used is a literature review that focuses on cancer treatment through Personal Health Records (PHR) and mHealth sourced from three databases, Google Scholar, Ebcohost, and Garuda Portal which published from 2017-2022. Through a review of the 10 selected articles show that the use of Personal Health Records can improve the quality of care for colon cancer patients, increase the referral rate for genetic cancer counseling and is proven to be able to assist in communication between pediatric patients with chronic cancer conditions and health workers in understanding the risks and end effects. cancer treatment, as well as ensuring accurate and quality cancer treatment. On the other hand, the use of mobile health applications has been shown to increase self-management skills, motivation to live healthy, increase knowledge in adolescent cancer survivors, the use of Android-based mobile health applications based on fuzzy logic can be applied in the categorization of breast cancer stages by producing a Stage 1, Stage 2, Stage 3 decision. and Stage 4 and make it easier for cancer patients to find out what foods are forbidden for cancer. These results conclude that the use of Personal Health Record (PHR) and Mobile Health applications is effective in treating cancer.
Key word: PHR , mHealth, Cancer treatment
Downloads
Download data is not yet available.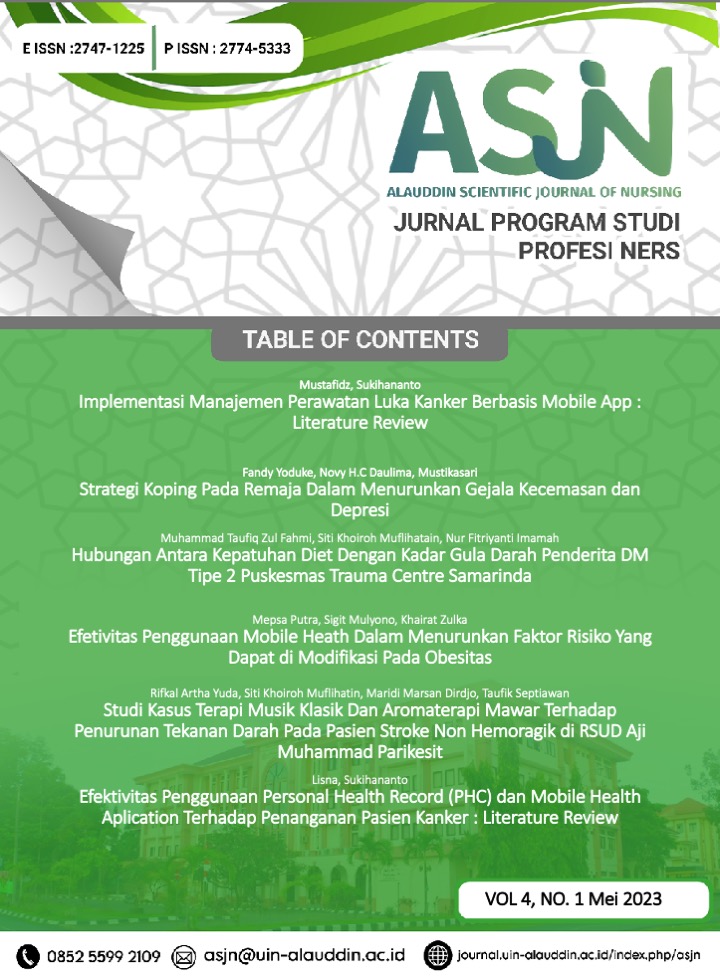 How to Cite
Karim, L., & Sukihananto, S. (2023). EFEKTIFITAS PENGGUNANAA PERSONAL HEALTH RECORD (PHR) DAN MOBILE HEALTH APPLICATION TERHADAP PENANGANAN PASIEN KANKER: LITERATURE REVIEW. Alauddin Scientific Journal of Nursing, 4(1), 55-65. https://doi.org/10.24252/asjn.v4i1.35344
Copyright (c) 2023 Lisna Karim, Sukihananto Sukihananto
This work is licensed under a Creative Commons Attribution-NonCommercial-NoDerivatives 4.0 International License.

Abstract viewed = 141 times