Relationship between knowledge and fast food with obesity in adolescents
hariati lestari

universitas halu oleo




(ID)

Listy Handayani

Program Studi Kesehatan Masyarakat, Fakultas Kesehatan Masyarakat, Universitas Halu Oleo, Kendari




(ID)

Siti Nurfadilah H

Program Studi Kesehatan Masyarakat, Fakultas Kesehatan Masyarakat, Universitas Halu Oleo, Kendari




(ID)
Keywords:
Adolescents, Diet, Knowledge, Obesity
Abstract
Obesity is a risk factor of degenerative diseases which is a public health problem that covers almost the entire life cycle including adolescents. Consumption of fast food is suspected as one of the triggers of obesity in adolescents. Purpose: The purpose of this study was to find out the relationship of knowledge and fast food consumption with the incidence of obesity among adolescents in Kendari City, 2021. Method: A quantitative study with cross sectional design was conducted in December 2021 in the Kendari City area, Southeast Sulawesi. The results of the study: based on bivariate analysis showed that of 397 samples of good fast food diet as many as 151 people (38%) normal category and as many as 86 people (21.27%) who have a very good diet category normal and about 23 people (0.3%) have a diet that is not good category obesity. Based on bivariate analysis after conducting a statistical test with the Chi-Square test obtained p= =0,538> 0.05 for knowledge and p = 0.007 < 0.05 for fast food consumption. Conclusion: So it can be concluded that there was not relationship between knowledge with the incidence of obesity in adolescents and there was a significant relationship between fast food consumption with the incidence of obesity in adolescents.
References
Ali, R., & Nuryani. (2018). Sosial Ekonomi, Konsumsi Fast Food Dan Riwayat Obesitas Sebagai Faktor Risiko Obesitas Remaja. Media Gizi Indonesia, 13(2), 123-132.
Bhaswara, A.A.G &Saraswati M.R. (2018). Hubungan status sosial ekonomi keluarga dengan kegemukan pada remaja SMA di Denpasar. E-Jurnal Medika Udayana. Vol. 7 No. 3, Maret, 2018:99-106.
.Andrasili, J&Saraswati, M.R. (2018). Hubungan antara Tingkat Pengetahuan Gizi terhadap Terjadinya Obesitas pada Anak SMA di Denpasar. E-Jurnal Medika. Vol 7. No.7, Juli, 2018.
Dewi, P.L.P & Kartini, A. (2017). Hubungan Pengetahuan Gizi, Aktivitas Fisik, Asupan Energi, dan Asupan Lemak dengan Kejadian Obesitas pada Remaja Sekolah Menengah. Journal of Nutrition College. Vol 6. No. 3 Tahun 2017, Hal 257-261.
Dewi, A., Sulreni, I.N & Ningsih,M.S. (2023). Faktor-Faktor yang Berhubungan dengan Kejadian Obesitas Pada Siswa MAN 1 Kota Padang. SEHATMAS (Jurnal Ilmiah Kesehatan Masyarakat). Vol. 2 No. 1 (Januari 2023) 159-171.
Kemenkes. (2019). Epidemi Obesitas.
Notoatmodjo. (2010). Ilmu Perilaku Kesehatan. Jakarta: Rineka Cipta.
Paramita, K.A.T, Indonesiani, S.H & Gede, L. (2023). Hubungan Aktivitas Fisik dengan Kejadian Obesitas pada Remaja SMAN 4 Denpasar Selama Masa Pandemi Covid-19. Aesculapius Medical Journal. Vol. 3 No.1 | Pebruari | 2023 | Hal. 117 - 123
Putri, L. (2017). Faktor Faktor Yang Berhubungan Dengan Konsumsi Fast Food Pada Remaja Obesitas Di Sma Theresiana 1 Semarang Tahun 2017. Jurnal Kesehatan Masyarakat
Riani, P,. Ahmad, A &Ismail N. (2021). Faktor Risiko Obesitas Pada Remaja: Studi Case- Control. Nasuwakes: Jurnal Ilmiah Kesehatan. Vol: 14, No: 1, April 2021.
Simpati, R., & Sugesti, R. (2021). Pengaruh Konsumsi Fast Food, Asupan Sarapan Pagi dan Aktivitas Fisik terhadap Kejadian Obesitas pada Remaja Putri. Simfisis Jurnal Kebidanan Indonesia, 01(01).
Telisa, I., Hartati, Y & Haripamilu, A.D. (2020). Faktor Risiko Terjadinya Obesitas Pada Remaja SMA. Faletehan Health Journal. 7 (3) (2020) 124-131.
Widyastuti, D. A., & Sodik, M. A. (2018). Pengaruh Kebiasaan Konsumsi Junk Food Terhadap Kejadian Obesitas Re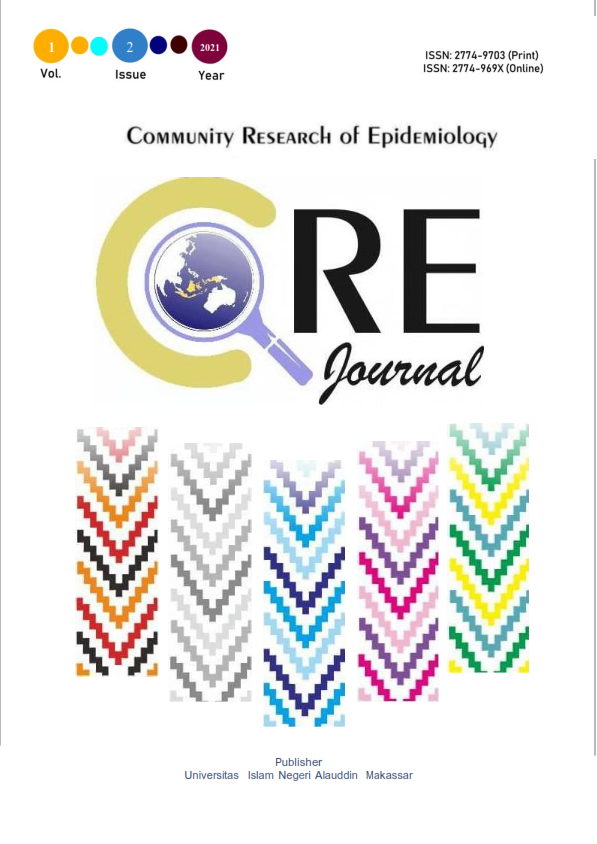 Abstract viewed = 74 times