Hygiene Sanitation and Food Bacteriology Quality of School Canteen In Elementary School In Work Areas Puskesmas II Denpasar Timur
Uripayoni Ni Wayan

Universitas Dhyana Pura




(ID)
Abstract
The school canteen is one of the school children's snacks that has the role of realizing and determining students' eating behavior through the provision of snacks at school. Sanitation hygiene is an effort to control food factors, people, places, and equipment that can cause illness or health problems.
This study aims to determine the relationship between school canteen hygiene and sanitation with the bacteriological quality of food. This type of research is quantitative research with cross sectional design. The sample of this research is 15 elementary school canteens. The observation results of school canteen sanitation obtained 3 (20.0%) canteen with good sanitation category, 6 (40%) adequate canteen category and 6 (40%) bad canteen category. Interviews with food handlers obtained 10 people (66.7%) enough categories and 5 people (33.3%) bad categories, and laboratory tests obtained 7 samples (46.7%) qualified and 8 samples (53.3%) not eligible.
Keywords: school canteen, hygiene and sanitation, bacteriological.
References
Kemenkes RI, (2013). Pedoman Pembinaan Terpadu Makanan Jajanan Anak Sekolah. Jakarta.
Keputusan Menteri Kesehatan Republik Indonesia Nomor : 942/Menkes/SK/VII/2003. Pedoman Persyaratan Hygiene Sanitasi Makanan Jajanan.
Lembaga Penelitian Dan Pengabdian Kepada Masyarakat (LPPM) Institut Pertanian Bogor. (2010). Menuju Kantin Sehat Di Sekolah.
Nuraya, A. D., & Nindya, T. S. (2017). Hubungan Praktik Personal Hygiene Pedagang dengan Keberadaan Bakteri Escherichia Coli dalam Jajanan. Media Gizi Indonesia, 12(1), 7–13.
Nuryani, D., Adiputra, N., & Sudana, I. B. (2016). Kontaminasi Escherichia Coli Pada Makanan Jajanan Di Kantin Sekolah Dasar Negeri Wilayah Denpasar Selatan. ECOTROPHIC : Jurnal Ilmu Lingkungan (Journal of Environmental Science), 10(1), 28.
Pasar, D. I., & Kota, S. (2011). Fakultas ilmu kesehatan universitas islam negeri alauddin makassar 2011.
Peraturan Kepala Badan Pengawas Obat dan Makanan Republik Indonesia Nomor HK.00.06.1.52.4011 Tahun 2009. Penetapan Batas Maksimun Cemaran Mikroba Dan Kimia Dalam Makanan.
Putih, C., Cireundeu, D. A. N., & Timur, C. (2015). Analisis personal hygiene pada penjual makanan tradisional gado – gado di kelurahan pisangan, cempaka putih dan cireundeu ciputat timur tahun 2015.
Rahmani, N., Handayani, S., & Kes, M. (2016). Kontaminasi Bakteri Eschericia Coli Pada Makanan Dan Minuman Penjual Jajanan Di Lingkungan Pendidikan Muhammadiyah Limau , Jakarta Selatan. Arkesmas, 1(1), 25–35.
Ristoyo, Triyantoro, B., & Budiono, Z. (2016). Hubungan Hygiene dan Sanitasi dengan Kontaminasi Escherichia coli pada Jajanan Bersaus di Pendidikan Sekolah Dasar Se-Wilayah Desa Watuagung Kecamatan Tambak Kabupaten Banyumas Tahun 2016.
Romanda, F., Priyambodo, P., & Risanti, E. D. (2017). Hubungan Personal Hygiene Dengan Keberadaan Escherichia Coli Pada Makanan Di Tempat Pengolahan Makanan (Tpm) Buffer Area Bandara Adi Soemarmo Surakarta. Biomedika, 8(1), 41–46.
Sofiana E. (2012). Hubungan Higiene Dan Sanitasi Dengan Kontaminasi Escherichia Coli Pada Jajanan Di Sekolah Dasar Kecamatan Tapos Depok. Kesehatan Masyarakat.
Swamilaksita, P. D., & Pakpahan, S. R. (2016). Faktor – Faktor Yang Mempengaruhi Penerapan Higiene Sanitasi Di Kantin Universitas Esa Unggul Tahun 2016. Nutrire Diaita, 8(2), 71–79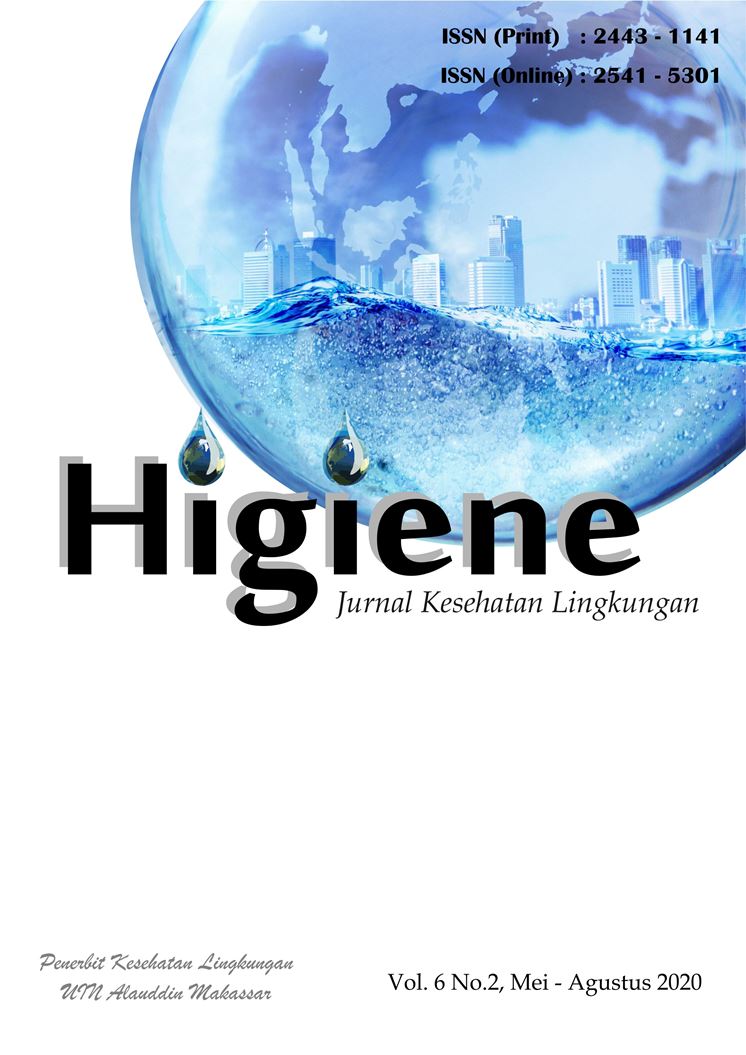 How to Cite
Ni Wayan, U. (2020). Hygiene Sanitation and Food Bacteriology Quality of School Canteen In Elementary School In Work Areas Puskesmas II Denpasar Timur. HIGIENE: Jurnal Kesehatan Lingkungan, 6(2), 108-112. Retrieved from https://journal.uin-alauddin.ac.id/index.php/higiene/article/view/10272
Copyright (c) 2020 HIGIENE: Jurnal Kesehatan Lingkungan
This work is licensed under a Creative Commons Attribution 4.0 International License.

Abstract viewed = 198 times