Faktor Risiko Kejadian TB Paru di Desa Gunturu Kecamatan Herlang Kabupaten Bulukumba
Dian Rezki Wijaya

Universitas Islam Negeri Alauddin Makassar




(ID)

Nurdiyanah Nurdiyanah

Universitas Islam Negeri Alauddin Makassar




(ID)

Irviani Anwar Ibrahim

Universitas Islam Negeri Alauddin Makassar




(ID)

Munawir Amansyah

Universitas Islam Negeri Alauddin Makassar




(ID)

Ranti Ekasari

Universitas Islam Negeri Alauddin Makassar




(ID)
Abstract
Tuberculosis (TB) is a disease caused by mycobacterium tuberculosis with a high transmission rate. It attacks lung (80%), while the remaining attack the organs outside the lungs. In Indonesia, it was estimated around 1 million new TB cases with 110,000 deaths each year. In 2018, Bulukumba Regency was in third highest number of TB suspects in South Sulawesi. This study aimed to determine the risk factors for pulmonary tuberculosis in Gunturu Village. This research was a quantitative study with a prevalence study design. All residents of Gunturu Village became a population while the sample was obtained by purposive sampling with 102 people. The data was collected by interview, observation, and measurement. Risk factors for pulmonary tuberculosis in Gunturu Village were nutritional status (p = 0.0575, OR = 1.267) and education level (p = 0.871, OR = 1.083). While smoking status (p = 0.255, OR = 0.553), work status (p = 0.369, OR = 0.660), ventilation (p = 1,000, OR = 1,000) and lighting (p = 0.602, OR = 0.646) were not risk factors. Active case finding needs to be improved by carrying out household contact investigations and screening in at-risk populations as well as improving the recording of TB reports.
Keywords : Pulmonary Tuberculosis, Risk Factor
References
Adiatma, Y. T. (2003). Rokok dan Tuberkulosis Paru. Kompas.
Anggraeni, S. K., Raharjo, M., & Nurjazuli. (2015). Hubungan Kualitas Lingkungan Fisik Rumah Dan Perilaku Kesehatan Dengan Kejadian Tb Paru Di Wilayah Kerja Puskesmas Gondanglegi Kecamatan Gondanglegi Kabupaten Malang. Jurnal Kesehatan Masyarakat Universitas Diponegoro, 3(1), 559–568.
Badan Standarisasi Nasional. (2001). Tata Cara Perancangan Sistem Ventilasi dan Pengkondisian Udara pada Bangunan Gedung.
Damayati, D. S., & Susilawaty, A. (2018). Risiko Kejadian TB Paru di Wilayah Kerja Puskesmas Liukang Tupabbiring Kabupaten Pangkep. HIGIENE: Jurnal Kesehatan Lingkungan, 4(2), 121–130. Retrieved from http://journal.uin-alauddin.ac.id/index.php/higiene/article/view/5859/5088
Dhanaraj, B., Papanna, M. K., Adinarayanan, S., Vedachalam, C., Sundaram, V., Shanmugam, S., … Swaminathan, S. (2015). Prevalence and risk factors for adult pulmonary tuberculosis in a metropolitan city of South India. PloS One, 10(4), e0124260. https://doi.org/10.1371/journal.pone.0124260
Ernawati, K., Susila Duarsa, A. B., Wulansari, R., & Zamzami, L. (2017). Hubungan Merokok Dengan Kejadian Tuberkulosis Paru di Provinsi Sulawesi Utara Berdasarkan Data Riskesdas Tahun 2010 Smoking Relationship With Pulmonary Tuberculosis Incidence in North Sulawesi Province Based on 2010 Riskesdas Data. Jurnal Kedokteran Yarsi, 25(1), 33–040.
Hamidah, Kandau, G. D., & Posangi, J. (2015). Hubungan Kualitas Lingkungan Fisik Rumah Dengan Kejadian Tuberkulosis Paru Di Wilayah Kerja Puskesmas Perawatan Siko Kecamatan Ternate Utara Kota Ternate Provinsi Maluku Utara. Jurnal E-Biomedik, 3(3). https://doi.org/10.35790/ebm.3.3.2015.10321
Izzati, S., Basyar, M., & Nazar, J. (2015). Faktor Risiko yang Berhubungan dengan Kejadian Tuberkulosis Paru di Wilayah Kerja Puskesmas Andalas Tahun 2013. Jurnal Kesehatan Andalas, 4(1), 262–268.
Jurcev-Savicevic, A., Mulic, R., Ban, B., & Kozul, K. (2013). Risk factors for pulmonary tuberculosis in Croatia: a matched case–control study. BMC Public Health, (13), 991.
Kementerian Kesehatan RI. (2016). Profil Kesehatan Indonesia 2015. https://doi.org/351.077 Ind
Kementrian Kesehatan RI. (2018). Infodatin Tuberkolosis 2018. Retrieved from https://pusdatin.kemkes.go.id/resources/download/pusdatin/infodatin/infodatin-tuberkulosis-2018.pdf
Mathew, A., David, T., Thomas, K., Kuruvilla, P. J., Balaji, V., Jesudason, M. V, & Samuel, P. (2013). Risk factors for tuberculosis among health care workers in South India: a nested case-control study. Journal of Clinical Epidemiology, 66(1), 67–74. https://doi.org/10.1016/j.jclinepi.2011.12.010
Moerdjoko. (2004). Kaitan Sistem Ventilasi Bangunan dengan Keberadaan Mikroorganisme Udara. Jurnal Teknik Arsitektur, 32(1), 89–93. Retrieved from http://dimensi.petra.ac.id/index.php/ars/article/viewFile/16179/16171
Oktavia, Surakhmi, Mutahar, R., & Destriatania, S. (2016). Analisis Faktor Risiko Kejadian TB Paru di Wilayah Kerja Puskesmas Kertapati Palembang. Jurnal Ilmu Kesehatan Masyarakat, 7(2), 124–138. Retrieved from http://ejournal.fkm.unsri.ac.id/index.php/jikm/article/download/182/135
Pangaribuan, L., & Lolong, D. (2010). Faktor Determinan Terjadinya Tuberkulosis Di Indonesia, 2007. Jurnal Ekologi Kesehatan, 9(1 Mar), 1166–1177. https://doi.org/10.22435/jek.v9i1Mar.5409.1166-1177
Prawira, E. (2011). Perbaikan Ventilasi Alami pada Pemukiman Padat Penduduk Bentuk dari Eko-Ar. Prosiding Seminar Nasional AoER Ke-3, 26–27. Retrieved from eprints.unsri.ac.id/123/1/Pages_from_PROSIDING_AVOER_2011-18.pdf
Proverawati, A., & Rahmawati, E. (2012). Perilaku Hidup Bersih dan Sehat (PHBS). Yogyakarta: Nuha Medika.
Putra, N. R. (2011). Hubungan Perilaku Dan Kondisi Sanitasi Rumah Dengan Kejadian TB Paru di Kota Solok Tahun 2011. In Universitas Andalas.
Sinaga, F., Heriyani, F., & Khatimah, H. (2016). HUBUNGAN KONDISI VENTILASI RUMAH DENGAN KEJADIAN TB PARU DI WILAYAH PUSKESMAS KELAYAN TIMUR. Berkala Kedokteran, 12, 279. https://doi.org/10.20527/jbk.v12i2.1878
Sun, W., Gong, J., Zhou, J., Zhao, Y., Tan, J., Ibrahim, A. N., & Zhou, Y. (2015). A spatial, social and environmental study of tuberculosis in China using statistical and GIS technology. International Journal of Environmental Research and Public Health, 12(2), 1425–1448. https://doi.org/10.3390/ijerph120201425
Susilawaty, A., Syarifuddin, N., Saleh, M., Amansyah, M., Mappau, Z., & Basri, S. (2020). Spatial Analysis of Pulmonary Tuberculosis in Gowa Regency, South Sulawesi Province, Indonesia. European Journal of Molecular & Clinical Medicine, 7(2), 4531-4548.
Tudor, C., Van der Walt, M. L., Margot, B., Dorman, S. E., Pan, W. K., Yenokyan, G., & Farley, J. E. (2016). Occupational Risk Factors for Tuberculosis Among Healthcare Workers in KwaZulu-Natal, South Africa. Clinical Infectious Diseases : An Official Publication of the Infectious Diseases Society of America, 62 Suppl 3, S255-61. https://doi.org/10.1093/cid/ciw046
WHO. (2015). Global Tuberculosis Report. NASN School Nurse (Print), 32(5), 310–316. https://doi.org/10.1177/1942602X17698487
WHO. (2017). Global Tuberculosis Report 2017: Leave no one behind - Unite to end TB. In WHO - Technical Report Series;727. https://doi.org/10.1001/jama.2014.11450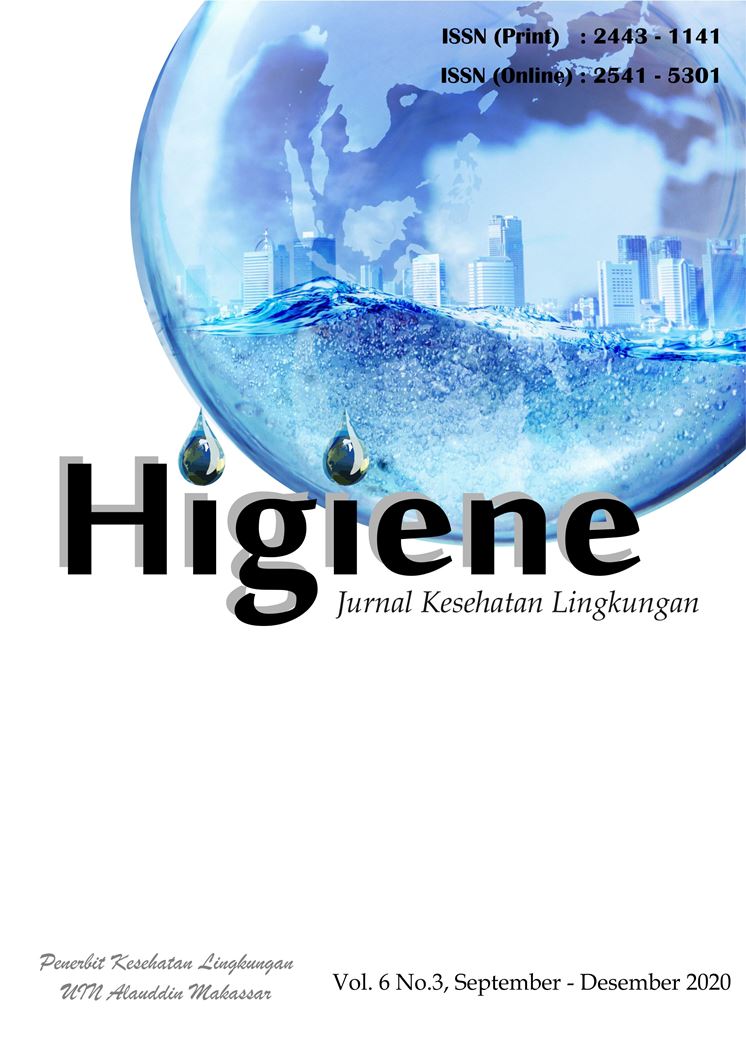 How to Cite
Wijaya, D. R., Nurdiyanah, N., Ibrahim, I. A., Amansyah, M., & Ekasari, R. (2020). Faktor Risiko Kejadian TB Paru di Desa Gunturu Kecamatan Herlang Kabupaten Bulukumba. HIGIENE: Jurnal Kesehatan Lingkungan, 6(3), 129-136. Retrieved from https://journal.uin-alauddin.ac.id/index.php/higiene/article/view/17947
Copyright (c) 2020 HIGIENE: Jurnal Kesehatan Lingkungan
This work is licensed under a Creative Commons Attribution 4.0 International License.

Abstract viewed = 284 times